Car Reviews
The 2019 Range Rover Sport SVR packs performance into a high-end SUV
Here's what makes this high-performance SUV truly special.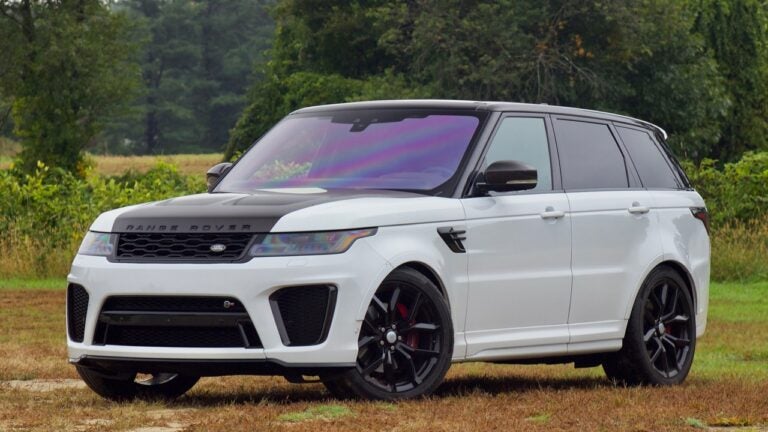 In its original form, Land Rovers were rugged military vehicles. Through the years, they've evolved into quintessential luxury SUVs — but with off-road capabilities. In recent years, Land Rover has pushed the on-road attributes of its SUVs, culminating with the 2019 Land Rover Range Rover Sport SVR.
The SVR differentiates itself from other Range Rover Sports with a unique aerodynamic front fascia, side skits, and rear bumper design that features integrated exhaust outlets. The standout design element is the carbon fiber hood. As wild as it looks, Land Rover showed restraint, painting from the sides up to the hood vents. It turns heads, without being too gaudy.
Our test vehicle came well-equipped with heated and cooled sport bucket seats, heated rear seats, a full-length panoramic sunroof, and Land Rover's new InControl Touch Pro Duo infotainment system. While many new dual-screen systems have been a pain to operate, Land Rover incorporates a set of traditional dials that add a bit of convention to an otherwise futuristic setup, significantly reducing the learning curve.
Our test model also came with a center-console cooler, which is part of a $765 Climate Comfort package that also includes four-zone climate control. The cooler is a novel feature, but it occupies the entire center console, and we left it off the entire duration of our test drive.
The Range Rover SVR is powered by a supercharged 5.0-liter V8 that makes 575 horsepower and 516 pound-feet of torque. And, oh goodness, does this engine make a sound. It's the engine from the Jaguar F-Type SVR, and it makes the same burbles, howls, and cracks when you rev it up. If these are the types of noises that will annoy your neighbors, the SVR has a dual-mode exhaust, which allows it to run quiet with the push of a button.
Fuel consumption for this setup is thirsty: 15 miles per gallon in the city, 20 miles on the highway, and 16 combined. But the payoff is a zero-to-60 miles-per-hour time of just 4.3 seconds, and a top speed of 176 miles per hour.
Power is routed through an eight-speed automatic transmission to full-time all-wheel drive. Despite its on-road focus, it still has a dual transfer case with high and low range. It also has an adjustable air suspension that can raise for off-road use, but it's mainly designed to keep the 5,000-plus pound SUV level in hard on-road cornering.
To master the various types of roads or trails you might encounter, the Range Rover Sport SVR features a Terrain Response system. Simply press the circle that says "Auto" in the center console, and a dial rises from the panel. The driver can then chose between Comfort, Eco, Grass/Gravel/Snow, Mud/Rut, Sand, Rock Crawl, and Dynamic drive modes.
Given the nature of the SVR, we spent much of our time in Dynamic Mode, which stiffened the suspension and steering, and made the throttle response and shift mapping more aggressive. A vehicle this size can't break the laws of physics, but it manages to navigate twisty roads surprisingly well. There is some body roll, but the SVR is as responsive as any full-size German luxury sedan.
Base MSRP for the 2019 Land Rover Range Rover Sport is $66,750, but our test model was a far cry from base, as the SVR starts at $113,600. There are some pricey standalone packages as well, inducing the unique 22-inch wheels ($3,060), Meridian Signature sound system ($4,540), and the carbon fiber exterior package that includes the exposed carbon fiber hood ($5,200). Altogether, our test vehicle came in at $131,400.
That's nearly the starting price of an Audi R8 supercar, but the SVR has something the R8 does not: spacious seating for five, and room for all your luggage.
It blends the best attributes of a sports car and an SUV, and that's the type of crossover we can get behind.