Car Reviews
Auto review: New yet familiar, Nissan offers an all-new Altima for 2019
Nissan redesigned the Altima with an all-new platform and two new engines with all-wheel drive or front-wheel drive.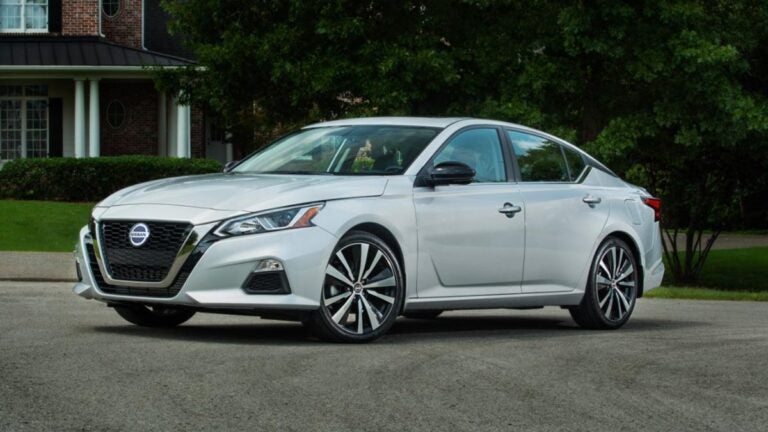 Much has been made of the fact that many Americans now drive some form of light truck. Sales of SUVs, crossovers and pickups are closing in on 70 percent of U.S. new vehicle sales. Yes, we have become a nation of truck drivers. But that doesn't mean that cars no longer matter. They do, accounting for 6 million units a year in sales in the United States, of which one-third are midsize cars. (That's 2 million units a year for the math adverse.)
This is why Nissan redesigned the Altima for 2019 with an all-new platform and two new engines with all-wheel drive or front-wheel drive. Given that the Subaru Legacy is the only other all-wheel drive midsize sedan, Nissan has a huge selling advantage in Northern climes. The $1,350 AWD option is available on all models, which include S, SR, SV, SL and Platinum trims. However, it's only offered with the base engine, a direct injected 2.5-liter four-cylinder rated at 188 horsepower. Replacing the previous Altima's 270-horsepower 3.5-liter V-6 engine on upper-level SR and Platinum models is the VC-Turbo, the world's first production variable compression turbocharged engine. The 248-horsepower 2.0-liter turbocharged engine has been under development for two decades. It's trick? It continuously raises or lowers the pistons' reach, changing from 8:1 for high performance to 14:1 for high fuel efficiency. But it's only offered with front-wheel drive, not all-wheel drive. Both engines mate to a continuously variable automatic transmission.
And it's safe, thanks to standard Automatic Emergency Braking, Intelligent Forward Collision Warning and Intelligent Driver Alertness. A Safety Shield 360 package is optional and adds Automatic Emergency Braking with Pedestrian Detection, Rear Automatic Braking, Lane Departure Warning, Blind Spot Warning, Rear Cross Traffic Alert and High Beam Assist.
On my recent drive in Santa Barbara, Calif., Nissan provided SR and Platinum models for testing.
Certainly, the new VC-T engine provides more thrills than its larger non-turbo sibling. Power off the line is strong, and care is needed to avoid squealing tires. The engine and transmission seem well matched, with the transmission doing its best impersonation of a conventional transmission under hard acceleration, and delivering a fun experience. However, it requires premium fuel while returning the lowest fuel economy of any Altima. In contrast, the base engine uses regular unleaded gasoline and returns better fuel economy. But power is merely adequate; it's not nearly as entertaining. If you live in a hilly region, you'll find the 2.5-liter challenged by inclines, especially with the added weight of all-wheel drive. Nevertheless, the transmission feels more linear than before, lacking the rubber banding typically found in CVTs. Regardless of model, comfort and refinement are this car's hallmarks. It's agile and provides impressive grip, and a well-mannered chassis. But it's no sports sedan.
The polished demeanor can best be seen in the interior, where a large eight-inch infotainment touchscreen anchors the sleek, contemporary instrument panel. Apple CarPlay and Android Auto are standard, and the chip set used operates quickly. And techies take note: this might be the only car to offer two USB and two USB-C ports. Cabin trim quality varies from trim to trim, with some evidence that accountants have been at work, but overall quality is satisfying for the price. The cabin itself is roomy both front and rear thanks to a two-inch longer wheelbase, an extra inch in width and overall length, although it's one inch lower.
It's wrapped in the finest interpretation yet of Nissan's current design language. While still aggressive, there's a refinement to its appearance that makes it perfect for midsize sedan duty, dancing on the edge of mild and wild. It's quite a sharp-looking ride.
But is it enough to make a crossover shopper give up their ride for an Altima? Most likely not; it's merely an improved version of what has come before. Nevertheless, the 2019 Nissan Altima offers an impressively upscale appearance and feature list at a popular price. That was true of the first Altima in 1993, which looked much like a shrunken Infiniti J30. Six generations on, the 2019 Altima is better in every way. It's clearly Nissan's ultimate Altima.
Perhaps it should have been called the Altimate.
Stats:
Vehicle type: Midsize four-door sedan
Base prices: $23,750-$35,750
Engine: Double-overhead-cam 2.5-liter four-cylinder
Horsepower: 188
Torque: 180 pound-feet
EPA fuel economy (city/highway): 25-28/35-39 miles per gallon
Wheelbase: 111.2 inches
Length: 192.9 inches
Cargo capacity: 15.4 cubic feet
Curb weight: 3,344-3,462 pounds