Car Reviews
The Lamborghini of crossover SUVs just crossed over as a supercar with five seats
The lure of SUV sales has reached the point where the exotic car brand can no longer ignore the bait.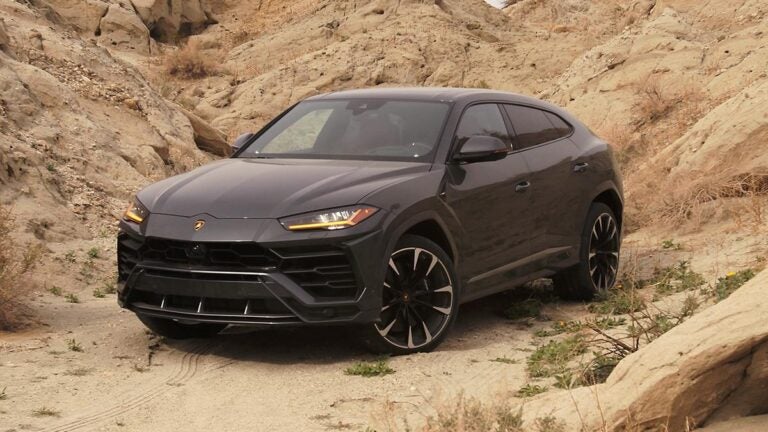 The new Lamborghini Urus SUV is many things, but it's mostly an affront to Newtonian physics. Nothing that weighs 4,843 pounds and can carry this much luggage has ever felt so light, lively, and quick—as if it weighed no more than a smaller exotic sports car.
Oh, I can cite its supercar stats like 641 horsepower, 17-inch-diameter front brakes bigger than a large pizza, or an all-wheel-drive (AWD) system with the brainpower to scramble the engine's oomph to the wheels that have the best traction in the quest for on-road speed or off-road tenacity. But those are just nerdy stats that paint a picture for the few. Yup, Newton's physics should seek employment elsewhere.
This is not to suggest the Urus (ancestor of the bull, by the way) or any Lamborghini is perfect. No vehicle is, and Lord knows Lamborghinis are not famous the world over due to their granite-like reliability. But you know that. You presumptively understand and accept that because … well … Lamborghini. And $200,000 is the starting point, though this tester totals $261,839. (Also … Lamborghini.)
So, the lure of SUV sales has reached the point where the exotic car brand, birthed by a successful Italian industrialist as an alternative to Ferrari, can no longer ignore the bait. Yet, Lamborghini's been here before, with the wild and rectilinear LM002 truck/SUV/commuter for Sheiks, which ran from 1986 to 1993, though never officially made it to the U.S.
And while some statistics can be bent to lie, these don't: By the end of 2018, 49.6 percent of the total U.S. vehicle market was SUVs, and this includes pickup trucks. Lamborghini officials claim the Urus will double the company's sales.
A Power House
At the center of the hubbub is a twin-turbocharged, 4.0-liter V8 engine born by the larger Volkswagen Group (Lambo's parent) for use in both Porsches and Audis, but massaged by Lamborghini and assembled in Hungary to yield 641 horsepower and 627 pound-feet of torque. Indeed, the massaging is comprehensive, with special plumbing for the turbos and intake; a completely different exhaust system; unique pistons, connecting rods, and camshafts; and revised cylinder heads.
All that thrust results in 60 mph arriving in under 3.6 seconds and a top speed of 189 mph—impressive even for an outright sports car, let alone a device that weighs at least 5,000 pounds with a test driver aboard. And should you roll up to a stop light next to an original, low-slung, V10-powered Gallardo sportster, know this: The Urus is quicker in every way, except top speed.
The V8's hammering throb, which comes to life after lifting a racing-inspired start button protected by a small red pivoting cage above it, is usually well-muffled, but even a muffled throb is a throb, nonetheless. And though it uses active valves in the exhaust to quell noise past cemeteries, the throb is even more noticeable when in Sport mode than in Corsa (track) mode when flying around the south circuit at the Thermal Motorsports Club near Palm Springs, California. So, Newtonian physics and sound ordinances be damned.
But Lamborghinis are known for their shrieking V10 and V12 engines hooked to dual-clutch transmissions in their bonkers Aventadors and Huracáns, so why employ a V8 here?
Those multi-cylinder engines need ear-bleeding, valve-floating rpms to make their power. But an SUV that must also perform well in an off-road environment needs excellent torque at crawling speeds and a more traditional torque converter transmission as a buffer between engine and wheels to avoid jerking the eggs and milk around on the way home from the store.
The Urus' prodigious weight also demands bags of torque, too. The current generation of full-converter, conventional automatics offers firm high-performance duty better than in any generation before.
So the two highly opposite drivability requirements of the Urus – off-road crawling behavior and racetrack Andrettiism – demand the use of the most flexible transmission possible, and certainly more so than any other Lamborghini. The Urus therefore needed a Dr. Jekyll/Mr. Hyde transmission. If Lamborghini had not gotten this part right with the ZF 8-speed unit, the Urus would be a failure. Failure averted. Mission accomplished.
However, in the tamest Strada (street) mode, the Urus' throttle response is better measured by calendar than stopwatch. Many modern cars are similarly afflicted with poor actual thrust on throttle input. Slow response equals both marginally smaller fuel use and marginally lower emissions at that moment. But when your Moment is merging onto the Merritt Parkway with its five-and-a-half-foot-long onramps, you want power now. Selecting Sport mode alleviates this, thankfully. And this little niggle is the only powertrain nit I can pick.
A heavyweight on paper; a lightweight in feel
The Urus behaves with relative modesty in traffic. Multiple driving modes allow multiple driving personalities, so the commuting slog is as deftly managed as is the racetrack flog. The steering is light, quick, and adds to the bewildering cognitive dissonance when you think about the Urus' 4,843-pound curb weight from a large SUV platform it shares with Audi's Q7 and upcoming Q8, Bentley's Bentayga, and Porsche's Cayenne.
And yet, there's a smorgasbord of additional engineering baked into the Urus. Rear-wheel steering turns the rear wheels in opposite phase (the other direction) to the front wheels to shorten the vehicle's turning radius, tightening corners, but only at slow speeds. Conversely, at higher speeds, this system makes lane changes more immediate and responsive.
City streets prove the Urus' everyday ride quality firm but perfectly acceptable and show little harshness as evidence of its track readiness. Active anti-roll bars damn-near negate any body roll in aggressive cornering, but they also de-couple from the body when off-roading. In addition, three-chamber air springs all around adjust their firmness and ride height to suit the Urus' current mission, be it on-road or far from the road.
Though the Urus' AWD defaults to a 40/60 front-to-rear distribution bias during normal paved driving, it can vary all the way from 70/30 to 11/89 front-to-rear, depending on available traction and driving pace.
Under nearly all circumstances, the Urus feels like a rear-drive car. However, on Thermal's tighter corners on track, I feel the active torque vectoring scramble to find the wheel with the best traction and transmit power side-to-side, especially at the front end.
Road presence and stance in spades, if beauty evades
An optional off-road package adds two off-road modes, including "Terra" (dirt) and "Sabbia" (sand). Terra mode disconnects the active anti-roll bars so that the suspension can droop and compress fully and easily when crawling over rocks, ruts, or negotiating serious sand or snow. The air suspension also raises ride height and firms up. Sabbia mode softens shock damping and quickens throttle response. "Neve" (snow) mode uses top ride height but slows throttle and transmission response to aid traction on snow and ice.
While no one will go rock climbing with an Urus in the same manner as with a fortified Jeep Wrangler, Lamborghini openly states that kind of heavy-duty off-roading is not the mission. Understanding that, the Urus acquitted itself very capably in the loose sand, rough bumps, washboard surfaces, and occasional rocks and ruts of our off-road route. And certainly, few Urus owners will venture out to even this moderate level of off-road roughage.
Inside, a big helping of exotica
Even though it looks like a fight broke out between a Pontiac Aztek and a Kabuki actor, there's no denying the glowering Urus has oodles of presence. Some design elements, like the shape of the wheel well openings, derive from past Lambo icons like the Countach.
And as severe as the Urus looks, it actually works. Other striking designs often don't, due to a haphazardness not present in the Urus. Well, for the most part, anyway. From astern, though, the Urus shows its rear transverse muffler and some attending pipe clamps in a surprisingly indiscreet way from under the rear valance. At least there's no fake rear air diffuser, aping one from a race car.
As an SUV, the Urus must provide adequate room for people and luggage, and it does. Lamborghini claims the front seats can accommodate people up to six-foot seven-inches tall and the rear is good for six-foot three-inch adults and can be had in four- or five-seat configuration. I, for one, fit fine in the back seat, though I'm merely six-foot one-inch.
Once you overcome the slightly high liftover height of the cargo area, it offers enough room for eight carry-on-sized bags and a total of 21.8 cubic feet of space with the rear seats up (56.3 cubic feet with seats down).
Leather, alcantara, wood, and carbon-fiber finishes abound inside the Urus and it's all up to snuff for a car costing over $200,000 at a minimum. The Urus borrows Audi's new MMI infotainment interface as well as some minor switchgear and instrumentation. There's a hexagonal and "Y"-shaped theme inside and out, too, but it takes itself to the extreme with a mondo-hexo pattern on the dashboard's wood that's almost silly.
The Urus is the most effortless Lamborghini in history, but it befuddles the mind that it is also quicker and stops better than the first Gallardo exotic sportster.
But as-tested at $261,839, would you accept any shortcomings?