Car Reviews
Mazda's popular CX-5 crossover receives a turbo engine and fancy fashion for 2019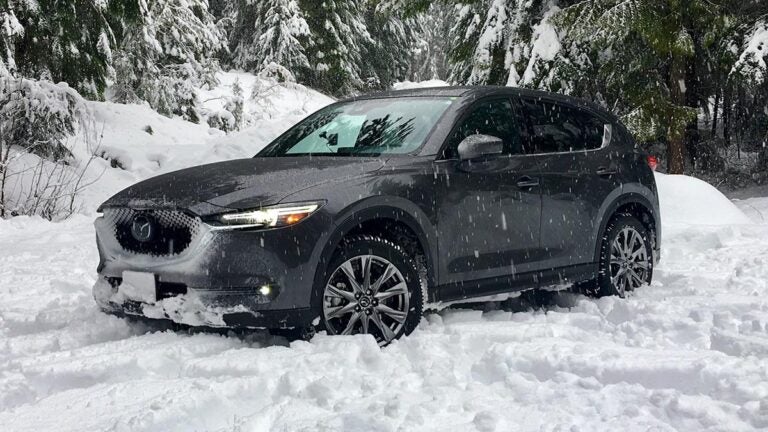 The hottest segment in automotive — crossovers — just keeps getting hotter. At some point the market will reach peak utes, but that doesn't appear to be anytime soon. Over at Mazda HQ, there are no complaints as its CX-5 compact SUV has been one of its top-selling vehicles since its introduction in 2012 as a 2013 model.
Eventually, in 2015, the CX-5 surpassed the long-popular Mazda 3 compact car as the automaker's best seller, having nearly tripled the volume of its debut—a reflection of an industry-wide shift in consumer preferences. Through November 2018, year-to-date CX-5 sales have grown by 20.6 percent and currently comprise half of Mazda's total sales. Yep. Half.
But is that enough? With the year's automotive sales at 13.1 million units so far, Mazda has only a two-percent market share. With a six-model lineup of nothing larger than its flagship CX-9 midsize SUV, the brand's foreseeable success will not come from volume but likely profit margins instead. And to earn more, you gotta charge more.
Signature class
A sane, financially responsible person would not pay extra for no value added, of course, which is why Mazda has been strategically moving upmarket thanks to its Signature trim. This means added amenities like a 2.5-liter 4-cylinder turbocharged engine and European-indulgent Nappa leather.
Grand Touring had been the long-standing, top-level trim across the Mazda lineup, but starting with the all-new 2016 CX-9 and then the updated 2018 Mazda 6 midsize sedan, the super-premium Signature was added. For 2019, the CX family of crossovers has been refreshed with CX-5 following in the footsteps of its now high-fashion (and higher dollar) siblings.
Also new to the model line is Grand Touring Reserve (GTR) that, as the name suggests, sits between Grand Touring (GT) and Signature. For CX-5, these upper-echelon trims are all-wheel-drive (AWD) only while Sport, Touring, and GT models are front-wheel drive (FWD) with available AWD.
To further complement the driving experience, standard on all 2019 CX-5's is G-Vectoring Control Plus, a revised version of the GVC system that further enhances steering response and driving precision when cornering.
The standard engine remains a 2.5-liter inline 4-cylinder with an output of 187 horsepower and 186 pound-feet of torque, mated to a 6-speed automatic transmission. Both GTR and Signature receive the turbocharged engine variant, which bumps up to 227 horsepower (250 horsepower on 93 octane) and 310 pound-feet of torque.
Mazda lists both horsepower figures to give consumers a choice between which fuel grade they pump. Although premium is recommended, it is not required. Side bar: Many turbocharged/performance vehicles are labeled as premium fuel-recommended and can indeed operate on a lower octane. But, as Mazda notes, power output will be sacrificed for the cost savings.
Poised on powder
My test drive with the new CX-5 Signature took place in Whistler, British Columbia, in order to take advantage of the AWD and new GVC Plus systems. The Canadian-spec production model also was outfitted with winter tires as is required by law in B.C.'s mountainous areas. Quebec is the only other province to have a similar mandate in that seasonal treads are a region-wide, all-winter requirement.
And for good reason, as roughly four feet of fresh powder fell overnight on what would have been our dynamic driving course. Elevation? About 2,800 feet. But en route from my hotel to the now-buried winter circuit, snow continued to fall as the CX-5 climbed, U-turned, and then descended the summit…the entire time behind a giant snow plow.
Nevertheless, even at a slower-than-usual pace, the new turbo engine didn't feel out of breath, and the automatic transmission didn't lunge into the next gear. With the drivetrain running smoothly and effortlessly, it was a rather pleasant and pretty drive.
At some point, though, I had to induce sideways snow driving to see what the AWD-GVC Plus system could do. Luckily, there were enough empty lots of varying degrees of snowflake softness to have fun. For example, my photo shoot took place in a foot of snow. Yet regardless of how many points my turns consisted of, the CX-5 (and its Toyo Observe GSi-5 tires) maneuvered as if on dry, summertime Southern California asphalt. But the space was small, which limited any hooning to sprinkled donuts.
Eventually, I found a larger area down along the Sea-to-Sky Highway. Bordered by frost-tipped evergreens and Queen Lake, I let loose. But the CX-5 was a stoic, poised son of a gun. I wanted to get squirrely, just to the edge of spin, but the stubborn thing kept its grip, steadying back into the straight and narrow. Fine. Be that way and handle this now muddy, slush box with ease. Pfft.
I'm not actually complaining. Confidence while behind the wheel doesn't mean cockiness, but rather comfort and security in knowing what your vehicle is capable of, and how quickly it can respond should driving conditions change. As ever, bravo to Mazda in the vehicle handling department.
Catching up
Exterior-wise, little will differentiate the CX-5 Signature from other trim levels aside from specific badging and a dark silver wheel finish. Instead, its opulence shines within the cabin where German luxury meets Japanese Zen.
Standard and exclusive to Signature models are: Caturra Brown Nappa leather-trimmed seats; genuine layered wood trim; a black headliner; ambient front- and rear-footwell illumination; LED lighting for the visor mirrors, glovebox, and rear cargo are; and a satin chrome finish on frequent touchpoints like the door switch panels, glovebox latch, and power seat controls. Also, a sweet-looking frameless rearview mirror. It's modern art as a looking glass. I mean, sometimes it really is the small things.
Optional package features for GT models are made standard on GTR and Signature trims as well, and some are newly available on the CX-5 like auto-folding outside mirrors and a heated steering wheel. A seven-inch LCD multi-information driver display and a three-year complimentary subscription to SiriusXM traffic and travel services are new standard amenities starting with the CX-5 GT.
In terms of technology, only Signature models receive a 360-degree view monitor and parking-assistance sensors in the front and rear. And as probably the last new vehicle on the planet, smartphone integration is finally available on all but the entry-level Sport. However, as if to make up for this delay in what is generally considered basic in-car technology (you know, like Bluetooth), older CX-5 models equipped with Mazda Connect can be updated for Android Auto and Apple CarPlay usability.
Pricey maybe, but probably worth it
The 2019 CX-5 Signature starts at $37,885 (including $995 destination fee). My test vehicle, with the addition of Machine Gray Metallic paint and all-weather floor mats, priced out at $38,310. Already fully loaded, no option packages are available for the Signature trim, only a la carte accessories. On the opposite end of the price spectrum, CX-5 Sport FWD models start at $25,345.
EPA-estimated fuel economy for turbocharged GTR and Signature AWD models is rated at 22/27/24 miles per gallon (city/highway/combined). The standard 2.5-liter engine of Sport, Touring, and GT vehicles offers 25/31/28 miles per gallon for FWD and 24/30/26 miles per gallon for AWD.
On sale now, the CX-5 is not perfect, especially in the tech department, which feels behind compared to competitors. And while Mazda is rarely the cheapest option, the brand remains a solid choice when shopping for premium performance, design, comfort, and safety. There is no reason this newest, fanciest CX-5 shouldn't continue to be a sales leader for the automaker.