Car Reviews
Don't look now, but your first pure electric car could be a low-slung Audi sportster
The E-tron GT takes a rakish, somewhat exotic look with a sloping fastback form.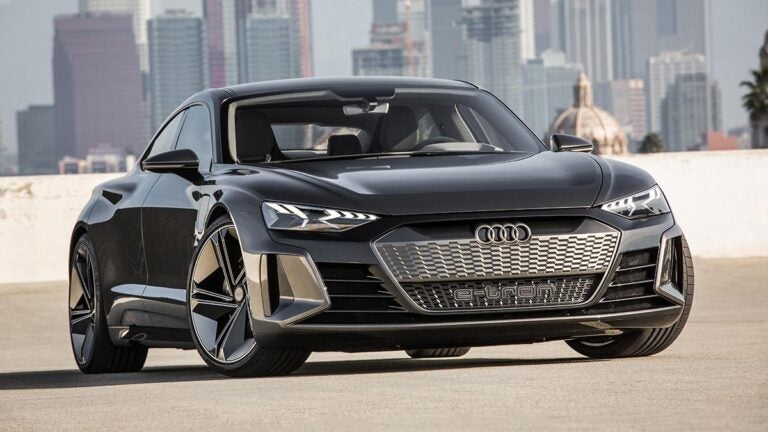 The fact that many pure EVs recently announced have taken an SUV form is neither surprising nor very creative. The SUV dominates the marketplace of course, but the shape and architecture of an SUV is limiting as a blank canvas for designers to stretch the bounds of what a pure electric car can look like. Lots of room for machinery, but not so much room for inspiration.
In that regard, Audi takes the bull by the horns with their newest, the E-tron GT concept, what Audi terms a "four-door supersports GT." Debuting this week at the Los Angeles Auto Show, the E-tron GT concept will follow the E-tron SUV electric to market and will begin production by late 2020.
Accent on design
Engineered jointly with sister brand Porsche's upcoming Taycan ("Mission E" in its concept form), the E-tron GT concept wears its own clothing, though the bones beneath remind the viewer of the Taycan.
The E-tron GT takes a rakish, somewhat exotic look with a sloping fastback form. In fact, the roof's peak height is over the driver and front passenger and descends slowly but smoothly to the rear trunk. Unlike some other pure electrics, Audi has not shortened the front end with no combustion engine to house. There will be an actual front trunk under the hood, as well.
Although it may remind the keen eye of the recently redesigned A7, the E-tron GT has far greater visual muscle, especially at the rear with prominent fender bulges, much wider tires, a two-inch lower overall height, and far sportier presence.
We spoke with Audi's head of design, Mark Lichte, as Audi officially presented the car in Los Angeles.
"It's a big challenge to do a low-slung electric vehicle," Lichte says. "The E-tron GT is even lower than a combustion [engine] car, so to us, this is a big premium. We fought for each millimeter in lowering the height."
Indeed, the main takeaway is its very low stance. It's as low as a conventional sports car like the now-departed Audi R8. The only way to make that possible in an electric car, where fairly large batteries must exist (and usually be placed fully under the floor), is through shaping and finessing the batteries to the lowest height possible.
Making that an even more complex calculus, floor height dictates roof height because the cabin must give adequate height for passengers. "This was a real moment of teamwork between us designers and the engineers," says Lichte.
Inside, room for four adults
Because Audi is putting the E-tron GT concept in the sports car camp – even with four doors and room for adults in the rear – it places a huge importance on the interior. We spoke privately with Enzo Rothfuss, Senior Director of Interior Design.
"This is an Audi R8 for four people," says Rothfuss. "So, even though this interior is in the normal Audi design family, it has its own character, which is very important as a GT car."
Because of the below-floor battery, the challenge posed to exterior design also challenged interior design. "We obviously have the very slim battery at floor level, but this car also allows us to design a very slim dashboard and a high center console to give the front passengers that special GT feeling," notes Rothfuss.
Alternatives inside, too
As interesting as the very sporty interior, Audi has chosen to use alternative materials, too. You'll find no leather anywhere. Sustainable materials sit throughout the interior with no animal-based products. Synthetic leather adorns the seats and other surfaces.
"Everyone expects leather, but we created a material using recycled fibers from fishing nets and other sources because we think this customer expects something different." As a four-seater, cargo room is important, too; the rear trunk has 15.9 cubic feet of cargo space while an additional front trunk offers 3.5 cubic feet.
Performance taking charge
The E-tron GT concept's powertrain totals 590 horsepower and hits all four wheels with quattro all-wheel drive. The drive system itself uses a front motor and a rear motor that are electronically linked.
They combine to catapult the E-tron GT to 60 mph in less than 3.5 seconds, to 125 miles per hour in just about 12 seconds, and on to a regulated top speed of 149 miles per hour, according to Audi. The car can also deliver maximum acceleration several times in a row, with its greater-than-normal cooling capacity.
Audi claims the range will be greater than 248 miles from a fully charged lithium-ion 90-kWh battery, which can be charged via a normal cable or wirelessly by an induction pad with an integral coil placed on a garage floor.
Charged via wire, it takes about 20 minutes to reach 80 percent of maximum battery capacity, offering a resulting range of just under 200 miles, Audi says.
Audi Sport, the performance division of the company that also engineers the S and RS performance Audis, will actually build each E-tron GT starting in late 2020 as another option to the $75,795 SUV-based E-tron, which we will actually test in a few weeks. There's no indication on the E-tron GT's pricing, though it will assuredly be higher than the E-tron SUV.