Car Reviews
The 2020 Mercedes-Benz GLE-Class is a technological tour de force in designer duds
We got a chance to drive the all-new GLE-Class at its first global media drive event in San Antonio, Texas.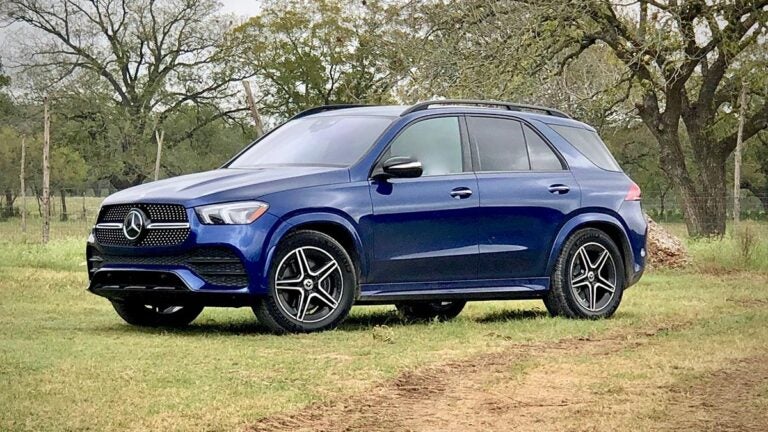 Long about 21 years ago as a young automotive journalist, I flew into Huntsville, Alabama, for my first-ever Mercedes-Benz drive program, the launch event for an import luxury SUV, an idea then considered quite radical. Back then, the idea itself of the "lux-u-vee" was new to Americans; Range Rovers were seen as quirky and cantankerous (which they were) and the only others were the trucky GMC Yukon Denali and Lincoln Navigator, both having only been around for a year or two themselves. Suddenly, Mercedes-Benz—a company known for stoic sedans and classy chichi ragtops—was building trucks. In Alabama, no less.
Said SUV was dubbed M-Class, though litigation prompted Mercedes to use "ML" instead of "M" in the vehicle's name. I don't remember much about the event itself save for two scary moments: our plane landed in the midst of a tornado warning, so we ran through an evacuated Huntsville airport toward tornado shelters; then the next day, I was directed to steer the ML320 prototype I was driving down a steep, muddy hill and release the brake—intentionally! Having grown up in Kansas, I was reasonably comfortable with tornadoes, but this demonstration of "hill descent control," one of many high-tech features brandished by the ML-Class, well, that was terrifying.
Much has happened since then. For one thing, luxury SUVs have proliferated beyond anyone's expectations, now available in all sizes, all premium price points, and from nearly every premium automaker. Mercedes-Benz now offers seven(!) of them. And besides being rechristened the "GLE-Class" when the outgoing third-generation model was facelifted in 2015, the old GLE-Class got a slant-back coupe sibling around the same time. Now, with some 2,000,000 sold worldwide to date, the Tuscaloosa-built ute has been redesigned. And while it won't be on sale in the U.S. until the spring of 2019 as a 2020 model, we got a chance to drive the all-new GLE-Class at its first global media drive event in San Antonio, Texas.
Slippery Style, Two Different Looks
Among my other recollections of the M-Class from my Alabama experience in 1997 was that it drove better than it looked. In 2020 GLE guise, its looks have certainly caught up. Several key styling elements of the outgoing GLE-Class remain, including its draping C-pillar treatment and the general arrangement of the headlamps, grille, and clamshell hood with twin hood bulges, but it's 5 inches longer, one inch wider, and has 3 more inches between axles, giving it a stouter stance while creating room for an occasional-use third-row seat. As with other recent Mercedes models, the GLE's edges and corners have been rounded off, and the last model's shoulder-line creases have been ironed out to river-rock smoothness.
Less angular yet stronger-looking than before, it effectively masks its additional size while setting a new aerodynamic standard in its segment. Its astoundingly low (for an SUV) 0.29 coefficient of drag is 0.3 Cd slicker than the outgoing GLE's 0.32, 0.6 better than the 2019 Porsche Cayenne at 0.35 Cd, and even beats the 0.31 Cd of Porsche's 200-mph-plus 911 Turbo.
The 2020 GLE-Class is offered in a classy monochromatic treatment or a more rugged "off-road" look, the latter featuring a prominent metallic skid plate element curling beneath the front bumper, black overfenders, and a rear bumper that matches the front. Grille choices include a trisected horizontal design or a glitzy arrangement of chrome dots orbiting the prominent three-pointed star. Customers may further specify darkened window and roof rack bars in lieu of chrome while an array of wheel designs from 19 to 22 inches in diameter may fill out the wheelwells. And, this being 2018, the new GLE-Class features all-LED head- and taillamp units with distinct light signatures.
Newfound Elegance
While the exterior has changed considerably, it's not a huge departure from the look of the outgoing model. Different story inside. Not only has the cabin increased in terms of passenger and cargo space but in sophistication and comfort as well.
What struck me first as I plopped myself into the front seat was the sheer elegance of the space. I spent several hours in each of two different GLEs, one with aluminum and standard leather upholstery and the other with a "designo" interior with brown Nappa leather and open-pore wood, the latter clearly more sumptuous and equipped with its bevy of other extras, but the base model's material quality and ambience were not far behind. And if you can't get comfortable in the seats, don't blame Mercedes as the GLE-Class offers seat massagers, front and rear seat heating, front heated armrests, seat coolers, even "seat kinetics," which could make minute adjustments in the seat cushion "to support changes in posture."
The dashboard's calming arrangement of clean, horizontal forms and the new MBUX touchscreen and touchpad interface combine ergonomic simplicity and aesthetic appeal. Within the horizontal plank of glass floating about half an inch off the upper dashboard are a pair of 12.3-inch high-res screens, the leftmost containing the multi-configurable gauge cluster with four distinct themes while the right side displays audio, navigation, climate, and off-road system information, plus numerous app-based functions, including Apple CarPlay and Android Auto.
Front or Back: One Elegant Sled
Customers considering a GLE-Class over some of the compact luxury SUVS out there likely intend to use the back seat at least occasionally. Because of this, I also spent a fair amount of time in the second row, enjoying its nearly 3 inches of added legroom and over one inch of additional headroom. Interestingly, the optional 40/20/40 seating arrangement came with adjustments for seatback angle, headrest height, and 4 inches of fore/aft travel—all powered—which makes climbing into the newly available third-row seat on vehicles so equipped that much easier.
The seatbacks may also be folded from the cargo area when loading unexpectedly long items. Also worth mentioning is that the overall sense of luxury seemed undiminished compared to the front seats in terms of fit and finish, materials, and quietness at speed.
Tech, Tech, and More Tech
Among the many tricks the new infotainment system can perform is augmented-reality assisted navigation, which switches from map mode to a real-time video image from the front-facing camera, with directional arrows and/or house numbers superimposed on the image to make specific directions that much clearer—particularly handy in complicated interchanges, roundabouts, or dense urban areas with lots of streets in close quarters. Less impressive is the GLE's new "Interior Assistant"—Mercedes' Alexa, if you will—who knows a lot of trivia and can help adjust certain controls and input navigation commands, but whose comprehension skills are, well, about Siri-level, which is to say not always spot on.
The GLE also offers a new "Energizing Comfort" system that uses an "intelligent algorithm" to recommend one of a range of "feel-good programs" that integrate the seat massage function, 64-color ambient lighting system, and music selection to help passengers feel "well and relaxed even during demanding or monotonous journeys." Should they have Garmin wearable devices that monitors their health, they may sync them up, too, for even more tailored selections.
Beyond that are other features, such as a truly enormous head-up display with three banks of selectable information cast upon the windshield; a nifty automatically adjusting driver's seat that takes into account the driver's body size information as entered into the system to position the driver in the optimal driving position; and off-road pages that depict the vehicle's pitch and lateral angles, wheel articulation, and other data relevant to those occasional ventures down the roads less traveled.
Sweet New Engines
My reviews of how new, modern Mercedes-Benz models drive tend to be, as a matter of course, a constant spicket of praise. Sure, there are certain aspects, usually at the extreme limits of acceleration, braking, and handling, where one competitor may excel, but for the most part, it's hard to find any new Benz with a "hitch in the gitalong," as they say in the Lone Star State. And with the GLE-Class, praiseworthiness indeed abounds, but let's just say it's a good thing that market launch is still some six months away.
First, the good news: both engines are outstanding. As with last year, a six-cylinder engine is offered, only now the V6 is a turbocharged, 3.0-liter inline-6 and comes with the GLE 450 moniker. Said engine boasts uncanny smoothness and formidable output: 362 horsepower and 369 pound-feet of torque, aided and abetted in its mostly silent mission by a nine-speed automatic transmission.
Slotting in below the GLE 450 is the GLE 350, the first GLE or M-Class powered by an engine with fewer than six cylinders. Its turbocharged, 2.0-liter four-cylinder engine is paired with the same nne-speed automatic as the GLE 450 and puts out 255 horsepower and 273 pound-feet of torque, enough to accelerate briskly, if not as urgently as could the GLE 450.
The GLE 450 is available with Mercedes-Benz's groundbreaking and pricey ($8,100!) E-Active Body Control system, a fully active, road-scanning, bump-erasing, hydro-pneumatic suspension supported by the automaker's clever Airmatic air springs, a huge hydraulic pump, and a powerful 48-volt electrical platform. The most notable benefit of these pricey suspenders is its ability to drop the inside wheels and raise outside wheels in corners, effectively leaning into corners to enhance stability and subject occupants to lower lateral g-forces. The powerful system also makes an additional 21 horsepower available to the engine during acceleration, specifically helping to get the turbochargers spinning more quickly, reducing lag.
And indeed, turbo lag was pretty much nil with the GLE 450, and I didn't feel the same sideways heave when tackling corners with aplomb. In fact, I didn't feel much of anything when tackling corners with aplomb—which can prove rather disconcerting when tackling corners with aplomb, especially on tight, twisty Hill Country two-laners. Turning the wheel even a bit would result in unexpectedly sharp response followed by vagueness. The very floaty ride quality in this mode contributed to a serene cabin—great for other occupants, but not for a driver trying to figure out what his two-and-a-half-ton truck is running over at any given time.
After two hours, I was still finding myself a few inches to the left or right of where I wanted the car to be upon exiting the corner, at times over the center line. Granted, I was pushing it, and when driven calmly it was eminently mannerly. Still, I was grateful for the other, less "active" modes for the suspension that I could revert to, though the feel never materialized in any.
The engineers that were present got many ears-full that day, so my hope is that by the time the GLE-Class goes on sale, it will be better calibrated. Fortunately, there's time.
If This Truck's A-Rockin'…
If there's one reason to spring—pardon the pun—for the E-Active Body Control, it's the "free driving" mode. Developed to free the vehicle from deep sand, the hydraulics literally bounce the vehicle up and down as the driver accelerates forward or backward to help break itself loose from its moorings. The best thing about this free driving mode is that you don't have to actually get stuck to use it; I suspect more drivers will use it to show off to the neighbors, entertain the kids, or get one's significant other in the mood.
Equipped with the GLE's $1,600 Airmatic air suspension but not the GLE 450-exclusive E-Active body control, the GLE 350 I drove felt far more comfortable and was utterly predictable in corners. It was slower by comparison, of course, but its hearty growl and palpably lower weight made the GLE 350 the more enjoyable of the two GLEs I drove that day and I can recommend it without reservation. I am curious to drive a GLE 450 with the same suspension to see how much more enjoyable it might be with that kind of power on tap but without the tricky suspension.
The GLE-Class' technological cherry on top is its suite of available driver-assistance systems that use not only a bevy of sensors to help keep the car cruising on the highway at a safe following distance and within the lane, but also use the navigation system and cloud-based information to predictively slow for traffic jams that drivers may not see around a bend. The systems can also handle stop-and-go driving with little steering input from the driver and even less from his or her feet. It can fairly be described as something above Level II on the Level I–V scale for autonomous systems, Level V being full, point-to-point autonomy.
Unfortunately, I never got a chance to try these systems out, given that nearly all the miles I covered in the GLE that day were on roads too narrow and asphalt too broken for me to trust the car to handle. I may have survived a hill-descent control demo at 0.5 mph in 1997, but this seemed like a much more consequential bet, even in a vehicle that Mercedes-Benz touts as its most technologically advanced vehicle ever.
Model Line to Expand, Naturally
Base pricing information for the 2020 GLE 350 and GLE 450 will be available closer to its Spring 2019 launch, but we are assured that prices will only climb modestly from the current model's $57K-ish starting point despite the addition of many new comfort and safety features. Later in the year, a 2-wheel-drive GLE 350 will join the lineup, with more performance-oriented AMG models expected to follow shortly thereafter.