Car Reviews
Porsche goes fully turbo with all 911s in the eighth generation of the stalwart German sports car
The functionality of the 911 interior and dash has been one of the model's hallmarks since the beginning. Function as art, some might say.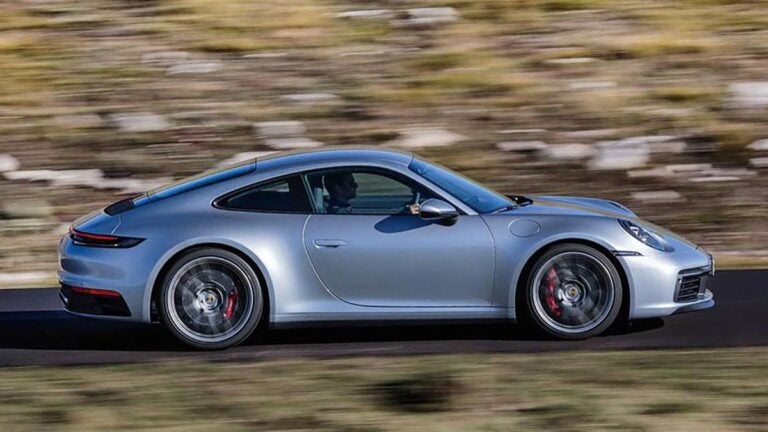 The Porsche 911 first saw the light of day before Ford's Mustang, before the Beatles appeared on Ed Sullivan's TV show, and just 78 days after JFK's "Ich bin ein Berliner" speech in West Berlin. Yet, the German sports car will enter its eighth generation next year as a 2020 model with the same essential shape, layout, and cylinder count as that very first one in 1963. There are few things as consistent and as vociferously loved by enthusiasts in the automotive universe as Porsche's 911.
Porsche may have unveiled that very first 911 at the Frankfurt Motor Show in September, 1963, but it chose California, the largest single market for its cars in the world, to debut the next-generation 911 Carrera S and 4S sports car, immediately ahead of this week's Los Angeles Auto Show.
Design evolution, not revolution
As with the prior seven generations, the latest body will follow past form, though with subtle detail changes aplenty. Larger, more pronounced fenders house larger, staggered wheels and tires, sized 20 inches in diameter up front and 21 inches in the rear. The front body width also grows nearly two inches, enabling a wider front track, which should quicken steering turn-in and also effectively lower body roll slightly in hard cornering.
Other design details include new LED headlights, larger apertures for the grillworkup front, door handles that electrically deploy when triggered from living flush when not in use, and subtle bulges in the front hood, giving it a bit more topography, or contour.
At the rear, the taillight bar stretches across the entire rump for all models, not just those with all-wheel drive. That rump is also taller, at least visually, than the prior 911 and uses a Panamera-style, wide active rear wing. Aside from the front and rear bumper covers, the new 911's bodywork (coded "992" for you Porsche geeks) is purely aluminum. Aesthetically, everything works well and gels, though the rear end is of much greater visual mass than before.
Greater performance through technology
Every permutation of the 911 will now be turbocharged, the 2020 911 Carrera S and 4S flat-6 engine developing 443 horsepower thanks to revised fuel injection, new turbochargers, and new intercoolers placed above, rather than to the sides of, the engine itself. A new eight-speed, dual-clutch PDK transmission is standard. A traditional manual transmission will be made available later in the year.
Those 443 hp enable the new 911 Carrera S to reach 60 miles per hour in a mere 3.5 seconds, Porsche claims; the 4S with its better off-the-line traction of all-wheel drive does the same sprint in 3.4 seconds, or .4 of a second quicker than the outgoing S and 4S. Top track speed is 191 miles per hour for the Carrera S and 190 miles per hour for the Carrera 4S.
There's a new Porsche Wet Mode that provides better driver awareness on damp roads, which, once triggered, re-orients the car into a more conservative, lower-threshold stability management and anti-lock braking setting than whatever may have been selected prior and alerts the driver of that change, too. Also, a new Night Vision Assist uses a thermal imaging camera and will accompany other new active driver-assistance systems.
Unofficial word on the multiple additional 911 variants based on this new "992" 911 will include plug-in hybrids and a proper, full-on Turbo model with roughly 600 hp.
The cabin of tech
The newest 911's interior design is fairly evolutionary. The functionality of the 911 interior and dash has been one of the model's hallmarks since the beginning. Function as art, some might say.
The strong central spine running between the front seats houses hard buttons and switches while the dashboard uses a large, centrally placed tach, as it has since that 1963 debut car. But that large rev counter is now flanked by two recessed, customizable virtual displays, from which the driver can call up navigation, trip information, other vital vehicle gauges, and audio controls.
Long-time Porsche fans might balk a bit at the notion of digital gauges in their beloved 911, but it likely borrows some technology from sister brand Audi's Virtual Cockpit graphics, which would be a very good thing. A 10.9-inch touchscreen display is enlarged from 7.0 inches in the current car.
The 2020 911 Carrera S will begin at $114,250 (including $1,050 destination fee) and the 911 Carrera 4S starts at an even loftier $121,650 when it arrives this summer.