Car Reviews
The all-new 2019 Chevrolet Silverado has features that truck buyers crave
This truck combines comfort with capability.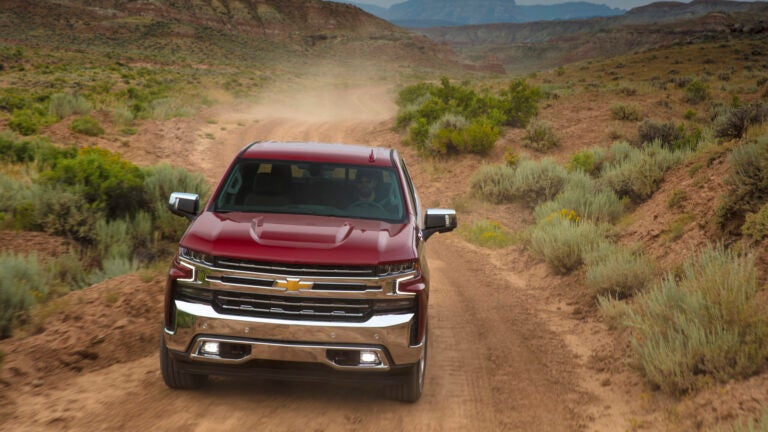 The 2019 Chevrolet Silverado is all-new, celebrating its 100th anniversary this year. The latest Silverado has come a long way since its introduction and earned legions of loyal fans. This new generation of Silverado arrives at a time when trucks are big business and competition is tough. Chevy gave the Silverado a thorough upgrade that will both please existing fans and likely draw in more than a few new ones.
Changes start with an exterior design that features a variety of bold grilles. This is a love it or hate it proposition, but don't forget this is a truck. No one wants a mild-mannered grille on their truck and there's nothing mild-mannered about the Silverado. It's bold and in your face and suits the Silverado's impressive capability.
There are eight trims with a starting price of $29,795 that's easy on the budget. Take a walk up the trim lineup and pricing grows along with capability and amenities. The High Country, which boasts an interior worthy of a luxury vehicle, comes in at $58,195.
That's a heck of a price range, but a wide variety of configurations that includes varied bed sizes, cabs, and engines make it easy to customize. It all comes down to finding exactly the right Silverado for your needs. You can make it as fancy as you like, if that's what you want and you have the budget, but there are plenty of configurations that still work with a more modest budget.
We spent our time with the four-wheel drive LTZ crew cab, which sits near the top of the lineup. It comes with standard features including heated leather front seats and dual-zone climate control. It's a comfortable and spacious interior with room for five adults and all their stuff. The center-console cargo bin is quite simply huge and there are multiple bins and cubbies located throughout the interior for holding objects of every size.
Of the five available engines, this Silverado featured the powerful 6.2-liter V8 with 420 horsepower and 460 pound-feet of torque paired to a 10-speed automatic transmission. That's enough power to make this full-size truck plenty responsive, especially when it comes time to accelerate onto the highway. We'd be remiss not to mention that it also sounds fantastic when you mash on the gas if you need a burst of extra speed.
Trucks aren't exactly known for being smooth and comfortable for passengers, especially when there's no payload, but the Silverado provided a comfortable ride. Minimal road and wind noise intrudes into the cabin and it's easy to carry on conversations with rear-seat passengers. The suspension system smooths out rough road surfaces, and about the only time you feel its truck-ness is driving over large bumps and dips in the road.
Whether it's a rutted, dirt road in the country or simply an uneven highway, the larger bumps will remind you that you're in a truck. It's not jarring, however, more just a bit of a bouncy ride, and one that never leaves the driver feeling like the Silverado is uncontrolled. It's simply that this is a truck and it behaves like one, albeit a very well-mannered one.
Capability is also key when you're buying a truck. The Silverado can manage a payload of up to 2,280 pounds with 12 fixed tie-downs that can handle up to 500 pounds of force before bending. The floor is made of a higher-strength steel for improved durability and a built-in corner step makes bed access easy.
The Silverado can also tow up to 12,200 pounds when properly equipped. Features including the myChevrolet phone app, which has helpful checklists and even lets you conduct a light test without a second person, make driving with a trailer easier. The available Advanced Trailering System adds hitch guidance with hitch view and a unique in-vehicle app for monitoring the trailer for safety.
The 2019 Chevrolet Silverado delivers a comfortable ride for passengers with the capability you need to manage your day whether it's work or play. Find it at your local dealership today.