Car Reviews
The all-new 2019 Chevrolet Blazer makes a comeback
Instead of simply slapping a beloved badge on any old SUV, Chevrolet created a completely new Blazer with style and features suited to today's drivers.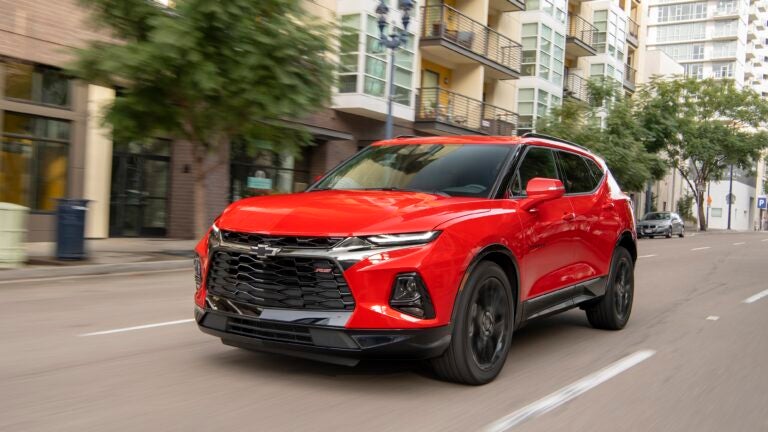 The 2019 Chevrolet Blazer is all-new this year, marking the return of a much-loved nameplate. The original Blazer was discontinued more than 10 years ago, and fans have been anxiously awaiting its return ever since. This new SUV might have the same name, but don't expect the same old Blazer. This is a Blazer for today's driver, and it takes a different approach than the original.
It starts with the design, which aims for a performance vibe. Plenty of SUVs and crossovers are in Chevrolet's lineup, but that's not where designers turned for inspiration. Instead, they looked to the Corvette and Camaro, which is especially apparent from the front.
The Blazer comes in a range of trims that Chevrolet sees as having three distinct personalities. The base L starts at $28,800 and features a 2.5-liter four-cylinder with 193 horsepower and 188 pound-feet of torque paired to a nine-speed automatic. It comes standard with front-wheel drive.
Take a few steps up, and there's an available 3.6-liter V6 with 305 horsepower and 269 pound-feet of torque along with all-wheel drive. Add leather trims, and the price tag goes up to $38,695. Those are the base trims that offer a more frugal personality and are competitively priced.
Then there's the RS, which comes in at $41,795. It's also the sportiest of the lot. There are unique black trims, including the iconic Chevy bowtie on the grille, perforated leather seats with red accents, and the more powerful V6 engine. We spent our time with this version of the Blazer and found it surprisingly fun.
While every automaker proclaims that driving its cars is fun, not every car lives up to that claim, especially when it comes to SUVs. These are vehicles that are about hauling stuff around — whether it's people or cargo — and getting work done. They must be practical, which is anything but fun, yet the Blazer was a car we enjoyed driving.
The V6 engine is peppy and delivers plenty of power when merging onto a congested roadway or passing other vehicles at highway speeds. It handles well, too, with tight, crisp steering that makes the Blazer feel nimbler than it looks. This isn't a Camaro, but much like it has a hint of that car in its design, there's a hint of performance in how it drives.
Sitting at the top of the Blazer lineup is the Premier, which is the luxury-minded trim with pricing from $43,895. Instead of the sporty black accents of the RS, there are lots of chrome bits inside and out along with luxury amenities like a Bose eight-speaker audio system.
While the base trims of the Blazer are affordable, pricing creeps up quickly with the RS and Premier. They offer the most interesting personalities of the mix — sporty or luxurious — but there's still quite a lot of SUV for the money, even in base trims.
The Blazer also offers plenty of room and a comfortable interior, too. It easily seats five passengers with rear seats that can accommodate three adults even for longer trips. Those seats also slide forward to accomodate more passengers or back for more cargo room.
There's up to 30.5 cubic feet behind the rear seats or 64.2 cubic feet behind the front seats. Those rear seats fold flat, which makes loading longer, heavier cargo an easier task. In need of more room? The Blazer can tow up to 4,500 pounds when properly equipped.