Car Reviews
The 2019 Audi E-tron adds an electric SUV to the luxury car lineup
E-tron brings electric performance in a luxury SUV.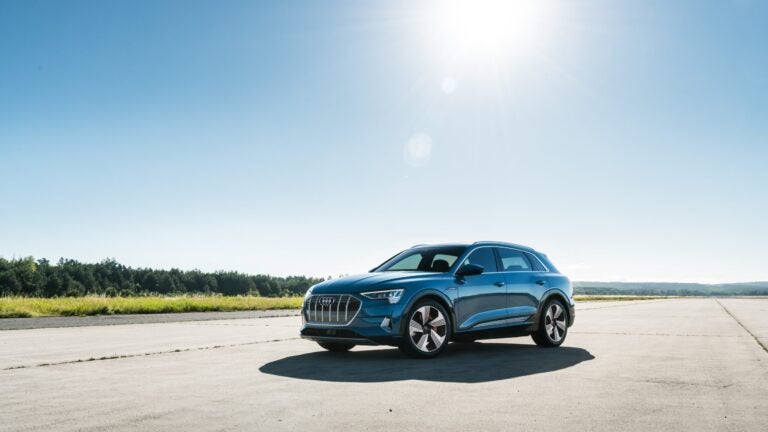 The 2019 Audi E-tron is the first electric SUV from this luxury performance brand. While some automakers build electric vehicles that look different from the rest of their lineups, the E-tron looks every bit an Audi. Its sleek, sporty design fits right in with the Audi image, it just happens to be an electric vehicle.
There are two available trims starting with the base Premium Plus which has a starting price of $74,800. It includes standard leather seats with heat and ventilation for front passengers, a panoramic sunroof, and four-zone automatic climate control.
Your second trim choice is the Prestige which climbs to $81,800. It sees the addition of Valcona leather seating surfaces, massaging front seats, and power door closers. The Prestige also comes standard with the driver assistance package, which includes traffic sign recognition, adaptive cruise assist with turn assist, active lane departure prevention with emergency assist, and Audi pre sense 360.
The E-tron has a comfortable interior no matter where you sit. Front seats are soft enough to relax on longer trips while providing good support to keep those trips from becoming tiresome. The rear seats have room for three with ample head and legroom for the tallest adults.
If you need to carry cargo, then you'll find E-tron surprisingly accommodating. It doesn't look like an overly large vehicle from the outside, but open the liftgate and there's 28.5 cubic feet behind the rear seats. Fold the rear seats down and cargo capacity expands to 57 cubic feet. The E-tron can also tow up to 4,000 pounds, so it's more than ready to do some real work.
All-wheel drive is standard with an electric motor mounted at each axle. There's a 95-kWh battery with the E-tron boasting 355 horsepower with 414 pound-feet of torque that will press you back into your seat when you mash the accelerator.
It's more than responsive and makes short work of merging into highway traffic, but there's a bit more power to be had when you choose Sport as your drive mode. This setting opens Boost Mode, which briefly gives you 402 horsepower and 490 pound-feet of torque. It's enough to give the E-tron a 0-60 mile-per-hour time of 5.5 seconds and put a huge smile on your face.
One of the drawbacks to owning an electric vehicle is charging. You can't stop at the gas station and top off the tank with an electric. Instead, you have to plan a little time to recharge the battery. E-tron aims to reduce range anxiety starting with a range of 204 miles. That's enough to handle an average day whether you're commuting into the city or running errands around town.
It's also the fastest-charging electric SUV currently available and can utilize 150 kW fast chargers, so when you do need to stop and charge it won't be too long a wait. The E-tron gets approximately 54 miles of range in 10 minutes or 163 miles in 30 minutes if you use one of those fast chargers, so topping off during the day isn't such a chore.
A map on the infotainment screen also provides a blue outline making a rough circle around the area covered by however much range is currently left in your E-tron. If it's a road trip you're planning, the system will plot your route with suggested charging stops along the way and estimates for how long you'll need to plan for each break.
The 2019 Audi E-tron has a lot to offer and just might be enough to convince you to make the switch to an electric vehicle. Although it's available for sale right now, it's not sitting on dealer lots. Instead, you need to reserve your E-tron online. You'll have to wait, but you'll be getting a made-to-order car. Test drive availability is also limited, so reach out to your local dealership to schedule a drive.