Car Reviews
The all-new 2020 Nissan Versa offers affordable comfort
Versa is a great choice for first-time buyers on a budget.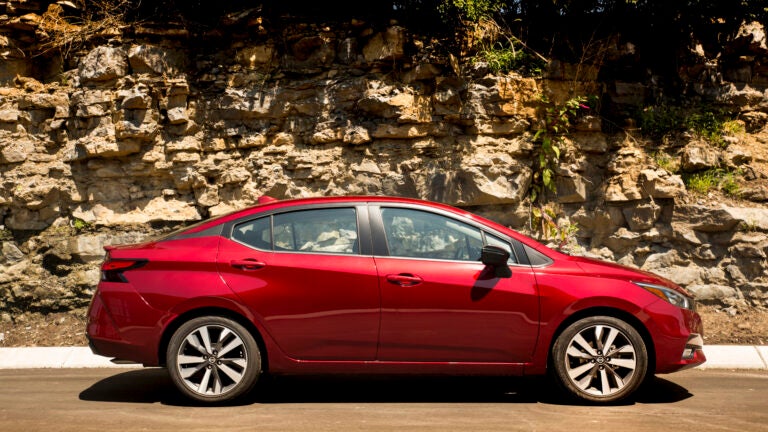 The all-new 2020 Nissan Versa is an economical small sedan that combines key features with updated styling that adds to its appeal. Many an entry-level car is bare bones with minimal features that make it abundantly clear your priority was staying on budget. The Versa instead offers a selection of just-right features that won't make it look or feel like you compromised.
Its design is longer, lower, and wider than the outgoing model which gives it a modern and sporty demeanor. Nissan brought the Versa in line with its larger Altima and Maxima sedans adapting the V-motion grille and boomerang headlights and taillights for its most affordable sedan.
Inside there are cloth seats across the three-trim lineup with higher quality fabrics and accents as you hit the top of the range. We spent our time with the mid-range SV and found the manually adjustable seats comfortable to sit in and appealing to the eye.
There's room for five passengers with 60/40 split-folding rear seats on all but the base trim. While there's seating for three in the back, it's best reserved for only two adults on all but short drives. Headroom and legroom in back are good overall but pushing the front seats back for taller front passengers cuts heavily into rear legroom.
Power for the Versa comes from a 1.6-liter 4-cylinder engine with 122 horsepower and 114 pound-feet of torque. Those aren't big numbers, but the surprise is how responsive the Versa is anyway. Press on the gas and it has no trouble merging into highway traffic and even delivers an extra burst of speed when you need it for passing.
There's a 5-speed manual available on the base trim, but our SV came standard with a continuously variable automatic transmission. These can be noisy things, especially in an economy car where less is spent on sound deadening materials between the passengers and engine. Again, the Versa is a surprise with very little noise bleeding over from that transmission even under hard acceleration.
In fact, the cabin is notably quiet making it a truly pleasant ride for everyone. Not only is engine noise muted, but road and wind noise are also kept at bay. This makes it easy to carry on a conversation and keeps a long trip from becoming wearisome after several hours.
Infotainment includes a 7.0-inch touchscreen as a standard feature, so there's no fiddling with a distracting small screen. There's also a USB port, streaming Bluetooth audio, and on all but the base trim both Apple CarPlay and Android Auto are standard features. It's not fancy, but it includes the smartphone connectivity today's buyers crave.
The Versa makes automatic emergency braking standard across the lineup along with lane departure warning and rear automatic braking. Additional features including intelligent driver alert, rear door alert, blind spot warning, and rear cross traffic alert, which make an appearance on top trims. Although not a large suite of safety features, the availability of automatic emergency braking on a car in this price range is commendable.
A significant part of the affordability equation is fuel economy and the Vera delivers with an EPA-estimated 32 miles per gallon in the city, 40 miles per gallon on the highway, and 35 miles per gallon combined when equipped with the manual transmission. Numbers drop to 27 miles per gallon in the city, 35 on the highway, and 30 combined with the manual, but that still makes the Versa a great choice as a commuter car or for those with lots of road trips in their futures.
But what makes the Versa most appealing is its price. The base S comes in at $14,730 with a manual or $16,400 with an automatic. Pricing rises to $17,640 for the SV and tops out at $18,240 for the SR making it affordable across the lineup.
The all-new 2020 Nissan Versa is a compelling value proposition. Key infotainment and safety features, affordable pricing, and good fuel economy combined with attractive styling inside and out make it a great choice for first-time buyers on a budget.