Car Reviews
The Porsche Taycan, an electric sports car, makes its debut
Porsche has revealed what it believes sets a new benchmark for electric vehicles.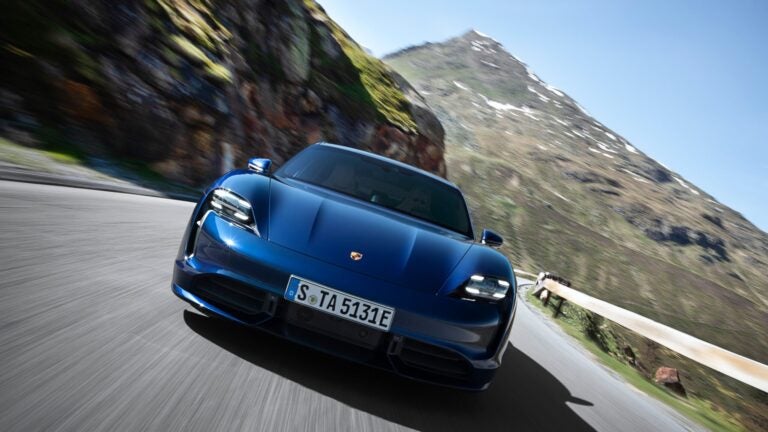 The all-new Porsche Taycan is the brand's first all-electric sports car and since Porsche is known for building performance vehicles, this couldn't be simply another EV. It had to be a Porsche EV with the driving dynamics people have come to expect from the brand. At its world premiere in Niagara Falls, Canada, Porsche revealed what it believes sets a new benchmark for electric vehicles.
The Taycan is powered by a 93-kWh battery and two electric motors. There's one at the front axle and one at the rear axle so you have all-wheel drive that's ready for rough New England winters. That's the practical side of the Taycan, but on the performance side it posts extraordinary numbers.
The Taycan Turbo generates 670 horsepower with 626 pound-feet of torque that give it a 0-60 miles-per-hour time of only 3.0 seconds. If that's not fast enough for you, then there's the Taycan Turbo S which has 750 horsepower and 774 pound-feet of torque for a 0-60 miles-per-hour time of only 2.6 seconds. Top speed is 161 miles per hour and it can do a quarter mile in as little as 10.8 seconds. It has performance covered.
There's also a unique two-speed transmission, which helps with the Taycan's performance. First gear puts the focus on acceleration for when you're initially starting out. Second gear focuses on both efficiency and maintaining power reserves for travelling at higher speeds.
The driver can also tailor the ride in the Taycan with a choice of drive modes. Normal, Sport, Sport Plus, and Individual drive modes, which are common to Porsche vehicles, but the Taycan gets one more. A unique Range mode maximizes efficiency to get the best possible range from the electric battery.
While performance is a key part of the Taycan's appeal, it's also an electric vehicle so charging times are important. The Taycan can charge from five percent up to 80 percent of its full charge in as little as 22.5 minutes, which makes it easy to manage even over longer road trips.
Also important for an electric vehicle are range and fuel economy. Unfortunately, neither the EPA-estimated fuel economy nor the estimated driving range have yet been announced. Expect those numbers in the coming months.
Any car with those kinds of performance numbers needs to have equally strong braking capability. The Taycan is equipped with one of two brake systems. There are Porsche Surface Coated Brakes that are steel with a tungsten carbide coating on the Turbo, or Porsche Ceramic Composite Brakes on the Turbo S. Either option ensures plenty of stopping power.
The interior of the Taycan features an array of screens including a free-standing instrument cluster. Next to this is a 10.9-inch infotainment display with the option for a second passenger display screen that creates a uniform glass band across the dashboard.
This thoroughly modern and sleek interface was created specifically for the Taycan, reducing the number of physical knobs. Instead, it favors touch controls and voice controls that respond to the command, "Hey, Porsche."
In addition to the luxurious leather interior common to luxury cars, the Taycan is offered with a leather-free option, which is a first for Porsche. The use of recycled materials throughout the interior enhances the sustainable concept of driving an electric vehicle.
This is a luxury car in keeping with the Porsche brand image, so it has pricing that follows suit. The base Porsche Taycan Turbo has a starting price of $153,310 while the Taycan Turbo S comes in at $187,610. Those are launch prices, which are set to drop roughly $2,500 after the initial launch period.
It's not the most affordable electric vehicle you can buy, but that was never Porsche's goal. Its goal was to build an electric vehicle that was first and foremost a Porsche. From its styling to its driving dynamics to its advanced technologies, the Porsche Taycan promises performance car enthusiasts the drive they crave with the efficiency of an electric vehicle. Look for the Porsche Taycan to arrive in dealerships later this year.