Car Reviews
In Outback's shadow, Subaru Legacy is a bargain AWD sedan
For 2020, Legacy is more athletic, more attractive, and more of an all-wheel-drive bargain than ever.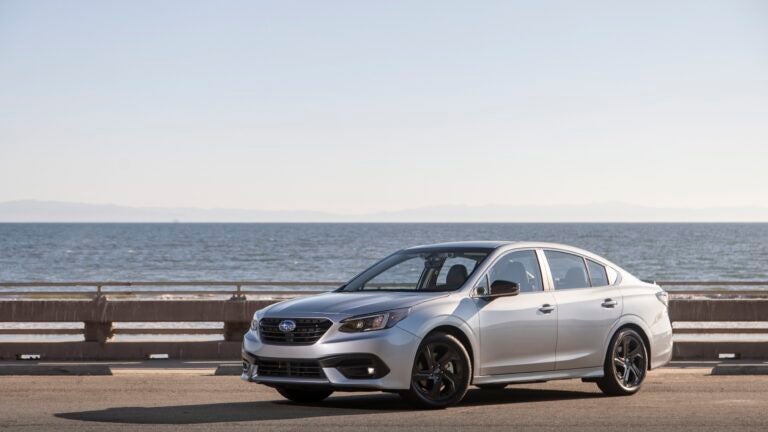 DETROIT — Pity the Subaru Legacy sedan.
It has a hard enough time competing for dates in SUV Nation, but it also has to compete against its sibling Outback. Separated at birth, the Outback and Legacy share the same DNA, platform and electronics — except the Outback got jacked up by 8.7 inches to SUV status and became the fun, outdoors-loving, best-selling big man on campus. Its dance card is full every weekend.
To make matters worse, the Outback went out and got plastic surgery.
Legacy was always the better-looking sibling with its sleek roofline and Sport trim and athletic stance. But for its sixth generation, the Outback got Botox shots that cleaned up its lumpy face, toned down its love handles and — this one really hurts — picked up the same Sport trim as Legacy.
The new Outback has cool black highlights, black wheels, blacked-out window pillars, the full Sport treatment. And to rub it in, the Outback calls its sport trim Onyx.
The Legacy could wallow in self-pity, but it knows its strengths and builds on them for its own next-generation makeover.
For 2020, Legacy is more athletic, more attractive and more of an all-wheel-drive bargain than ever. The Outback may have more rugged sex appeal than Russell Crowe, but it comes at a $4,000 premium. The Legacy is a cheap date with quick moves that will get you to dinner and a movie on time.
Sedan sales may be down compared to sport utilities, but the Legacy is evidence they are still the best bargain on the showroom floor. For us aesthetically minded penny pinchers, the midsize sedan is one heckuva deal.
Like the best-in-segment Honda Accord sedan, the Legacy offers standard luxury features and handling for about $25,000. Indeed, these sedans' amenities are so good that luxury buyers have to think long and hard whether Audi's four-rings ($54,000 for a base A6) or Acura's caliper logo ($33,000 for a base TLX) are worth the hit to the bank account.
For the same price as a base Honda LX, the $25,895 Legacy Premium echoes with standard — standard! — adaptive cruise-control, lane-keep assist and 11.6-inch, Tesla-like console screen. Good luck finding those features on equivalent luxury models for under $50,000.
With a press of the adaptive cruise-control button on the steering wheel, the Legacy competently self-drove through heavy California traffic (is there any other kind?), with lane-centering, braking for the car in front of me and accelerating automatically. It allowed me to negotiate the big console screen to adjust temperature, seat heater, navigation directions (Apple CarPlay/Android Auto also standard) and … um, the start-stop button.
For a brand synonymous with its "Love" ad campaign, Subaru is surprisingly obtuse about Americans' hatred of start-stop, which makes cars stall at stoplights in order to get credits toward federal fuel-economy regulations.
BMW, VW and Mercedes love their customers so much they put the start-stop button right next to the on-off button so drivers can shut it off as soon as they get in the car. Subaru buries it deep in the infotainment screen. Sigh.
Love returns when you hit the gas pedal. Built on Subaru's excellent new Global Architecture, the Legacy benefits just as the compact Impreza sedan and Outback before it.
With an impressive 70 percent improvement in torsional rigidity thanks to high-strength steel and lots of glue (the new, new engineering thing), Legacy rotated nicely through California's Ojai Mountain twisties (like Hell, Michigan, except miles longer).
Venture off-road and the Legacy can go confidently where few other sedans dare with its standard (there's that word again) all-wheel drive. Muddy, pockmarked national-park dirt roads are no problem with Legacy's torque-vectoring AWD — all four corners are always spinning to get you out of trouble.
This is Legacy's secret sauce. And though the sedan segment may be shrinking, Subaru sees it as a tasty alternative as Detroit manufacturers leave the segment. Chrysler long ago headed for the weeds and the fetching Ford Fusion (with Altima, the only other automaker that offers all-wheel drive in the segment) is scheduled for the scrap heap. Only the Subaru comes – yup – standard with AWD in the segment.
If you face all-season weather, that's a welcome sight for a $23,000 base sedan.
Dress the Legacy in my favorite Sport trim and it's ready for a night on the town for about $30,000. And bring friends. I could sit behind myself comfortably in the back seat, 6-foot-6 frame and all. Continuing the interior upgrade, the Legacy has gained a healthy 1.4 inches of rear leg room despite no wheelbase length change.
While the interior has had a full remake, the outside is familiar save for a rimless grille here, a higher beltline there. The biggest exterior alteration is – typical Subaru – value-driven. The rear trunk opening has been stretched allowing for four full-size bags to fit in the trunk where only three did before. Clever.
The conservative styling bucks the segment trend in which Accord, Hyundai Sonata, and Toyota Camry sexed up their offerings to keep their customers' cheating eyes riveted on sedans. If Legacy were ice cream, it would be vanilla. That's a gamble, especially in light of brother Outback's better looks.
Also a gamble is the bet that performance-minded customers (like me) won't miss its flat-6 engine.
In a crowded segment, the six's throaty roar was a siren song for customers looking to upgrade from the base 2.5-liter four-banger's dull buzz. To improve fuel economy, pricier Legacys (designated LX) get turbocharged 2.4-liter fours to match the Accord's 2.0-liter turbo-4.
But the turbo remains mated to the same CVT transmission as the standard 2.5-liter four-cylinder, whereas the Accord moves to a 10-speed and the Mazda 6 boasts one of the silkiest 6-speeds you'll ever encounter.
Even King Accord's own Sport model shows up my favorite Subaru Sport with a more powerful standard engine and optional stick shift. Price? The same. Both cars are made in the midwest (Accord in Ohio, Legacy in Indiana). Both have more rear seat room than Delta Comfort.
So Legacy makes its case with that secret-sauce AWD. It is catnip in the upper Midwest, save for one thing: Sibling Outback also has AWD. And that lah-dee-dah Onyx model, unlike Legacy's Sport, gets the 260-horse turbo engine.
Curse you, twin brother.
2020 Subaru Legacy
Vehicle type: Front-engine, all-wheel drive, five-passenger midsize sedan
Price: Base price $23,645 including $900 destination charge ($30,090 Sport as tested)
Powerplant: 2.5-liter 4-cylinder or 2.4-liter turbo 4-cylinder
Power: 182 horsepower, 176 pound-feet of torque (2.5-liter); 260 horsepower, 277 pound-feet of torque (turbo-4)
Transmission: Continuously variable transmission (CVT)
Performance: 0-60 miles per hour, 6.1 sec. (manufacturer estimate for turbo-4); top speed, 130 miles per hour
Weight: 3,523 pounds (Sport as tested)
Fuel economy: EPA: 27 city/35 highway/30 combined (2.5-liter); 24 city/32 highway/27 combined (turbo-4)
Report card
Highs: AWD sedan bargain, Tesla-like screen
Lows: Vanilla exterior; start-stop switch off hard to find
Overall: 3 stars