Car Reviews
The 2020 Kia Soul is the ultimate economy machine
With slick handling and SUV-like cargo space, the Soul defies conventional vehicle segment norms.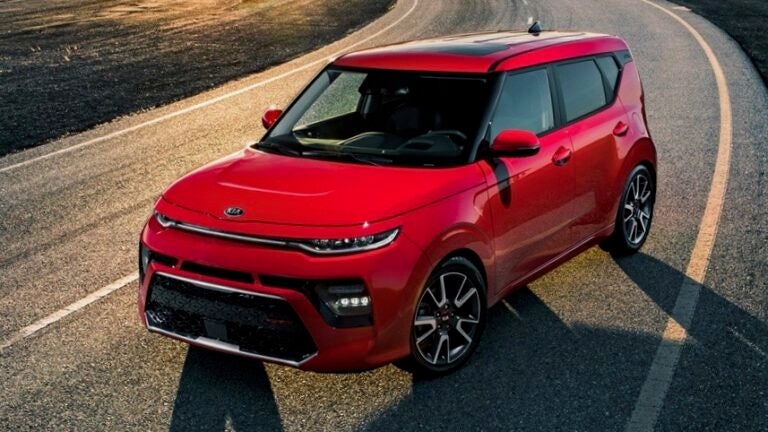 The Kia Soul looks like nothing else on the road, and yet, in its third iteration and despite a drastic redesign, it is still instantly recognizable. While other box-like cars, such as the Scion xB and Nissan Cube have come and gone, the Soul has endured. This is because Kia knows where to push the envelope, but also where to keep things conventional.
The exterior styling of the Soul defies convention. The previous two generations of the Soul have had plucky styling, but this new third-generation model appears to play by its own rules. It is thoroughly futuristic and looks as much a moon rover as it does a commuter car.
The boxy shape that makes it so different from other cars also ensures it has more than 62 cubic feet of cargo space, which is nearly the cargo space of a Jeep Grand Cherokee. The Soul also has seemingly impossible head and legroom for a subcompact car. It allows for an upright seating position that delivers a commanding view of the road – no staring at truck wheels in the Soul!
With its seating position and cargo space, the Soul actually bridges the gap between a small car and a small SUV. It may not offer all-wheel drive, but neither do the rivals Nissan Kicks and Toyota C-HR, and the Soul delivers much better value and build quality than both of those vehicles.
Thankfully, Kia has moved away from punctuation terms like "!" (exclaim) for its trim names. Now, buyers can choose from LX, S, X-Line, EX, and GT-Line trims. Even the base LX comes pretty well equipped, including a USB port, Bluetooth connectivity, and a 7-inch touchscreen that runs Kia's UVO infotainment. UVO is very intuitive and provides support for Apple CarPlay and Android Auto. This is a heck of a lot of connectivity for an entry-level trim.
The Soul S adds driver assistance tech, such as forward collision warning and lane departure warning, while the EX adds heated front seats, dual-zone climate control, wireless device charging, and upgrades the infotainment to the massive 10.25-inch screen.
We drove the range-topping GT-Line trim, which is visually characterized by its unique grille and lower front spoiler, as well as side skirts and wheels. It also came with the larger touch screen and device charging, as well as leather upholstery, power front seats, a heated steering wheel, and a sunroof. Our test model even came with an upgraded Harman/Kardon stereo and a multi-colored ambient cabin lighting system that will pulse the subtle lighting with the beat of the song.
The base engine in the Soul is a 2.0-liter four-cylinder engine that makes 147 horsepower (17 more horsepower than the previous base engine). You can get this engine with either a six-speed manual or a continuously variable transmission, which operates like an automatic.
Our GT-Line came with the optional 1.6-liter turbocharged engine, sending 201 horsepower through a seven-speed dual-clutch transmission with manual shift mode and steering-wheel-mounted paddle shifters. The GT-Line also has a Sport button, which raises shift points for more aggressive driving, but the paddle shifters do the job nicely.
You may think paddle shifters on such an unorthodox vehicle strange, but once again, the Soul defies classification. It has SUV-like cargo space, but it drives like a car. And thanks to a sport-tuned suspension, our GT-Line handles surprisingly well. There is little body roll in corners, and the turbocharged engine has enough power to acceleration briskly out of a turn. It won't satisfy the seasoned Porsche 911 owner, but it will add a level of confidence and excitement in the daily commute.
The most efficient version of the Soul is the Eco trim, which returns 29 miles per gallon city, 35 highway, 31 combined. The 2.0-liter engine with automatic transmission in most trims will return 27 miles per gallon city, 33 highway, and 30 combined. Our GT-Line turbo will return a posted 27 miles per gallon city, 32 highway, 29 combined.
The base Kia Soul comes with airbags, traction control, and a backup camera, and not much else. Moving up to the LX trim adds a full host of driver assistance features, including forward-collision avoidance, blind-spot monitoring, lane change assist, and rear cross-traffic alert. The LX also has a drowsiness monitor.
Base MSRP for the 2020 Kia Soul is $17,490. The LX trim, which adds all these features, comes in at $18,990. Our GT-Line turbo test model had a sticker price of $28,710.
That might seem like a lot for a compact car, but think about just how much ground the Soul covers. It has the cargo space and commanding view of an SUV, the efficiency of an economy car, and the driving dynamics of a refined sedan. If there's one car that can seemingly do it all, it'd be the Soul.