Car Reviews
The all-new 2020 Jeep Gladiator has some serious off-road chops
A midsize truck that's ready for an adventure.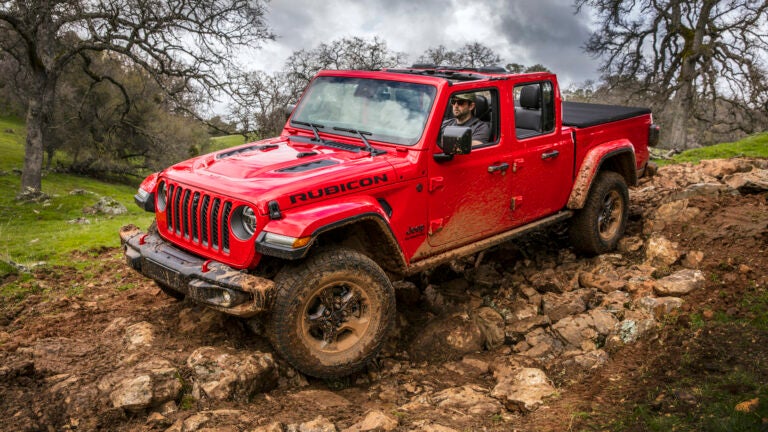 The all-new Jeep Gladiator made its debut earlier this year, finally adding a truck to the Jeep lineup. It has all the capability of a Jeep with the functionality of a pickup truck and looks like nothing else on the road today. Whether you plan to go off-road, haul supplies for a weekend project, or both, the 2020 Jeep Gladiator is ready.
From the front, this truck looks a lot like the iconic Wrangler. It's easy to think that's what it is, but walk around to the side, and it's unmistakably a midsize truck. Despite first impressions, the Gladiator is not just a Wrangler with a tacked-on bed.
It can manage a payload of up to 1,700 pounds and tow up to 7,650 pounds when properly equipped. There are features to make using the bed easier, including under-rail bed lighting, a power-locking tailgate with three stopping positions, and integrated tie-downs. On top of that capability, the Gladiator comes with impressive off-road prowess.
Base trims receive the Command-Trac 4×4 system, while the top Rubicon gets the Rock-Trac 4×4 system, which adds electronically locking front and rear differentials. The Rubicon also has additional off-road goodies, including sway bar disconnect, Fox monotube shocks, and a front skid plate. The Gladiator Rubicon is ready for extreme off-road adventuring.
Power for the Gladiator comes from a 3.6-liter V6 engine with 285 horsepower and 260 pound-feet of torque. A diesel option, which just arrived for the Wrangler, is set to debut on the Gladiator sometime in 2020. The V6 is paired to either an eight-speed automatic or a six-speed manual. We spent our drive time with the automatic transmission and found it shifted smoothly and quietly even under hard acceleration.
Several months ago, we took the Gladiator Rubicon on a challenging off-road trek in Texas through deep mud, up steep slopes, and across loose rocks. It handled the terrain easily, proving its mettle as an off-road vehicle.
More recently, we had the Rubicon here in New England where it endured serious winter weather. On snowy roads, the Gladiator handled itself well and had zero trouble getting through deep ruts and snowbanks. It simply doesn't care about bad weather. It handled the snow with ease and made what could have been a stressful drive home an easy one.
Despite its capability, the Gladiator proved well-mannered in highway driving without the bounce and sway typical of off-road vehicles. Its suspension system manages uneven pavement so passengers don't feel as though they're being tossed about the cabin. Even the potholes that populate a typical New England road weren't enough to create a rough ride.
The Gladiator has room for five passengers with comfortable yet firm front seats. Some may find them a bit narrow, but their shape makes them ideal for holding you in place on uneven terrain, which helps you stay in control of the vehicle. The rear seats are also comfortable, and they easily accommodate three adults.
Every Gladiator comes with an open-air driving experience you simply cannot find in any other truck. All four doors are removable, the windshield folds down, and there's a choice of a soft top or two hardtop roofs. It duplicates the experience of driving a Jeep Wrangler, but in truck form.
It's a joy to drive the Gladiator with all those extra bits left behind, but close everything up, and it's surprisingly quiet. Although you know it has a removable roof, much like driving a convertible, the sound stays muted in the background.
Those who want the quietest drive experience should investigate a hardtop option, but even with the soft top, the Gladiator never gets too noisy. In high winds and pummeling rain you know it has a removable roof, but the extra noise is a small price to pay for the fun of driving without doors or a roof when the weather clears.
Pricing for the 2020 Jeep Gladiator starts at $33,545 for the base Sport and tops out at $43,740 for the top Rubicon. It's available at dealerships now.