Car Reviews
The all-new 2020 Chevrolet Corvette debuts a mid-engine design
It's the fist-ever mid-engine Corvette.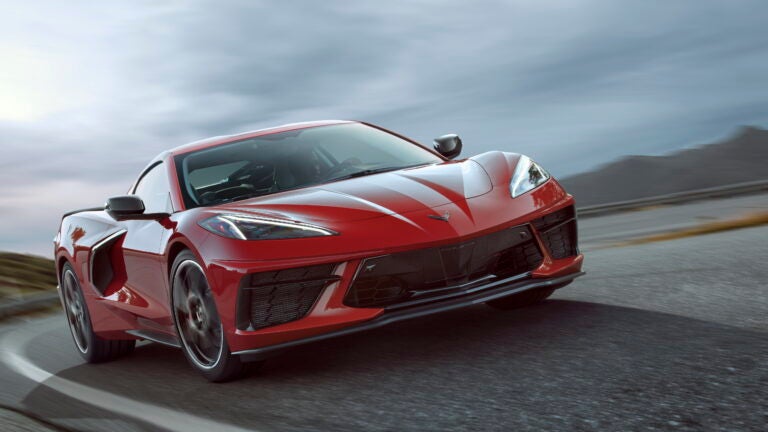 The 2020 Chevrolet Corvette Stingray makes its debut as the first production mid-engine Corvette ever. This makes it look unlike any other Corvette with its engine just behind the seats rather than beneath the hood up front. Despite that major design change, it stays true to the Corvette aesthetic, just with supercar styling and a more powerful engine.
Power comes from a new 6.2-liter naturally aspirated V8 engine with 495 horsepower and 470 pound-feet of torque. This new LT2 engine shows off 35 more horsepower and five more pound-feet of torque than the LT1 it replaces. Chevrolet decided not to hide its new engine and instead placed it beneath a rear glass hatch so passersby can get a good look at what makes this Corvette so special.
In the past, the Corvette had a manual transmission, but that option is no more. The only transmission option now is an 8-speed, dual-clutch automatic and it's a first for Chevrolet. Although purists may balk at the lack of a manual, today's dual-clutch transmissions are fast and efficient, so they generally do a better job than most drivers do shifting the old-fashioned way.
The Corvette's new design helps make this sports car handle better than ever. Moving the engine to the middle of the car allows for a more even weight distribution and helps lower the center of gravity. The design also allowed engineers to build the structure of the Corvette around a center tunnel structure.
This makes the car lighter and stiffer and helps improve lateral grip, something track enthusiasts will appreciate. It helps reduce vibration to make long road trips more enjoyable and even makes getting in and out of the car easier. Removing the need for large rocker panels makes it less of a stretch to step in and step out of the Corvette, especially for shorter drivers.
The interior of the Corvette is a luxury affair starting with a choice of three seating options to accommodate a variety of drivers. The base GT1 seat has Mulan leather trims and a sporty look that prioritizes comfort while still offering enough support for performance driving. This includes two-way lumbar and wing adjustment.
The mid-range seat is the GT2. It has a race-inspired appearance and is made with dual density foam. This makes these seats more comfortable over long road trips. GT2 seats feature Napa leather, carbon fiber trim, heating, and ventilation. The Competition Sport seat is for track drivers with heavy bolstering, full Napa leather, carbon fiber trims, and a durable textile inspired by Kevlar vests.
The customization options for the Corvette continue with a wide range of exterior color choices. There are 12 in all including new Rapid Blue, Zeus Bronze, and Accelerate Yellow. Inside there are six color themes and six seat belt colors along with optional Yellow or Red stitch packages. Customers have the chance to make their Corvette uniquely their own.
There's a choice of either a coupe or you can enjoy the open air with the first-ever retractable hardtop convertible on a Corvette. It's designed to maintain the exceptional styling found in the coupe along with maintaining performance and cargo room with a weight increase of only 77 pounds.
The two-piece hardtop can be opened and closed at speeds up to 30 miles per hour with the help of six motors. Choosing the convertible offers yet another level of customization with the option of either a body color-top or a Carbon Flash finish for added impact.
While the 2020 Chevrolet Corvette Stingray has the styling and features of a supercar, it has a surprisingly low price. It's by no means a budget-focused option, but it's far more affordable than its competitors.
Starting price for the base 1LT is $59,995 making it a luxury car, but not an exorbitantly expensive one. The midrange 2LT increases to $67,295 while the top 3LT sits at $71,495. The all-new 2020 Chevrolet Corvette with its striking mid-engine design and powerful performance, is due to arrive in dealerships over the coming months.