Cars
What the experts say about the 2017 Volvo V90 Cross Country
An analyst, a dealership general manager, and a safety official weigh in.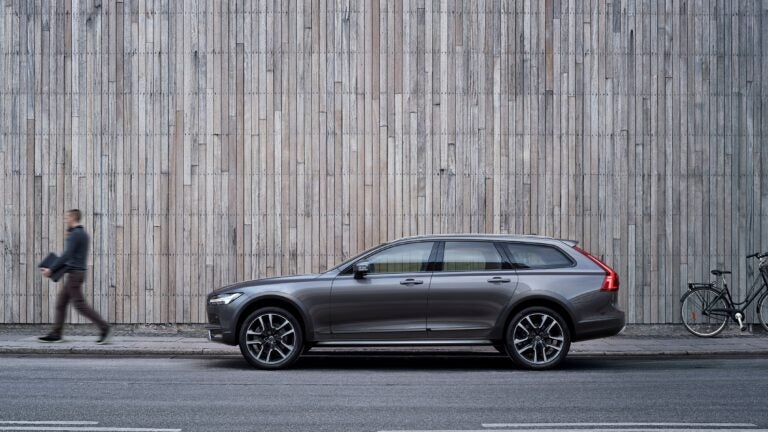 Boston.com Cars is your go-to resource for coverage of local car news, events, and reviews. In the market for a car or truck? Check out our new car specials and used car specials curated by our local dealer network.
In this ongoing series, Boston.com talks with automotive authorities about why you should consider driving — or avoiding — a specific model.
2017 Volvo V90 Cross Country
In the late 1990s, Volvo's low-slung V70 Cross Country station wagon was ubiquitous in suburban driveways across the country. This year, the Swedish automaker released its revived wagon, the 2017 V90 Cross Country, but raised its seats, enlarged its wheels, and added a fresh dose of Scandinavian glamour.   
The V90 Cross Country  comes in one trim: the T6. The T6 has all-wheel drive — all the better to handle mud, sand, snow, and any other seasonal terrain — and runs on a 316-horsepower, turbocharged and supercharged 2.0-liter four-cylinder engine mated to an eight-speed automatic transmission. The full-size, four-door wagon gets 19-inch wheels, lifting the wagon's ride height so that it can play off road with aplomb. Inside, the V90 Cross Country  replicates the same lavish interiors found in Volvo's new 90-series — the XC90 SUV,  S90 sedan, and standard V90 wagon – that has helped launch the automaker's comeback. Ventilated Nappa leather, dark walnut wood inlays, and a premium Bowers & Wilkins sound system are optional. Volvo's Sensus Connect infotainment system with a 9-inch touch screen and navigation come standard.
The Volvo brand has become synonymous with safety. The V90 Cross Country comes standard with a blind spot information system with cross traffic alert, Pilot Assist — that's Volvo's semi-autonomous drive system with adaptive cruise control — and the automaker's Collision Avoidance by City Safety, among other features.
The wagon hasn't yet been rated by the Insurance Institute for Highway Safety. Though the Cross Country's counterpart, the S90 sedan, aced the agency's challenging small overlap front crash test, which measures a collision's impact on the car's front corner, and was named a Top Safety Pick. The agency doesn't automatically apply sedan ratings to wagon variants. "Differences in roof structure or ride height can affect crash test performance," says IIHS spokesman Russ Rader.
The Volvo V90 Cross Country delivers an estimated 22 mpg in the city and 30 mpg on the highway. It starts at $55,300.
What the experts are saying
SUV-like looks
"Volvo is a brand long synonymous with wagons. Throughout much of its history, much of its reputation has been built on its tough, durable, and often boxy wagons — and scores of people around the world have loving Volvo wagon stories to tell. Today, however, wagons are practically a curse word to American car shoppers. Wagons are generally considered stodgy, old fashioned, and distinctly uncool. That is, unless, a wagon is altered by its manufacturer with a higher ride height and tough-looking cladding on the bumpers and wheel arches to make it look more like an SUV. In SUV-crazy America, the way to make a wagon acceptable is to make it look as much like an SUV as possible." – Ed Kim, vice president of industry analysis at marketing research and consulting firm AutoPacific
Wagon versatility
"The design itself is very sleek, and it's got a lot of state-of-the-art technology that's similar to the XC90. We've had a lot of clients drawn to it in regard to cargo space and off-road capability, too. With that type of clientele, utility is really important. The wagon design quite frankly is not offered by a lot of manufacturers, and it's helping Volvo capture clients from a lot of other brands and models. A lot of customers are loving it; it's really creating a lot of buzz." – John Andrade, general manager, Herb Chambers Volvo Cars Norwood
Standard safety equipment
"The Insurance Institute for Highway Safety hasn't yet rated the Volvo V90 Cross Country, but we would expect it to be a good performer.  We can say that because the V90's stablemate, the 2017 S90 sedan, performs well in most of our tests.  All Volvos come standard with an autonomous emergency braking system, a key feature for preventing some crashes from happening altogether.  However, if you do a lot of driving at night, you may want to test-drive the Cross Country when it's dark to try out its headlights. The S90 isn't available with headlights that do any better than 'marginal,' the agency's second-lowest rating. This is what keeps the S90 out of the top tier among large luxury cars, which qualify for the Top Safety Pick+ designation." – Russ Rader, senior vice president of communications at the Insurance Institute for Highway Safety