Cars
5 great cars for families, based on what parents want most
CarGurus surveyed them about what they're looking for in a vehicle.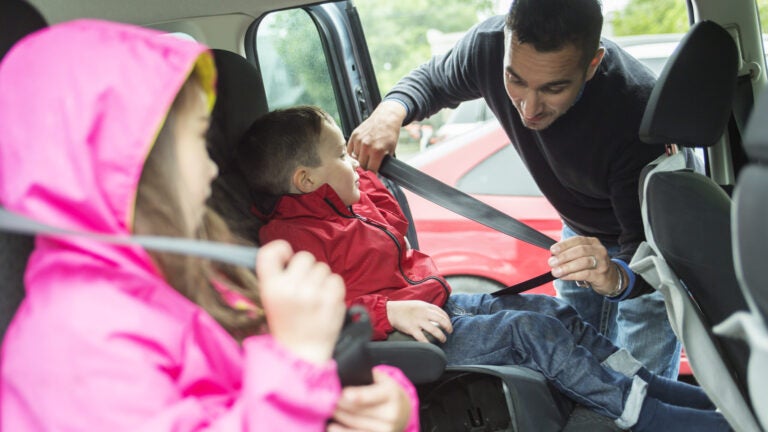 Boston.com Cars is your go-to resource for coverage of local car news, events, and reviews. In the market for a car or truck? Check out our new car specials and used car specials curated by our local dealer network.
A new survey from car search company CarGurus finds bigger is better when it comes to a more enjoyable driving experience for families. (Disclosure: CarGurus powers Boston.com's searchable database of cars for sale.)
The Cambridge-based company finds parents who use their vehicle to haul kids to their various activities are more likely to be unsatisfied with a smaller car like a sedan. The survey found 21 percent of sedan owners said their car fails to meet their family's needs.
On the other hand, very few SUV and minivan owners were unhappy with their vehicle choices. Only 7 percent were dissatisfied with their choice of vehicle.
"Parents weigh many important factors when they consider their family car, but it seems that bigger capacity is one of the best indicators for overall satisfaction, especially as kids grow up," said CarGurus editor Matt Smith in a statement.
CarGurus found parents are more likely to choose a vehicle based on its ability to meet the family's needs. Activities that influenced a consumer's choice of vehicle include transporting kids' sports equipment (45 percent), carrying an infant stroller (33 percent), transporting pets (31 percent), traveling to a vacation home (29 percent), and more.
The survey also found the car is evolving into a family room with more activities being conducted in the car that were once reserved for the home. Most parents surveyed said they allow their kids to eat in the car (78 percent), read in the car (73 percent), use their smartphones and mobile devices (68 percent), choose the radio station (59 percent) or watch videos with the vehicle's infotainment system (28 percent).
"The benefits of more space and improved comfort and convenience features are huge for families, and manufacturers are delivering on these bigger expectations at many budgets and with improved fuel efficiency," said Smith.
"Sustained low gas prices also make the super-sized ride a lot more palatable for families," he continued.
The survey collected online responses from 1,400 parents with children ages 18 and younger.
Based on the survey results, CarGurus highlighted five vehicles that are more likely to meet parental needs. The vehicles listed below include the price ranges from CarGurus, safety ratings from the National Highway Traffic Safety Administration and Insurance Institute for Highway Safety, and EPA fuel economy estimates. Here are CarGurus Best Family Cars of 2016.
2016 Volkswagen Golf Sportwagen
Price range: $18,744 – $31,820
Fuel economy (combined): 31 mpg
Cargo: 30.4/66.5 cubic feet
The Golf Sportwagen is an IIHS Top Safety Pick+ winner and gets a five-star safety rating from NHTSA. It offers up to 66.5 cubic feet of storage space and lots of value for its price.
2016 Subaru Outback
Price range: $25,119 – $40,125
Fuel economy (combined): 29.4 mpg
Cargo: 35.5/73.3 cubic feet
The Subaru Outback offers more space than the Golf Sportwagen and comes standard with all-wheel drive, which is a big plus for the New England region.
2016 Toyota Highlander Hybrid
Price range: $44,625 – $55,461
Fuel economy (combined): 27.5 mpg
Cargo: 13.8/83.2 cubic feet
The Toyota Highlander Hybrid earned five stars from NHTSA and was named an IIHS Top Safety Pick+ winner. It can seat up to seven and offers up to 83.2 cubic feet of cargo space with the seats folded down.
2016 Honda Odyssey
Price range: $25,836 – $49,920
Fuel economy (combined): 24 mpg
Cargo: 38.4/93.1/148.5 cubic feet
The Honda Odyssey also earned a five-star NHTSA rating and was named a Top Safety Pick winner by IIHS. It can offer up to 148.5 cubic feet of cargo space and a decent fuel economy.
2016 Volvo XC90
Price range: $42,995 – $92,895
Fuel economy (combined): 23.6 mpg
Cargo: 15.8/41.8/85.7 cubic feet
The Volvo XC90 was recently redesigned and offers several notable safety features including lane departure warning, a 360-degree surround view camera, and collision avoidance. It also earned a five-star NHTSA safety rating and is an IIHS Top Safety Pick+ winner. It can offer up to 85.7 cubic feet of cargo space.