Car Guides
What car experts say about the 2017 Honda Ridgeline
A maintenance professional, automotive researcher, and safety official weigh in.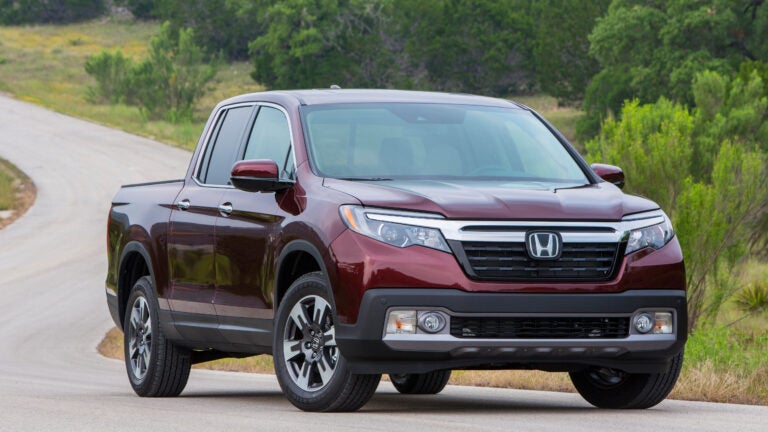 In this ongoing series, Boston.com talks with automotive authorities about why you should consider driving — or avoiding — a specific model.  
2017 Honda Ridgeline
After putting its compact pickup truck on hold three years ago, Honda is reintroducing a redesigned Ridgeline to the marketplace, meaning consumers are getting a look at the first Honda Ridgeline produced since 2014.
The base Ridgeline starts at $29,475, which is expensive for the segment. It comes standard with front-wheel drive; all-wheel drive is available as an upgrade. It also comes with a 3.5-liter V6 engine that delivers 280 horsepower and gets a fuel economy of 19 mpg city / 26 mpg highway. Additional features include a built-in trunk in the bed that can be used as a cooler. Meanwhile, higher trims offer a built-in audio system in the bed.
What the experts are saying
Editor's note: With the exception of John Paul, the experts consulted here have not yet driven the 2017 Honda Ridgeline. They are sharing their professional opinions from their various fields of expertise on the Ridgeline's reliability, safety, and suitability for New England living.
An innovative, reliable pick
"This is the Swiss army knife of vehicles. … Based on Honda's previous maintenance and repair history, I would expect this to be a good and trouble-free pickup. It's a similar vehicle to the Honda Pilot, which can go up to 250,000 to 300,000 miles with regular maintenance. I would expect no less from [the Ridgeline]." – John Paul, AAA's "The Car Doctor"

A smart choice for New England living
"I think it's the right pickup for your average New England homeowner. … For a New England driver who has to deal with potholes, winter weather, and drastic changes in temperature, all-wheel drive is the way to go. Front-wheel drive works well, but it's not as intuitive as all-wheel drive, which works constantly and is a better option for people in the winter." – Craig Fitzgerald, president of the New England Motor Press Association / editor-in-chief of BestRide.com
A strong legacy of safety
"We expect it to do well [in IIHS's small overlap and front crash prevention system tests]. Honda has built a solid reputation for safety over the years. As of today, Honda, along with Acura, has earned a total of 11 Top Safety Pick and Top Safety Pick+ awards for performance in the institute's safety tests. … Since the Ridgeline is a clean sheet redesign, we expect it to perform well in all of our tests." – Russ Rader, senior vice president of communications at the Insurance Institute for Highway Safety
For more information on the 2017 Honda Ridgeline visit a Honda dealership near you.