Car Guides
What the experts say about the 2017 Kia Sorento
A maintenance professional, a safety official, and a local Kia sales manager weigh in.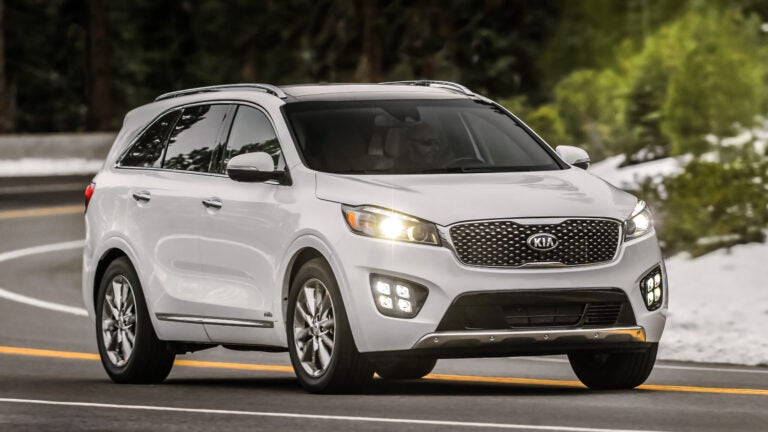 Boston.com Cars is your go-to resource for coverage of local car news, events, and reviews. In the market for a car or truck? Check out our new car specials and used car specials curated by our local dealer network.
In this ongoing series, Boston.com talks with automotive authorities about why you should consider driving — or avoiding — a specific model.
2017 Kia Sorento
The Kia Sorento is a midsize SUV that can seat up to seven people. It comes with an attractive interior, strong handling, and an easy-to-use infotainment system that is now compatible with Apple CarPlay and Android Auto. It offers 73 cubic feet of cargo space, which is decent for its class and should be plenty to haul your kids' gear.
The Sorento starts at $25,400 and comes standard with a 2.4-liter four-cylinder engine that can be underwhelming. A more powerful V6 engine that gets almost 300 horsepower is also available. The Sorento also comes standard with front-wheel drivem with all-wheel drive available. It has a fuel economy of 21 mpg in the city and 28 mpg on the highway, which is strong for the class segment.
For 2017, the Sorento has several new safety features, including an automatic emergency braking system. The system has been rated Superior by the Insurance Institute of Highway Safety, which awarded the Sorento its Top Safety Pick+ award earlier this year.
What the experts say
Backed by a great warranty, but go with the stronger engine
"What I like about Kia products is the warranty. The five-year, 60,000-mile bumper-to-bumper warranty is going to cover any major issue, and the 10,000 drivetrain warranty is going to cover some of the most expensive components of the vehicle. … I would recommend Kia based solely on price and warranty, because you get a lot for your money. … As I recall from a previous model year, the base engine was a bit sluggish. If I were looking for fuel economy, I would look at the 2.4-liter engine. But if I were looking for more power, I'd go with the 3.4-liter V6 that gets nearly 300 horsepower."  – John Paul, AAA's "The Car Doctor" [Editor's note: John Paul has not yet test driven the 2017 Kia Sorento.] 
A well-designed, luxurious choice for New England families
"The Kia Sorento is a jack of all trades for the midsize SUV segment. … It handles superbly, as far as New England customers are concerned, with its available all-wheel drive. Some SUVs ride too hard, while some ride too soft. But [the Sorento] is right in the middle. … It's more of a family-oriented SUV, for a growing family or anyone with one, two, or three kids that they need to transport, as well as soccer or hockey gear. … It comes in so many price segments, from $25,000 to $45,000, so you can put as much luxury as you want in the vehicle. … Kia has been, as far as brand is concerned, on the rise, since prior to 2011 with a completely redesigned lineup. They've introduced such a well-designed, thought-out vehicle. The warranty is exceptional, the styling is exceptional, the performance exceptional, and they keep improving it year after year. Some vehicles get long in the tooth, but [they] consistently improve and redesign [the] vehicles based on what our consumers are looking for." – Senee O'Connell, general manager of Herb Chambers Kia of Burlington 
From a safety perspective, it's hard to beat
"This vehicle already had excellent crashworthiness ratings from 2016. What changed for 2017 is the addition of an available automatic braking system that is rated Superior in our tests. … In our track test, the Sorento avoided a collision in both 12 and 25 mph tests. … SUVs are popular with families, and if you're looking for a midsize model, the Sorento is among the top performers for safety. People who are shopping for a family vehicle are often looking at safety ratings. In this category, you can't do better than the Kia Sorento. … From a safety standpoint, it should definitely be on your shopping list." – Russ Rader, senior vice president of communications at the Insurance Institute for Highway Safety
For more information on the 2017 Kia Sorento, visit a Kia dealership near you.