Cars
Review: 2017 Toyota Sienna offers all-wheel drive for New England winters
The Sienna is great thinking inside the box.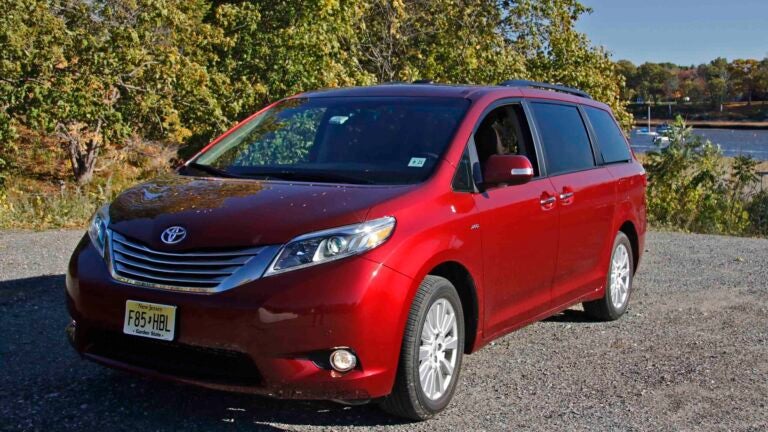 Car shapes are pretty much standardized. We live in a world where the function of the vehicle almost always also describes its form.
For example, it's easy to tell the three-box (engine compartment, passenger cabin, cargo bed) shape of a pickup truck. Chances are you drew some of them while doodling as a youth.
Likewise, we recognize today's compact SUVs and crossovers at a glance; in fact, the shape is so ubiquitous that it's not so easy to distinguish one brand from another.
That brings us to the big box shape of the minivan.
For most of us, the minivan genre went big-time in sales with the introduction of the Plymouth Voyager and Dodge Caravan in the mid-1980s. However, boxy people-movers have been around for decades, notably in the form of Volkswagen buses in the 1950s and '60s.
But, after the minivan made it as an icon in the auto world, the iconoclasts got to work. They offered condescending connotations both to the drivers (soccer moms) and the vehicles.
Suddenly, despite its undisputed utility, the minivan was uncool.
So now we have pretty much the same people (soccer moms and dads) driving kids to all sorts of activities in SUVs that have passengers climbing up into the vehicles and then climbing over seats to get back to the third row. Just so everybody can feel hip.
Fortunately, enough of us have continued driving and buying minivans (about a half million sales per year) to keep them from being discontinued. Honda (Odyssey), FCA (Pacifica), and Toyota remain the main players along with offerings from Kia (Sedona) and Nissan (Quest). Both Ford and General Motors no longer build them.
That brings us to today's test vehicle, the 2017 Toyota Sienna, the only minivan on the market that's available with all-wheel-drive, which makes it a natural for northern climes. The Sienna is available in five trim levels: L, LE, SE, XLE, and Limited.
Our test vehicle was the top-of-the-line Limited Premium that had a sticker price of $48,250, including the $940 destination charge.
About the only option it didn't have was the Advanced Technology Package, which adds a pre-collision system and a vehicle dynamics integrated management system that proactively coordinates braking, engine output, and steering. That system also incorporates dynamic radar cruise control, which is designed to keep you at a pre-set distance from the vehicle you're following.
In pricing contrast, an entry-level L version (front-wheel-drive only) starts at $29,750, plus the $940 destination charge.
For New Englanders, it should be noted that the LE, XLE, and Limited trim lines are available with AWD.
The SE, in contrast, is designed as a sportier FWD-only alternative with a sport-tuned suspension and a quicker response in the electric power steering, 19-inch alloy wheels, fog lights and LED daytime running lights, and some lower-body styling. It's also got a power liftgate and heated front leather seats. This is the version I'd like to take for a test ride at my local dealership.
But, for a weekend getaway, our Limited was terrific. The first and second rows were set up with comfy captain's chairs, allowing for an easy passage between the rear seats to the third-row seating or to access things in the cargo area.
Those second-row captain's seats slide back an additional 23 inches to allow limousine-like rear passenger comfort for a four-person excursion. Slide the seats forward a bit and you can raise the 60-40 third-row seat in one smooth motion.
Even with all seats raised for seven passengers (eight if you go for the standard second-row seat), there's a deep and easily accessed cargo well behind that liftgate.
The Sienna's versatility encompasses another cargo option. Fold the third-row seats for a large, flat cargo floor and remove the second row and you've got a covered cargo bay to lug 4 foot x 8 foot sheets of wood or wallboard—and get them home dry if it's raining.
Shoppers will find the Sienna looks familiar because its basic design has been around since 2010. That's been enough time to get any bugs sorted out.
For 2017, all trim lines get a new 3.5-liter engine that puts out more horsepower (296) and torque (263 lb.-ft.) than its predecessors. That power goes to the wheels via a new 8-speed automatic transmission that is so smooth at times that shifts aren't discernible.
The Sienna had no trouble passing slower vehicles and merging onto highways, and the interior is surprisingly quiet given that big boxes aren't normally considered ideal acoustically.
The higher seating position makes the driver feel on an even level with the hordes of SUVs on our roads. Steering wheel controls allow the operator to cycle through a variety of displays on the secondary screen between the tachometer and speedometer.
And the main infotainment screen not only is intuitive but also has welcome volume and tuning knobs for changing radio stations. In addition, the presets allow for a mix of AM, FM and Satellite stations.
Mrs. G loved the Sienna's overall comfort as well as the high seating position that is combined with a minivan's traditional easy entering and exiting height. "Nice to not have to think about making that big step down," she says.
An available Driver Easy Speak feature gives the operator the ability to address all passengers via the rear speakers—perhaps even more useful for tour operators or Uber drivers. It might allow some parents to break their children's trance-like fixation on tablets and phones.
During our week with the Sienna, we had several days that required air conditioning and several others that needed heat. We found the tri-zone climate control system worked well with separate zones for driver, front-seat passenger, and rear passengers. All three can operate at different temperatures or the driver can push a synchronization button for a uniform climate.
Bluetooth was easy to connect and the system was eager to access smartphone apps such as Waze and Pandora through the sound system.
A standard reverse camera with guidelines made it easy to back the Sienna into parking spots.
Clearly, Toyota has been doing a lot of thinking inside this box.
THE BASICS
Price, base/as tested (with destination): $48,250/$48,250. Fuel economy, EPA estimated: 18 city/24 highway/20 combined. Fuel economy, Globe observed: 22.2. Drivetrain: 3.5-liter V-6, 8-speed automatic transmission, all-wheel-drive. Body: 7-passenger unibody minivan.
THE SPECIFICS
Horsepower: 296. Torque: 263 lb.-ft. Overall length: 200.2 in. Wheelbase: 119.3 in. Height: 71.3 in. Width: 78.1 in. Curb weight: 4,750 lbs.
THE GOOD
Interior versatility, quality cabin, quality materials, all-wheel-drive option.
THE BAD
Advanced safety feature an option on highest trim level.
THE BOTTOM LINE
A great AWD choice for New Englanders.
ALSO CONSIDER
FCA Pacifica, Honda Odyssey, Kia Sedona, Nissan Quest.