Cars
What car experts say about the 2017 Ford Escape
A maintenance professional, automotive researcher, and safety official weigh in.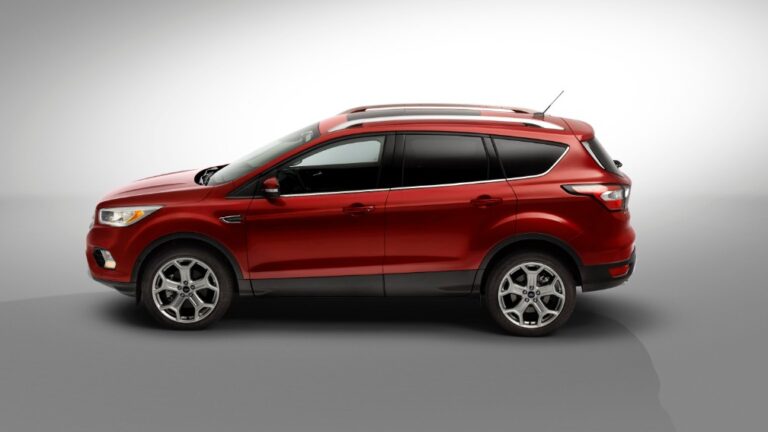 Boston.com Cars is your go-to resource for coverage of local car news, events, and reviews. In the market for a car or truck? Check out our new car specials and used car specials curated by our local dealer network.
In this ongoing series, Boston.com talks with automotive authorities about why you should consider driving — or avoiding — a specific model.
2017 Ford Escape
The Ford Escape is a compact SUV and is currently one of the best-selling vehicles in the country. For the 2017 model year, the Escape has been refreshed with a new exterior and interior design, more powerful turbocharged engine options, and an improved infotainment system. It's also now compatible with Apple CarPlay and Android Auto.
The Escape starts at $23,600, a price that is slightly higher than other compact SUVs. It has up to 68 cubic feet of cargo space, which is more storage than many other rivals offer. It comes standard with a 2.5-liter four-cylinder engine and front-wheel-drive. This engine provides decent acceleration but a weak fuel economy of 21 mpg city / 29 mpg highway. More powerful engine choices afford greater power and acceleration, an improved fuel economy, and all-wheel-drive.
The Escape gets mostly good scores from both the National Highway Traffic Safety Administration and the Insurance Institute for Highway Safety. Earlier this year, the Escape improved its performance in IIHS's small overlap front tests from a "poor" to "acceptable" rating. But because the Escape still did not manage to achieve a "good" rating, it is not eligible for the Institute's Top Safety Pick or Top Safety Pick+ designation.
What the experts are saying  
A low-maintenance pick with many benefits
"It's a pretty low-impact vehicle. If you change the oil every 7,500 miles and every 30,000 miles change an air filter, there's not a lot of routine maintenance that needs to be done with this car. At least for the first 30,000 to 60,000 miles, if you follow a basic maintenance plan, you're not looking at a lot of extra expense. … Because it's a small, maneuverable SUV, it's great for the urban explorer. It gives you maneuverability to be in tight streets like [in] Cambridge and Boston, but also has the availability of all-wheel-drive that can tackle New England winters. … If you look at 10 compact SUVs, [the Escape] is probably in the middle. There are certainly others that may be better, like the Toyota RAV4, Honda CR-V, Hyundai Tucson, or Kia Sportage may rate higher than Escape. … It's good to see this come up [in IIHS's small overlap tests], but there are others that do better." – John Paul, AAA's "The Car Doctor" [Editor's note: John Paul has not yet test-driven the 2017 Ford Escape.] 
A quiet, comfortable choice among small SUVs
"The most remarkable thing when you compare it to all other vehicles in this class is it's supremely quiet. It's noticeably more quiet than the Honda CR-V. And the seats are really comfortable. … It's very comfortable to drive in them for several hours. … The SYNC 3 system, if you're interested in infotainment technology, is a vast improvement over the old SYNC system. … This is definitely aimed at your average commuter in the Boston area right now. Somebody who might have either one or two kids, who has places to go on weekends, needs extra space, and is anticipating a lousy winter. … From a comfort standpoint, this is very comfortable. There are others that are sportier and do better in [the IIHS] crash test, but this stood out as a vehicle you can live with every day." – Craig Fitzgerald, president of the New England Motor Press Association / editor-in-chief of BestRide.com
An improved performance, but safer options exist
"The structure of the Escape we tested earlier did not hold up well in our [small overlap front] test. … Other small SUVs perform better in the small overlap crash test and also have a higher rating in our front crash prevention evaluation because the Escape does not have an available automatic braking system that other small SUVs do. … While the 2017 Escape is an improvement, there are other small SUVs that earn our Top Safety Pick+ designation, and those are the vehicles that we recommend that consumers look at. … Currently there are 10 small SUVs that earn our Top Safety Pick+ designation. And we would recommend those models over the Escape. With so many choices that offer state-of-the-art safety, there's no reason that consumers shouldn't be able to find a vehicle that they like among those Top Safety Pick+ winners." – Russ Rader, senior vice president of communications at the Insurance Institute for Highway Safety
For more information on the 2017 Ford Escape visit a Ford dealership near you.