Cars
Review: 2016 Subaru Crosstrek incites nostalgia
The SUV is not too big.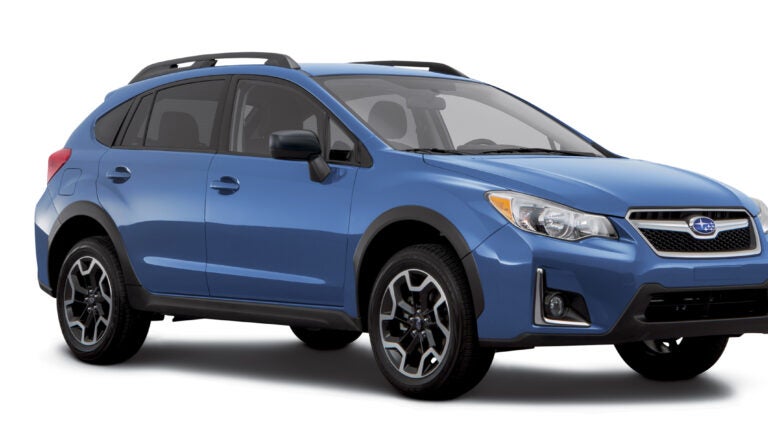 Boston.com Cars is your go-to resource for coverage of local car news, events, and reviews. In the market for a car or truck? Check out our new car specials and used car specials curated by our local dealer network.
With the days growing shorter, my thoughts are not about fresh apple cider and pumpkin pie. No, I am thinking about servicing the snowblower, buying a case of windshield wash, and digging out the winter tires for the family vehicle. I also wonder about how well our 11-year-old station wagon will cope with another winter.
Too bad the Hyper Blue 2016 Subaru Crosstrek 2.0i Premium in the driveway isn't staying for the winter. Otherwise, I could cross a couple items off my to-do list. The good news is that driving the Crosstrek for a week was like getting reacquainted with an old friend. You may find some things have changed, but you still have a lot in common.
I bought my first Subaru in 1974. It was a low miles, 1973 1400 DL 2-door coupe. At the time, I ran a collector car restoration shop and often went to a nearby auto auction to look for interesting cars. At one auction, I spotted this Subaru. Until then, I had only read about Subarus in magazine articles and had never seen one in-the-sheet-metal. I was curious, so I followed it into the auction. I guess no one else knew much about Subarus either, for it only got a couple of low-ball bids. I raised the last bid by fifty dollars and won the car. I can't remember what I paid, but it couldn't have been much.
The car ran fine, but the interior needed a good cleaning. I also found the FWD Subaru a lot of fun to drive. Its peppy, 4-cylinder engine was mated to a smooth shifting manual transmission. The little coupe's engine was interesting, too. It was a flat-four Boxer, similar to the original VW Beetle's engine, but cooled by water and not air. I also found it odd that the spare tire was stored under the hood. Overall, I was very happy with my unexpected auction purchase and would have kept it, but my wife was not keen on the stick shift. So, I sold it.
Nevertheless, that car left me with great respect for Subaru automobiles. I was not surprised that Subaru became widely known for their reliable and go anywhere vehicles. I was also not surprised when, in 1998, Subaru announced that all products sold in the United States would be AWD. This was a bold and risky move. However, it proved to be pure genius on their part.
Like the Subarus of the past, this Crosstrek still has the Boxer engine and it's still fun to drive. Thankfully, the spare tire no longer sits under the hood.
Though I am fond of SUVs, some are rough-riding behemoths. Not so with the Crosstrek Premium, which is a crossover based on the Subaru Impreza. It has the standard Symmetrical AWD system plus 8.7 inches of ground-clearing capability. I am not saying it is the ultimate off-road warrior, but, as Subaru states, "[it] will help you cover almost any road your heart sets out on." Another feature to like is the EPA 34 city/36 highway mileage rating. It also offers 22.3 cu. ft. of cargo space with the rear seats up and 51.9 with them folded down.
In 1968, Subaru only offered one body style. By 1973, they were up to two body styles. Today, Subarus come in array of sedans, wagons, and coupes all except one featuring standard AWD. They even have rally-style performance sedans and the BRZ sports car. The BRZ, by the way, is the only Subaru without AWD.
Interestingly, I found online photos from a nearby dealer who had a 1972 Subaru 1400GL with only 26,000 miles on the odometer. The GL was the higher trim model than mine. The photos showed it to be in excellent condition. The asking price was around $2,500, which seemed a reasonable price. I hope the new buyer has enjoyed the car as much as I did mine.
Nostalgia can be fun, but I would rather have one of the modern Subarus in my driveway. I wonder, how many cases of windshield wash I can get into the Crosstrek? OK, I will find room for a couple jugs of cider and a pumpkin pie, too.
2016 Subaru Crosstrek 2.0i AWD Crossover
THE BASICS
Price: Base, $22,395. Fuel economy, EPA estimated: 26 city/34 highway, regular gas. Engine: 2.0 liter, l DOHC Boxer 4-cylinder. Transmission: Lineartronic CVT shiftable automatic.
THE GOOD
Fun to drive, standard AWD, good size for millennial camping types.
THE BAD
Nothing I can think of.
THE BOTTOM LINE
Enjoyable, good looking, all-season capable SUV.
ALSO CONSIDER
Toyota RAV4, Honda CR-V, Jeep Cherokee, Nissan Rogue, Mazda CX-5, and Jeep Patriot.
Glenn Gould is a New England based writer and can be reached at [email protected].