Cars
Concord's electric school bus is leading the clean energy charge
It's the newest addition to the town's fleet.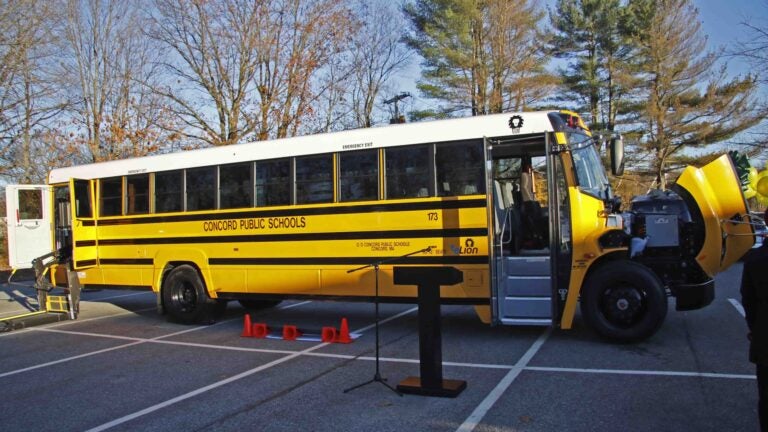 Boston.com Cars is your go-to resource for coverage of local car news, events, and reviews. In the market for a car or truck? Check out our new car specials and used car specials curated by our local dealer network.
Most everyone is familiar with the ubiquitous yellow school bus, a vehicle that's looked pretty much the same for 50 years. The venerable cheese boxes (also known as 44-seat limos) ferry kids to school and school events. 
They belch diesel fumes and the only way to tell them apart is by their number, the school district printed on the side, or by seeing if they're a flat front (engine underneath) model or nose (engine in front) model.
That could be changing. 
Any day now, the kids in Concord will be looking to see if the electric bus, the newest addition to the town's fleet of 30-plus school buses, is stopping for them. 
It qualifies as the nation's first all-electric bus, designed from the ground up as an all-electric vehicle, even though it looks very much the same as its predecessors. 
It seems appropriate that Concord, a green-acting community that has banned the sale of plastic water bottles, was the first to jump at the opportunity to obtain a bus via a Massachusetts grant through the Department of Energy Resources (DOER).
For the kids who get to travel on the bus, each trip to school becomes a field trip during which they experience environmental lessons in a real-world situation. 
The buses are cleaner than diesel by at least 70 percent and economical because the electricity that charges them is cheaper than diesel by more than 40 percent. 
New electric buses are also quieter. They have an mp3 player that generates musical tones at speeds below 19 mph to alert pedestrians that a silent school bus is "sneaking up on them." 
That was part of the design, long before the US government's announcement on Nov. 14 that such noisemakers will be mandatory on all hybrid and EVs by 2019. 
And they're healthier. Zero emissions mean cleaner air inside the bus and outside at the bus stops. 
Concord had a small civic ribbon-cutting to welcome the bus on Nov. 17. Amherst welcomed its electric bus the next day, and Cambridge also is scheduled to start using one this year. 
The Concord bus can't officially hit the road until the Registry of Motor Vehicles bus inspectors pay a visit—ostensibly to certify the bus but also to learn about the new technology. 
Stephen Russell, the state's alternative transportation and clean cities coordinator for the Massachusetts DOER, represented the Commonwealth at the introduction. 
He noted that the list of politicians backing the program begins with Governor Charlie Baker and continues down the line through Energy and Environmental Affairs Secretary Matthew Beaton, DOER Commissioner Judith Judson, Senate President Stan Rosenberg (D-Amherst), State Senator Michael Barrett (D-Lexington), and State Representative Cory Atkins (D-Concord). 
They all supported the initiative for $350,000 grants for each bus and a high speed charger that allows the bus to be charged at the school and also serve as a vehicle-to-grid backup to help the school during times of maximum electric usage. 
Concord's environmental commitment put it first in line to obtain one of the buses. 
School committee member Johanna Boynton chaired the local committee that made the purchase happen. 
Diana Rigby, Concord superintendent of schools, noted that the town "would be going to school" on the bus, saluting town officials for making the bid for a vehicle that hadn't existed. 
She also noted that students knew the bus was coming "and can't wait to ride in it. "It's an opportunity to reduce schools' petroleum use and test the efficacy of electronic school bus technology." 
The bus is an eLion model built by the Lion Autobus company of Montreal. 
Marc-Andre Page, the company's business development manager, says, "Lion still builds diesel buses, but we've gone all-in on electric models. Five years ago, this [electric bus] was just a dream. Now, our electric buses are on the road at home in Quebec, here in Massachusetts, and very soon in California, too." 
The buses are made of a composite material that not only is lighter than steel but also won't rust. 
Page says the electric motor has equivalent power to a diesel engine, and the buses' cruising range varies from 50 to 100 miles, depending on the number of battery packs. 
Concord's bus, with four battery packs, has a range of 75 miles, far more than the average of 30 miles the town's buses make twice a day on both their morning and afternoon rounds. 
Recharging time is a bit more than five hours on the Tesla charging station at bus headquarters at the Ripley School. 
"This is a significant day for the state," says Russell. "Transportation accounts for 39 percent of the state's greenhouse emissions, and Governor Baker has backed a memorandum that calls for the state's fleet of vehicles to be zero emissions (ZEV) by 2050." 
"Schools are a perfect application for an electric bus," says Lion's Page. "You know how far the bus is going to go each morning and afternoon. There's time to charge it between runs if needed. And it will be a storehouse for electric energy for the school in case of an emergency." 
The electric buses could become a shot heard 'round the automotive world for making a significant advance for EVs. 
For a while, it appeared that fuel cell vehicles were the coming alternative energy vehicles. And they still promise to be a player in this market. Toyota maintains that hydrogen fuel cells can be a ZEV solution across a broad range of vehicle types and that it is exploring building a semi-trailer truck in a California feasibility study. 
However, the steady influx of new hybrid and EVs into the market along with regular announcements of new product in the pipelines, seem to be building EV momentum and charging infrastructure. 
Now, four school buses in Massachusetts (Acton is putting together a request, too) may be showing another application for EV use, something the state's network of 447 charging stations (with 1,144 outlets) also is telling us. 
Bill Griffith can be reached at [email protected] Follow him on Twitter @MrAutoWriter.