Cars
Review: Hyundai takes on the luxury class with Genesis G90
The loaded vehicle goes for the luxury crowd.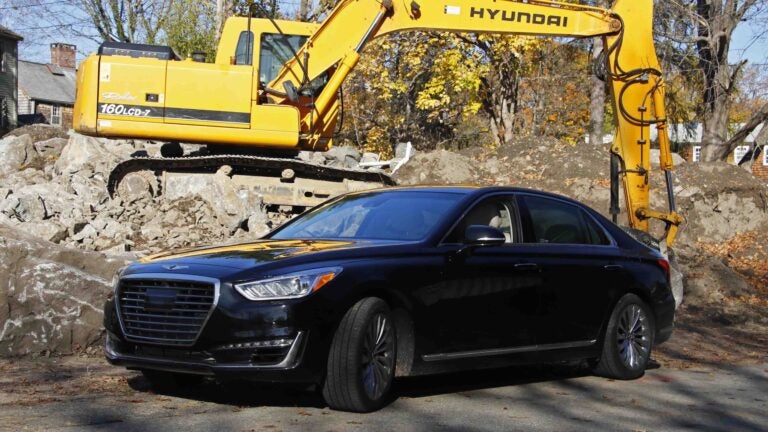 Boston.com Cars is your go-to resource for coverage of local car news, events, and reviews. In the market for a car or truck? Check out our new car specials and used car specials curated by our local dealer network.
So, I'm driving today's test car, the 2017 Genesis G90 luxury sedan, on a normal day in Eastern Massachusetts, meaning there's rush-hour traffic involved.
The day's itinerary was to leave Newburyport about 2 p.m., hoping to arrive at the Ripley School in Concord for a 3:30 interview about the state's first all-electric school bus.
The trip home began with me looking all over for my phone. When I realized that I didn't have it in my jacket pocket during the official program, I didn't panic, certain I'd left it in the car.
At 5 p.m., when I returned to the G90, it was dark. Nevertheless, I looked for the phone in all the normal spots—console, seats, door pockets, beside and under seats. No phone to be found.
Stymied, I gave up … and began to program the navigation system, hoping against reasonable expectations it would point me toward an easy drive home.
Propped horizontally on the ledge in front of the 12.3-inch navigation screen, was my phone, glowing insolently at me as if to say, "Don't you remember giving up on programming the Genesis system and using the phone's maps to get here?"
Oh yes, I hadn't had the patience to figure out where the enter key was in programming my destination. Not so for the return trip. The nav system, via voice recognition, readily accepted our home address. And off we went on a 90-minute sojourn, joining those who commute on Rte. 3 North and Rte. 495.
Normally, this would have me off on a "Why did I ever let myself get caught in this awful traffic?" rant.
However, peace reigned.
Inching along, I was comfortable in the 22-way adjustable seat with power bolsters, a cushion extension feature, and shoulder adjustments. There was time to do many seating tweaks with the half dozen control buttons.
If I had to deal with this kind of traffic daily, I'd have to do it wearing a chauffeur's uniform. And I'd be happy to do THAT in the G90 because this is a comfortable vehicle for the driver.
Passengers would be comfortable in back with limousine-like comfort, his or her own climate zone, and tons of legroom. In the V-8 version, the outboard rear seats have 12 (left side) and 14 (right side) adjustments.
That said, this Genesis is a bit too big for me as a solo driver. It's long, heavy, and made for multiple riders.
If you've been oblivious to automotive news—and the current TV commercial blitz—Hyundai has spun Genesis off to be its own brand in the same way Toyota built Lexus, Honda built Acura, and Nissan built Infiniti.
While this flagship brand will compete with luxury vehicles by Lexus, Mercedes-Benz, BMW, and the like, it will do so with only two models at the outset, the G80 and G90.
The G90 is the successor to Hyundai's former Equus flagship, and the G80 continues to evolve from the original Genesis sedan.
A G90 sedan is available with two engines, a 3.3-liter twin turbo V-6 and a 5.0-liter V-8. Both use the same 8-speed automatic transmission. And each is available as RWD or all-wheel-drive. Our V-6 was rated at 17 miles per gallon in city driving, 24 on the highway, and 20 mpg overall. We averaged 22.3 while driving conservatively.
Our G90 is priced at $69,050, including destination. That makes it a bargain, comparatively speaking, when shopping it against the competition, the Mercedes-Benz S-Class, Audi A8, BMW 7 Series, and Lexus LS.
Interestingly, while most of those come with lots of option packages, the Genesis comes one way: loaded.
The G90 also arrives with three years of complimentary scheduled maintenance, three years of complimentary Sirius traffic, navigation map updates, a 5-year (60,000-mile) new-car warranty and 10-year, 100,000-mile powertrain warranty.
By keeping the variations down, including only six color choices, Genesis should be off to a good start, reliability-wise.
The interior is luxurious and loaded with technology that's relatively simple to use, my impatience with navigation input notwithstanding.
As you'd expect, the driving experience was plush.
The driver has four selectable driving modes: ECO (economy), Smart, Sports, and Individual. Each alters transmission mapping and throttle response as well as suspension, steering, and stability control settings.
A full suite of standard safety technology, perhaps unmatched in the luxury class, includes automatic emergency braking with pedestrian detection, driver attention alert, smart blind spot detection, cross traffic alert, lane keeping assist, and dynamic bending lights with auto high beam assist.
Several times when I was cruising along the highway, enjoying the steering's fine straight tracking, the system demanded "steering input required" to make sure I was awake, alert, and manning the helm.
Inside, the leather dashboard has genuine wood trim, fine stitching, and stainless steel accent pieces.
It will be interesting to see how this vehicle fares with its winged Genesis emblems—a logo duplicated in the welcoming lights outside the door as you approach—as Hyundai seeks to increase its footprint in the luxury segment.
In short, the trip home, though slow, was a driver's delight.
2017 GENESIS G90
THE BASICS
Price, base/as tested (with destination): $69,050/$69,050. Fuel economy, EPA estimated: 17 city/24 highway/20 combined. Fuel economy, Globe observed: 22.3. Drivetrain: 3.3-liter twin-turbo V-6, 8-speed automatic transmission, rear-wheel-drive. Body: 5-passenger luxury sedan.
THE SPECIFICS
Horsepower: 365. Torque: 376 lb.-ft. Overall length: 204.9 in. Wheelbase: 124.4 in. Height: 58.9 in. Width: 75.4 in. (w/o side mirrors). Curb weight: 4,630 lbs.
THE GOOD
Effortless powertrain, comfortable cabin, safety features, overall value proposition.
THE BAD
Surprise: It's big and takes some room to maneuver in tight spots.
THE BOTTOM LINE
Genesis jumps right into the luxury segment as a contender.
ALSO CONSIDER
Audi A8, BMW 7 Series, Jaguar XJ, Kia K900, Lexus LS, Mercedes-Benz S-Class, Porsche Panamera, Tesla S.
Bill Griffith can be reached at [email protected] Follow him on Twitter @MrAutoWriter.