Cars
What the experts say about the 2017 Range Rover Evoque convertible
An editor-in-chief, a car awards administrator, and a safety official share their thoughts.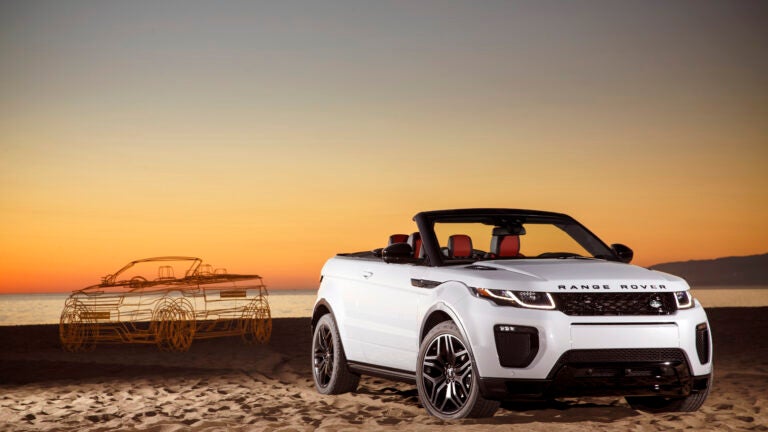 Boston.com Cars is your go-to resource for coverage of local car news, events, and reviews. In the market for a car or truck? Check out our new car specials and used car specials curated by our local dealer network.
In this ongoing series, Boston.com talks with automotive authorities about why you should consider driving — or avoiding — a specific model.
2017 Range Rover Evoque convertible
The 2017 Range Rover Evoque convertible inspires a mix of reactions. Some critics find the cabrio version of the compact SUV innovative; others say a roofless 4×4 is an oxymoron. But everyone agrees that the new car from Land Rover is a novel twist on marrying an off-road vehicle with a droptop. Say what you want, but it's the only convertible on the market with the underpinnings of an SUV.
The four-passenger convertible features a soft-top roof that opens and closes in 18 seconds, at the push of a button, at speeds up to 29 m.p.h. Under the hood, the droptop is powered by Land Rover's all-aluminum, turbocharged 2.0-liter four-cylinder engine mated to a nine-speed automatic transmission. While the car is a typical cabrio in that it's not particularly fast—it takes more than eight seconds to zoom from 0 to 60 m.p.h.—it does have all-wheel drive, which can handle sand, rocks, and other terrain. The Evoque convertible can reach a top speed of 130 m.p.h., but you're unlikely to get there on your way to the beach without irritating your passengers, even with the top up.
The convertible hasn't been tested for crashworthiness by the Insurance Institute for Highway Safety, which doesn't usually test high-end luxury vehicles (including any current Range Rover models) or convertibles (because they represent a tiny fraction of vehicle sales).
The SUV gets 20 miles to the gallon around town and 28 on the highway. It starts at $52,000.
What the experts are saying
Attractive and capable off-road
"Land Rover's Evoque convertible is an interesting proposition. Many would say that a droptop SUV is the answer to a question nobody was asking, but in a world where little 'utes and crossovers are increasingly mainstream cars, things actually start to make sense. And, frankly, this package has appeal thanks to it clean styling and comfortable, well-appointed interior. With 240 horsepower on tap, it's reasonably sprightly, but relaxed handling means this is far from a sporty drive on the pavement. Hit the dirt, though, and the Evoque has all the modes and capabilities of its bigger Rover cousins, ensuring you can tackle whatever nature throws at you—just make sure you put the top up first." –Tim Stevens, editor-in-chief of Roadshow by CNET
Sacrificing performance for looks
"The Evoque is arguably the best-looking SUV out there, as evidenced by its ability to capture the 2012 World Car Design of the Year. This new convertible variant takes those delicious lines to even loftier levels, but in so doing, deflates the car's handling prowess, cost performance, and practicality. The extra 610 pounds of weight, added to strengthen the A-pillar and underbody, only serve to compromise its on-road manners. But none of those things will dissuade buyers from getting into this SUV because the Evoque Convertible is all about image. Image! And when you ooze this much sex appeal, practicality plays second fiddle." –Peter Lyon, chairman of the World Car Awards
Extra safety considerations with droptops
"The Institute doesn't regularly test convertibles because they represent a small portion of vehicle sales. That said, the roof of a hardtop helps keep people's heads and arms from flailing outside the vehicles. Roofs also provide protection if a vehicle rolls over. So there are inherent safety disadvantages when the roof is removed to turn a hardtop in to a droptop. The absence of a roof also makes it a challenge to design a convertible for safety. The roof helps maintain the rigidity of the structure around the occupant compartment and keep the compartment intact in a crash. The main structures of convertibles have to be strengthened to compensate for the support that's lost in removing the roof. In the past when we've conducted special tests of convertibles, we've found that many modern convertible compensate well." –Russ Rader, senior vice president of communications at the Insurance Institute for Highway Safety