Cars
What the experts say about the 2017 Infiniti Q60
A car dealer, the founder of a car-shopping website, and the chairman of the World Car Awards weigh in.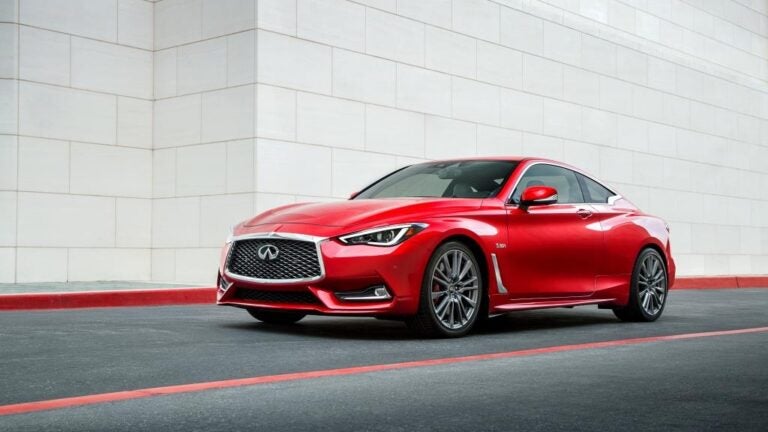 Boston.com Cars is your go-to resource for coverage of local car news, events, and reviews. In the market for a car or truck? Check out our new car specials and used car specials curated by our local dealer network.
In this ongoing series, Boston.com talks with automotive authorities about why you should consider driving — or avoiding — a specific model.
2017 Infiniti Q60
Infiniti introduced a new and improved coupe to its lineup in September. The Infiniti Q60 is a sleek but surprisingly spacious sports car with a stitched leather interior, a soft-grip steering wheel, and seating for four.
Infiniti, Nissan's upscale sister brand, also makes a high-performance version, the Q60 Red Sport 400, designed to compete with powerful coupes from luxury automakers including BMW, Mercedes, and Audi. The 400-horsepower, 3.0-liter twin-turbo V6 is paired with a seven-speed automatic transmission. The base model features a 208-horsepower, turbocharged four-cylinder engine that gets 22 mpg in the city and 30 mpg on the highway.
Inside, you'll find a cabin trimmed with high-end materials, including optic fiber, class-leading cargo space, and a dual-screen infotainment system. However, the Q60 is not equipped with Apple CarPlay or Android Auto smartphone connectivity.
The Q60 has not yet been rated by the National Highway Traffic Safety Administration or the Insurance Institute for Highway Safety.
The base model starts at $38,950, while the Red Sport 400 starts at $51,300.
What the experts are saying
Quirky but beautiful
"I think the real value in the Q60 is its aesthetic appeal. It's just purely a beautiful car, and it's the kind of car that makes you happy when you see it.  From the outside, people will see it and know it's your car because it's rare and distinctive, but it's the interior details that come together the right way. The rear window panel extends over the backseat so you get a lot of light. It's a very thoughtfully designed car." – Scotty Reiss, founder of SheBuysCars.com
True to concept
"Infiniti must be congratulated for bringing its new Q60 coupe to showrooms in almost unchanged concept car form. Its long hood, sexy lines and wide stance are enhanced by intricate touches and careful attention to detail. The top-of-the-range 400-horsepower, 3.0-liter twin turbo packs a wallop and the chassis and suspension setup provide a supple, compliant ride while enabling the car to change direction with purpose. But the company's bold move to offer the optional Direct Adaptive Steering doesn't work, delivering an odd artificial feel and very little feedback being transmitted from the road. Avoid that upgrade and just go for the standard electro-mechanical steering. The archaic floor mounted handbrake sent my eyebrows skywards, too."  — Peter Lyon, chairman of the World Car Awards
A high-performance coupe
"The Q60 is a major redesign that incorporates state-of-the-art technology and safety features and is available with a 400-horsepower turbocharged engine named the Q60 Red Sport. The vehicle appeals to all kinds of buyers who will want either a luxury coupe with beautiful white leather, or a sporty coupe with a stunning Moroccan red leather interior. The car is a looker in every way, and we are barely able to keep them in stock. Sales have been brisk since its release in September because the vehicle is available with the Infiniti all-wheel drive system."  — James Bulger, general manager at Herb Chambers Infiniti of Westborough
For more information on the 2017 Infiniti Q60, visit a Infiniti dealership near you.