Cars
Review: Hyundai's Elantra Sport—it's hot stuff
Facing fire and rain, the Elantra triumphs.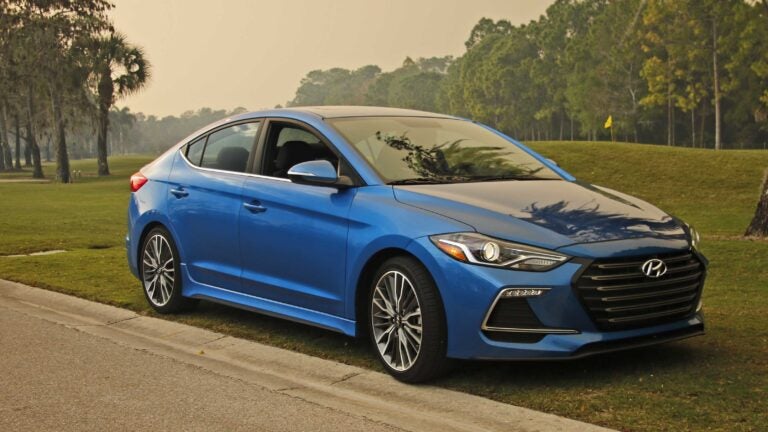 Boston.com Cars is your go-to resource for coverage of local car news, events, and reviews. In the market for a car or truck? Check out our new car specials and used car specials curated by our local dealer network.
"I've seen fire and I've seen rain…"
James Taylor lyrics?
Of course.
However, today's test car, the 2017 Hyundai Elantra Sport, has experienced those conditions, too. Plans for our test driving didn't include a trial by fire, but that's what happened when we woke up to our Elantra covered with ashes.
A major brush fire in Collier County, Fla., not far from the (in)famous Alligator Alley, covered large areas of Naples with an acrid smoke pushing across town toward the Gulf of Mexico. Neighborhoods near us were evacuated. Some homes were destroyed.
Adding to the Elantra's distress was a dousing from the condo association's sprinkler system, which covered the Elantra with untreated well water—a rain of sorts that turned the ash into a paste-like mess.
However, like a lot of us, the Elantra cleaned up nicely. This Sport version is one of four Elantra variants and, as the name suggests, is the sportiest.
Our test vehicle had a base price (MSRP plus destination) of $23,585. A $2,400 Premium package and $125 Sport-branded carpeted mats brought the bottom line to $26,110.
Here's what you get for that price:
A Sport model-specific 1.6-liter turbocharged engine that produces 201 horsepower and 195 lb.-ft. of torque. That sends the power to the front drive wheels via a 7-speed dual clutch transmission.
Sport-specific styling cues, including a black hexagonal grille with turbo badge, pronounced side sill extensions, horizontal LED running lights, HID headlights, 18-inch wheels and performance all-season tires, and chrome dual exhaust outlet.
The Premium package adds an 8-inch Navigation screen, premium audio system, Hyundai's Blue Link connected-car and connected-care systems, power sunroof, blind spot detection and cross-traffic alert, automatic climate control, and auto-dimming rearview mirrors.
Absent on this model is the option for an expanded driver assist system. That's available by moving sideways to the Limited model, which offers less performance but both a Tech and Ultimate package. Bundle the two and you'll have smart cruise control, automatic emergency braking with pedestrian detection, lane-keeping assist, automatic high beams, and a seat-and-mirror memory feature.
We found the Elantra to be large enough to push aside any hesitance about driving a compact.
On the road, the extra engine had plenty of growl (sound-tuned by the Hyundai engineers) and all the power necessary to propel this compact in any situation.
The interior, especially for front-seat passengers, was roomy and, while not upscale, very nice.
Opting for the Sport adds heated leather seats with more aggressive bolsters, red contrast stitching on the flat-bottomed steering wheel, console and seats, and a black headliner. Apple CarPlay and Android Auto are part of the package along with a Sport-exclusive gauge package and alloy pedals.
Seats get lot of reader response. The Sport has optional, well-bolstered seats with three manual adjustments. We found them comfortable, but we've learned one size doesn't fit all no matter how many adjustments you can make.
The dashboard has a lot of hard surfaces, but they have a nice style (read: not chintzy) and the center stack and gauge packages are both easy to read and easy to use.
The front doors are good-sized, making for easy entry and egress, and you'll find the standard-issue cupholders and door pockets. A cubby at the base of the center stack can hide a phone or other valuables.
While traveling this winter, we found it's a good thing to leave the interior of vehicles empty (or valuables hidden).
Thieves were around in several areas we visited; however, they seemed to be more interested in grabbing cash and personal goods from the vehicles than in of making off with the entire car.
Our neighbor Don realized one day that all the change he'd tossed in his cupholders had been taken. Investigating further, he found a high-tech LED flashlight the culprit had dropped under his seat.
"All-in-all, it seems to be a fair trade," he says. "I can use the flashlight, but it's a reminder to lock the doors when you're parked outside. Back home, I leave my car in the garage, and it's almost always unlocked."
In this case, his unlocked Honda Accord was parked next to the locked Elantra.
Of course, locking items in the trunk is the best option, and there's ample space back there in the Elantra.
Rear seat passengers don't have it quite as easy as those up front in the Elantra, but there's decent leg and headroom for a pair of six-footers.
The Sport has a different rear suspension—a multilink setup with a 15 millimeter stabilizer bar and gas-filled shocks—as compared to the standard torsion-beam axle, coil springs, and shocks on other trim levels.
It combines to give the Sport competent handling, though the suspension, in combination with the lower-profile tires, makes for a stiffer ride, welcomed by some buyers, not by others.
For a test week, the Sport was a lot of fun. For the long haul, we'd recommend the Limited—preferably with the extra driver-assist features—or, to save some cash, the base SE with the Value Edition optional package.
Hyundai can use the Sport as an attention-getter (we loved driving it), but the other versions are must-shop entries in the competitive compact market with the likes of the Ford Focus, Honda Civic, Kia Forte, Mazda3, Subaru Impreza, and Toyota Corolla.
After all, this car has been tested by fire and rain now.
Bill Griffith can be reached at [email protected] Follow him on Twitter @MrAutoWriter.
2017 Hyundai Elantra Sport
THE BASICS
Price, base/as tested (with destination): $23,585/$26,110. Fuel economy, EPA estimated: 26 city/33 highway/29 overall. Fuel economy, Globe observed: 31.3. Drivetrain: 1.6-liter 4-cylinder turbocharged engine, 7-speed automatic, front-wheel-drive. Body: 5-passenger compact sedan.
THE SPECIFICS
Horsepower: 201. Torque: 195 lb.-ft. Overall length: 179.9 in. Wheelbase: 106.3 in. Height: 56.5 in. Width: 70.9 in. Curb weight: 3,131 lbs.
THE GOOD
Performance, interior space and design, overall value.
THE BAD
Steering a bit stiff, transmission not as refined in low gears.
THE BOTTOM LINE
Elantra is a major player in the compact segment.
ALSO CONSIDER
Ford Focus, Honda Civic, Kia Forte, Mazda3, Subaru Impreza, and Toyota Corolla.