Cars
What the experts say about the 2017 Chevrolet Volt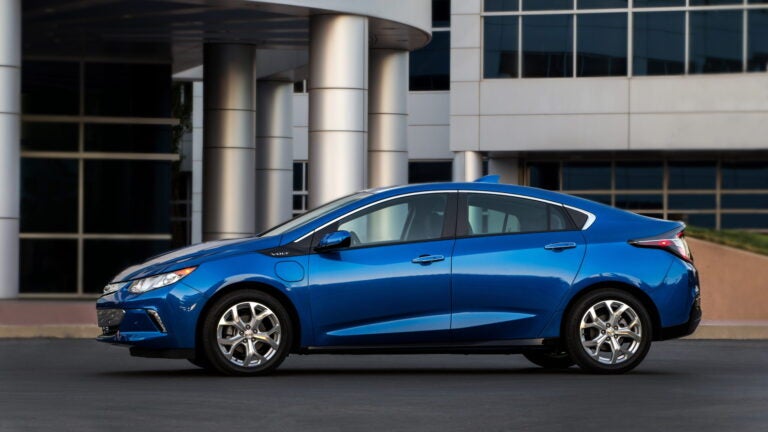 Boston.com Cars is your go-to resource for coverage of local car news, events, and reviews. In the market for a car or truck? Check out our new car specials and used car specials curated by our local dealer network.
In this ongoing series, Boston.com talks with automotive authorities about why you should consider driving — or avoiding — a specific model.
2017 Chevrolet Volt
If you want to reduce your carbon footprint without giving up road trips, the Chevrolet Volt may have you covered. Redesigned last year, General Motors' plug-in electric hybrid sedan has come far since its 2011 launch: The Volt can now travel 53 miles on battery power alone before its gasoline engine takes over, compared with the first model's 35-mile range. Though the Volt is more expensive than Toyota's competing hybrid plug-in, the Prius Prime travels only 25 miles using electricity before drawing from its gas tank.
The Volt is powered by two electric motors and a 1.5-liter four-cylinder engine. It achieves up to 420 miles on a full charge and full tank of gas, but if you can recharge its battery at home or at work and you do not need to drive more than 53 miles at a time, you may never need to return to the pump. The environmentally-friendly hatchback delivers 149 horsepower, which is sufficient for daily commutes and adequate for longer drives, and provides an exceptionally quiet and smooth ride.
The five-passenger Volt comes standard with an 8-inch touch screen, a built-in Wi-Fi hot spot, and the Chevy Remote Link app, which allows you to perform certain functions such as locking and starting the car from your smartphone. Bluetooth, Apple CarPlay, and Android Auto integration, satellite radio, and a pair of USB ports are also included. Or you can upgrade to a more comfortable cabin with leather upholstery, a wireless device charger, a heated steering wheel, and heated front and rear seats.
The 2017 Chevrolet Volt received five-star ratings in every crashworthiness category – that's frontal, side, and rollover – evaluated by the National Highway Traffic Safety Administration. A rearview camera is standard, as is a Teen Driver management system that allows owners to control the vehicle's speed and audio volume from afar when another person is driving. Advanced safety technology features including forward automatic emergency braking, automatic parking assist, and full-speed adaptive cruise control are available.
The Chevrolet Volt starts at $34,095 for the LT base trim and $38,445 for the Premier trim. Note that your purchase may be eligible for a $7,500 federal tax credit, a major benefit to buying a battery-powered vehicle.
What the experts are saying
Top safety scores
"The 2017 Chevrolet Volt is one of our top-rated small cars. It earns good ratings across the board for crashworthiness. Vehicles that offer an extra margin of safety because they have features to help drivers avoid crashes altogether earn our Top Safety Pick+ designation. The Volt qualifies when equipped with its optional front crash prevention system. Another requirement for Top Safety Pick+ is good or acceptable-rated headlights, and the Volt qualifies with its standard LED headlights. The Volt also has a hidden safety benefit: its weight. The Volt's batteries add pounds, and weight helps protect occupants in crashes. Even though the Volt's dimensions put it in the small car category, it weighs almost as much as a full-size Chevrolet Impala. Its greater mass and top-notch crash test scores make it a good choice among small cars." –Russ Rader, senior vice president of communications at the Insurance Institute for Highway Safety
Long range but cramped rear
"The 2017 Chevrolet Volt is the at the top of the heap among plug-in hybrids, with a range of 53 miles on electricity alone – enough for the vast majority of U.S. commutes – and an engine that delivers 42 mpg once the battery's depleted. The Volt is stylish, comfortable, and has excellent controls and connectivity. About our only grumble is the tight rear seat and the so-called fifth 'seating position,' which is only usable by lithe teenagers for short trips. While its electric range may be lower than that of the range-extended 2017 BMW i3, the German car has a tiny gas tank that gives it only 180 miles of total range against the Volt's 420 miles of electric and gasoline combined. We gave the Volt the Green Car Reports 2016 Best Car To Buy award, and its sole major challenge is that GM cannot figure out how to explain the idea of a plug-in hybrid to novices." –John Voelcker, editor of Green Car Reports
Environmentally-conscious customers
"If I only had 30 seconds to describe the Volt, I would say that it has the best carbon footprint (other than the six-figure Tesla Model S) on the market while providing a fun and sporty ride with a significant driving range. The new Volt can travel up to 53 miles on its electric motor before the gasoline engine kicks in. Customers feel passionately about the Volt: Online surveys and customer blogs say that 85 percent of consumers who bought a Volt will buy another. From my point of view, I would say that Volt customers are in their early forties or older, highly educated, and serious about global warming." –Eduart Lela, general sales manager at Herb Chambers Chevrolet