Cars
2,500-mile drive: A smorgasbord of automobilia
From drag races to horse races, a trip to remember.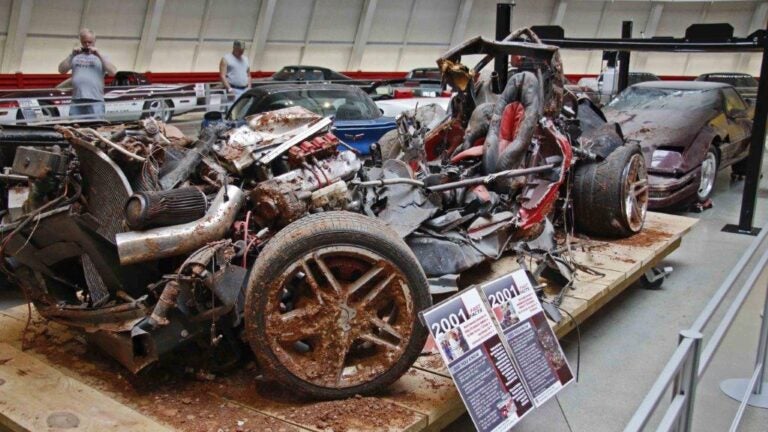 Boston.com Cars is your go-to resource for coverage of local car news, events, and reviews. In the market for a car or truck? Check out our new car specials and used car specials curated by our local dealer network.
As we drove home from Florida recently, zigzagging our way through Georgia, Tennessee, and Kentucky before heading for New England, we were looking for auto-related stories.
Per usual, we played the license plate game, keeping track of how many states we could spot.
We snagged one of the hard ones, Hawaii, in a Wendy's parking lot in State College, PA, but we never did pick off Alaska, Washington, Utah, or North and South Dakota.
We also kept an eye out for what people were driving to see if there were any notable regional differences in American automobile preferences. Answer: not much difference. If we weren't behind an 18-wheeler, we always seemed to be surrounded by pickup trucks and SUVs. These seem popular regardless of geography.
That said, Florida is a stand-out when it comes to outstanding cars. Because of all that sunshine—and a surfeit of well-off retirees—the state is home to large numbers of luxury convertibles and high-end (make that highest-end) sports cars and sedans..
Corvettes? They were dime a dozen in Florida. Between a few car shows and the daily downtown parade downtown, we saw enough 'Vettes to consider establishing a national museum.
Automotive-related stops on our 2,500-mile drive north included the Don Garlits Drag Racing Museum in Ocala, FL, and the National Corvette Museum in Bowling Green, KY. They are great stops if you're passing through the area.
The Don Garlits Museum is special because Garlits is a collector of all things automotive, and his parents were collectors, too. His museum actually is two separate attractions. One is the family collection of antique, special interest, and custom cars they've accumulated and built, along with a fabulous display of old engines and automotive ephemera.
The second museum is a virtual history of drag racing with dozens of the Swamp Rat cars Garlits has built, raced, and driven on record-setting runs, as well as many of the cars he's raced against.
You might recall the museum when it hit the news in February 2014, after a giant sinkhole opened under a showroom and swallowed eight historic Corvettes.
Several of the damaged cars have been restored, others are displayed just as they were when they were extracted from the pit, crushed and mud-encrusted.
The museum has reacted by making the sinkhole event a major part of its display.
"That day had to be both the worst thing that happened to the museum and the best thing," we mentioned to one of the staffers.
"Absolutely," he replied. "One of our people had come in that morning at 5:30 to do some cleaning and saw the floor crumbling. It was a snowy day, the worst one we had that winter.
"When she called security to get help, they said, 'Don't you mean the roof is falling?' She replied, 'I certainly know the difference between the ceiling and floor. The floor's caving in."
One museum feature we'll remember is the signs over the men's and women's restrooms.
A rear section of a Corvette is mounted on the wall over each door—with bumper, fiberglass bodywork, and tail lights. The license plates, in all caps, read MEN and WOMEN.
The morning we visited this museum we saw a parade of Corvettes heading South on I-65 near the Kentucky-Tennessee border. That was the second group outing we encountered. The first was several dozen classic BMWs tooling through Gainesville, GA.
A stop in Nashville provided another automotive tidbit.
It was bug season in the Southeast. In our hotel parking lot, we spotted a GMC Denali with Texas tags (looking to add some points in our license plate game). Surprisingly, there were two small birds flitting in and out of the grille, where they had access to the radiator. It took a while to realize that the birds were having a protein field day, eating the remnants of splattered bugs off the radiator and front fascia. It was an interesting adaptation by wildlife to urban living.
Since it was Kentucky Derby week, we had the option of heading up to Louisville and Churchill Downs, where we discovered another automotive connection. Ram trucks were the official sponsor of the Derby telecast for the eighth straight year. Ram had special commercials made to air during the telecast and all sorts of signage at the track.
Rams delivered the winning horse's garlands for both Friday's Kentucky Oaks (fillies) and Kentucky Derby.
However, the Ram people didn't do any better than we did at picking winners. Jockeys Javier Castellano (Gunnevera), Brian Hernandez (McCraken), and Joel Rosario (Practical Joke) all sported Ram logos. Side note: We backed McCraken because we originally didn't note the spelling of his name and surmised he was named after former Globe horse racing writer Sam McCracken, who was well known in Derby circles.
Speaking of Derby circles and former Globies, the non-automotive highlight of our trip turned out to be a visit to Old Friends Farm, the ranch for retired thoroughbred racehorses that was conceived, created, and built by former Boston Globe staffers Michael Blowen (film critic) and Diane White (Living columnist).
From a small beginning, they've grown their facility to three sites, hundreds of acres, and earned the love, respect, and financial backing of the racing industry, not to mention the local townsfolk at nearby Georgetown, KY.
Finally, the award for the worst drivers we encountered: West Virginians. Lots of these folks never eased off the gas during torrential downpours we encountered on Rte. 64 from Huntington through Charleston to Beckley. And we encountered the aftermath of a pair of apparent hydroplaning crashes.
But other than that, smooth sailing.
Bill Griffith can be reached at [email protected] Follow him on Twitter @MrAutoWriter.