Cars
Review: 2017 Audi A6 is the complete luxury sedan
The Audi A6 blends performance, luxury, and good looks.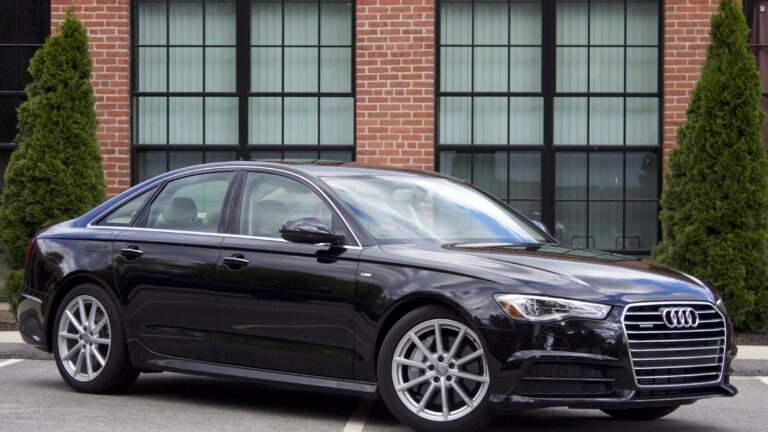 Boston.com Cars is your go-to resource for coverage of local car news, events, and reviews. In the market for a car or truck? Check out our new car specials and used car specials curated by our local dealer network.
With the burgeoning number of different vehicle types, including crossovers, sport activity coupes, and four-door coupes, we sometimes forget that the core of the luxury market is still the elegant sedan. Cars like the 2017 Audi A6 remind us of this with understated styling that underscores premium features and the latest in entertainment, efficiency, and safety technologies.
The A6 is in its fourth generation in the American market, dating back to the mid-1990's. Back then, Audi played second fiddle to BMW and Mercedes. As recently as last year, Audi was still third in sales in the US market, but the gap is much, much smaller.
The latest generation of the A6 arrived for the 2016 model year and carries over to 2017 with some small but meaningful changes. Audi has added a Competition trim for 2017, made the backup camera and parking sensors standard, and added Apple CarPlay and Android Auto available features.
But before you ever see those features, you see the car. It has quite a presence. Maybe not at first, but the more you look at it, the more you begin to appreciate the nuances in its design, including the way the body subtly flares out below the beltline and the long continuous arch that characterizes the chrome frame for the side windows.
Audi, like BMW and Mercedes-Benz, has caught flak recently for designing its entire respective portfolio of cars too alike. I didn't think much of it until I was at the New York Auto Show in April and mistook a Mercedes-Benz E-Class for a C-Class. It's true, the German luxury brands are creating a cohesive family design language, and the goal is simple: Make the entry-level cars look more like the top-level cars so that buyers have something to aspire to.
But when one is in your driveway, you won't really care about how it looks compared to other models. It stands alone and gives the visual impression of a substantial vehicle. Step inside, and the feeling is enhanced.
The Audi A3 and A4 have great cabin layouts for their respective controls. They also have plenty of plastic in the cabin, which leaves them feeling cheap at times. Not so for the A6, which has a soft-touch dash, gorgeous wood inlays, and a center stack that rises to the driver's right hand and features controls for the starter button, shifter, audio dial, and the large control panel for MMI, or Audi's Multimedia Interface.
The large center dial controls the vivid digital screen, which rises seamlessly out of the dash. It features controls for audio, navigation, and Audi Drive Select (more on that later) features, as well as other subsystems. When you turn the car off, the screen disappears back into the dash.
The A6's seats are comfortable, and the cream-and-tan interior is pleasing to the eye, though the light-colored floor mats are a magnet to dirt in a muddy Boston spring. Darker floor mats or an overall darker interior might be the wiser choice for this region.
As rear seat space goes in luxury cars, you have three levels. In the compact A3 and A4, you have to move up your seat a lot for someone to sit behind you. For the range-topping A8, you have more than enough legroom, and can even stretch out. For the just-right A6, you won't have to move the seat for the rear passenger to have adequate legroom, they just can't stretch out all the way. This is the business-class sedan.
Under the hood is an engine that's small on displacement but big on acceleration. The 2.0-liter inline-4 makes an impressive 252 horsepower and 273 pound feet of torque. Power is sent to Quattro all-wheel-drive through an 8-speed Triptronic automatic transmission. The combination is good for 22 miles per gallon city, 31 highway, 25 combined.
Audi Drive Select lets you adjust things like throttle response, shift mapping, steering feel, and suspension feel. Audi Drive Select provides Comfort, Auto, Dynamic, and Individual presets. Auto can respond to the way you're driving and alter systems accordingly. Individual is a custom setting, if you're the kind of driver who wants the throttle response set for performance and the suspension simultaneously set for comfort. In any setting, you can pull back on the shifter when in drive, and the half-pull will change Drive to Sport. We had it in sport often and experienced fuel economy of 23.1 in heavy city driving. Hey, it's a fun car and we felt obligated to take advantage of it.
Our 2017 Audi A6 2.0T Quattro Tiptronic model started at $49,800. The Mythos Black Metallic paint job was a $575 option. The A6 Premium Plus package included MMI Navigation, a touch-sensitive pad controller, and various other entertainment and safety tech for an additional $4,000. The 19-inch Sport package includes 19-inch alloy wheels, all-season tires, a sport suspension, and black cloth headliner for an additional $1,050. Finally, the layered walnut decorative inlays added $500 to the price. The total cost with additional fees for our A6 test car was $56,875.
Considering what a substantial car this feels like, that's an affordable price. Safety features like blind spot monitoring and standard backup camera make the A6 a safe car. The potent turbocharged engine and sport suspension make the A6 a supremely fun one. But add those together with the stunning exterior and interior aesthetic, and you get a truly complete luxury sedan with the 2017 Audi A6.
2017 Audi A6 2.0T Quattro
THE BASICS
Price: $49,800. As tested: $56,875. Fuel economy, EPA estimated: 22/31. Fuel economy, Globe observed: 23.1 mpg. Drivetrain: 2.0L turbocharged I4, 8-AT, all-wheel drive. Body: Four-door, midsize sedan.
THE SPECIFICS
Horsepower: 252. Overall length: 194.2 in. Wheelbase: 114.6 in. Height: 57.3 in. Width: 73.8 in. Curb weight: 3,726-4,178 lbs.
THE GOOD
Timeless styling, surprising power from 2 liters, comfortable interior.
THE BAD
Auto shut-off delays acceleration, would prefer a touch screen to MMI controller.
THE BOTTOM LINE
A good candidate as a benchmark executive sedan.
ALSO CONSIDER
BMW 5 Series, Mercedes-Benz E-Class, Cadillac CTS, Lexus GS. 
George Kennedy is a freelance automotive journalist and automotive expert. You can reach him at [email protected] and on twitter @GKenns101.