BMW
What the experts say about the 2017 BMW 740e xDrive iPerformance
Two editors and a dealership general manager weigh in.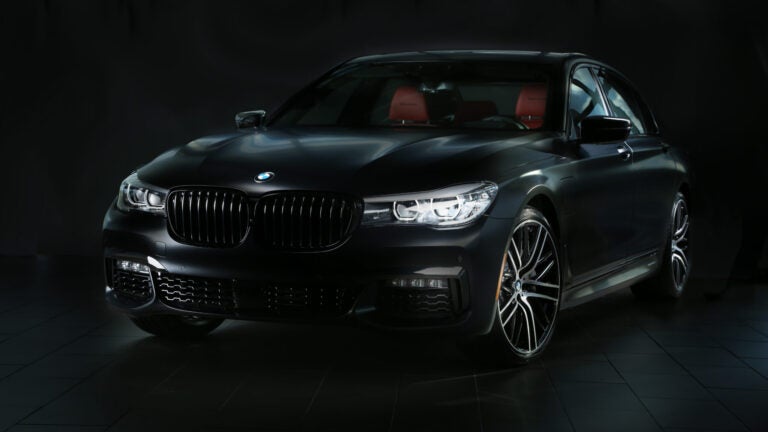 Boston.com Cars is your go-to resource for coverage of local car news, events, and reviews. In the market for a car or truck? Check out our new car specials and used car specials curated by our local dealer network.
In this ongoing series, Boston.com talks with automotive authorities about why you should consider driving — or avoiding — a specific model.
2017 BMW 740e
New for 2017, the BMW 740e is the plug-in hybrid version of BMW's 7-Series executive sedan. Like the brand's standard flagship sedan, the 740e feels luxurious and features one of the largest back seats on the market, but it comes with a capability unique to the class: The five-passenger car can travel 14 miles on battery power, a pleasant boost when commuting to a local office or running errands around town. (However, its electrification won't move the needle on a road trip.)
The 740e comes standard with BMW's xDrive all-wheel-drive system. Powered by a 2.0-liter twin-turbo four-cylinder engine and an electric motor mated to a smooth-shifting eight-speed automatic transmission, the sedan feels exceptionally quick and agile for such a large car. Its assuring acceleration (0 to 60 mph in just over five seconds) is an advantage when merging or passing on the highway. The power comes at a price: Its 27 mpg city/ highway rating lags other hybrids.
Inside, the hybrid's cabin is as refined as the regular 7-Series, clad in available high gloss wood trim, quilted leather, and brushed aluminum. The 740e is equipped with BMW's iDrive infotainment system, which uses voice and gesture commands to answer phone calls, adjust volume, and operate the navigation function. You can also control the system using the standard 10.2-inch touch screen or a knob next to the gearshift. It also has one of the largest cargo areas in the class, featuring enough room for several suitcases.
The 7-Series has not been rated for crashworthiness by either the National Highway Traffic Safety Institute or the Insurance Institute for Highway Safety. All models are equipped with a rearview camera and front and rear parking sensors. Adaptive cruise control, forward collision warning, blind spot monitoring, lane keep assist, and automatic pre-collision braking are available.
The BMW 740e plug-in hybrid starts at $89,100.
What the experts are saying
Low electric range
"I tend to view the entire first set of plug-in hybrids with ranges of 11 to 20 miles as a kind of first draft for later vehicles with double or triple the range. I think plug-in hybrids will become much more important once carmakers figure out how to explain why they're better than regular hybrids, which they notably haven't. Buy a Tesla Model S if you really want to be green. Otherwise, buy the 740e as a hybrid and get familiar with the plugging-in process. You may be surprised at how much you like driving on electricity alone, and how much you'll want more electric range. That'll come in the next version of the car, maybe 2020 or so."– John Voelcker, editor of Green Car Reports
Luxurious and green
"The 7-Series has been the perennial benchmark for a luxury sedan, and this new BMW 740e takes innovation to an entirely new level.  The 740e buyer is a sophisticated client who is concerned with the environment.  This automobile is a perfect balance of elegant form and guiltless function.  The interior finishes are luxurious without being overdone. The car itself is a sleek, modern design that is attracting new people to the BMW brand.  We are definitely seeing a younger, highly educated demographic. The car is very intuitive from a driver's prospective.  From the gesture control, Apple Car Play,  to the voice activation for your phone and navigation the car is a phenomenal driving experience. This is a perfect balance of form and function." – Melissa Steffy, general manager at Herb Chambers BMW
Getting greener
"What BMW is doing by electrifying a big chunk of its lineup is a great thing, even if it means that there are even more confusing letters in the brand's vehicle names now. If we just look at the recent 7-Series, you can find a 750i, a M760Li, and a B7. Only the most hardcore will be able to tell you what all that means. Still, the little 'e' at the end of the 740e means that that the car is a plug-in hybrid, which you can also glean from the "iPerformance" tag. While both the i8 and i3 put electrification first, the iPerformance line is more of a 'you can plug this in, too' kind of thing. And that's the main issue with the 740e, the abysmal 14-mile electric range feels more like an afterthought than a focus, but that's 14 more miles than the non-iPerformance 7-Series." – Sebastian Blanco, senior green car editor at Motor1 and InsideEVs