Cars
Review: Colorado ZR2: On-road manners, off-road capability
Get ready with your Chevy to go anywhere.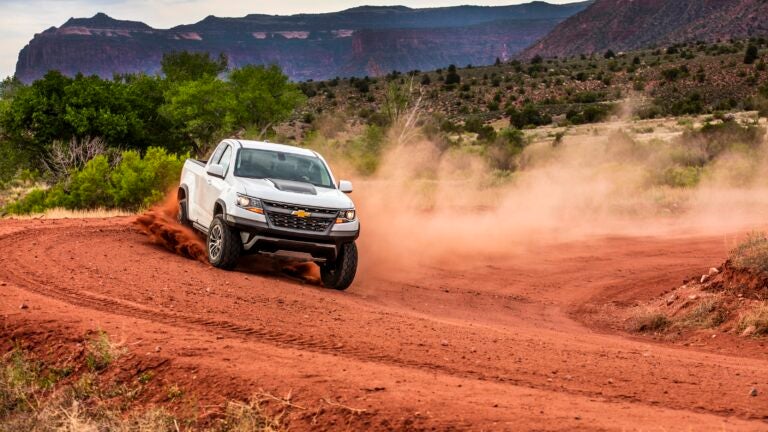 Boston.com Cars is your go-to resource for coverage of local car news, events, and reviews. In the market for a car or truck? Check out our new car specials and used car specials curated by our local dealer network.
Chevrolet is expanding its midsize Colorado lineup with the addition of the high-performance Colorado ZR2. It's matched against trucks like the Ford F-150 Raptor and the Ram Rebel, with plenty of off-road capability combined with on-road manners. The Colorado ZR2 wants to take you from your weekday commute to your weekend off-road adventure.
Pulling off that balance isn't easy. Chevrolet wanted the ZR2 to be a truck that could withstand high-speed antics in the dirt, but still be something you won't mind driving every day. Whether you're on paved roads, hauling a payload, or out having fun and catching some air, they wanted the ZR2 to handle it all.
Chevy pulls it off by taking the standard Colorado and giving it a wider track and higher suspension. Add rockers, modified front and rear bumpers for better clearance, and class-exclusive front and rear electronic locking differentials and it all starts to come together.
There's also a dose of Formula One technology built into the ZR2 with Multimatic dynamic suspensions spool valve dampers. It's the first time these dampers have been used in an off-road vehicle. They provide a smoother on-road experience and a more controlled compression and rebound when you're off-road.
The Colorado ZR2 comes with a choice of two engines. First up is a 3.6-liter V6 with 308 horsepower and 275 lb.-ft. of torque paired to an 8-speed automatic transmission. There's also a 2.8-liter 4-cylinder diesel engine with 186 horsepower and 369 lb.-f.t of torque paired to a 6-speed automatic. Maximum payload of the ZR2 is 1,100 pounds with 5,000 pounds of trailering.
The truck is plenty capable with two powerful engine choices and technology that should make it a fun ride when you leave the pavement. The starting price is $40,995, which puts the Colorado below the Raptor and makes it more affordable for the masses. The big question was whether Chevrolet managed to build a truck that drives as promised.
We had the chance to find out during a recent drive experience in Gateway, Colorado. Chevrolet didn't hold back in the least with a drive program that checked all the boxes so we could see if the ZR2 was true to its do-it-all midsize profile.
They took us to a dirt track with hairpin turns, banked corners, and plenty of jumps that provided ample opportunity to test out that fancy Multimatic suspension system. The ZR2 was a ridiculous amount of fun and with all four wheels in the air, landings didn't knock out your fillings.
Whether you're an experienced off-road driver or someone who is starting out, the ZR2 is a worthy high-performance choice. The more skilled you are, the more fun you can have, but the ZR2 doesn't demand you be an expert before you take it off-road.
We also spent time driving on the highway, which was far less exciting, but still proved an important point. Despite being rugged enough to handle those jumps, it was also a smooth highway ride with a quiet interior and comfortable seats.
Last up on the agenda was some serious rock crawling. This wasn't a few loose rocks and pebbles so they could say we drove over rocks. This was a trail with steep inclines and descents and even rock steps at the end.
This part of the drive required locking both the front and rear differentials and included brave spotters who stood in front of our trucks helping guide us over the terrain. No one wanted to take home a wayward branch or snag a low rock we couldn't see.
We all made it up and back down in one piece with nothing more than that little bit of guidance and the ZR2's capability. You might not be planning on climbing up steep rock steps, but if you get yourself a ZR2 and take the time to learn how to do it, then this truck is up for the challenge.
The Chevrolet Colorado ZR2 is a true high-performance truck with the capability to go off-road, whether that's climbing over rocks or whipping along a dirt track. Wash off the dirt and it's just as ready to take you to work on Monday morning, although you'll be sorely tempted to call in sick and spend another day out having fun.
Nicole Wakelin is a contributor to BestRide.com and CarGurus.com; she can be reached on Twitter @NicoleWakelin.