Cars
Review: Honda opens the hatch … and a third Civic pops out
Honda revives the hatch and takes on competitors.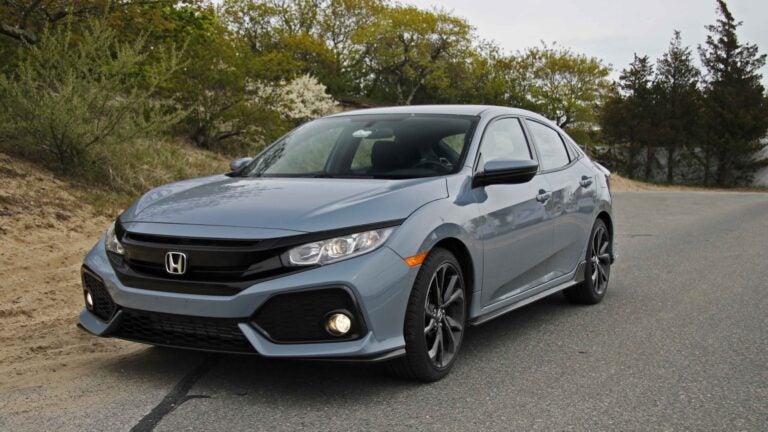 Boston.com Cars is your go-to resource for coverage of local car news, events, and reviews. In the market for a car or truck? Check out our new car specials and used car specials curated by our local dealer network.
Be careful what you wish for. When it arrives, it might be very nice, but not quite the fulfillment of your dreams.
Take today's test car, the 2017 Honda Civic Hatchback Sport, which might fit that description.
The Civic lineup has needed a hatchback since … well, since they stopped selling them in 2005. Now the Hatch is back. And that's a good thing. It's the third Civic body style, joining the coupe and sedan in the 10th generation of this perennially best-selling vehicle.
In keeping with other Honda models, the hatch comes in five trim levels: LX, Sport (our tester), EX, EX-L, and Sport Touring.
If you want a third pedal—a manual transmission—it's available in the base LX and the Sport, which is the second rung in the pricing pecking order. If you also want Honda Sense, the suite of advanced safety systems, it's standard on the Sport Touring package and available on other trims—except the Sport.
We'd have liked both features, but they are mutually exclusive.
There's a big price difference, too. Our Sport cost $22,175 (including destination) while the Sport Touring comes with a $29,175 bottom line. That's almost 25 percent more.
Enjoying a week with the Sport was almost enough to think one could dispense with the advanced electronics.
However, that brings up another issue. If I were faced with having to go into a dealership to pick one of the five trims, I'd likely go with the EX or EX-L Navi, the latter if I wanted to opt for leather and navigation.
The base LX comes with a 2.0-liter 4-cylinder, 16-inch alloy wheels, LED running lights and taillights, 60/40 split folding rear seats, cruise control, automatic climate control, tilt-and-telescope steering wheel, manual front seats (with height adjustment), 5-inch display screen, rearview camera, Bluetooth, and a 4-speaker sound system.
Our Sport adds a 1.5-liter turbocharged engine that boosts horsepower from 158 to 180 and torque from 138 lb.-ft. to 177. This turbo version is more responsive, quicker, and delivers better fuel economy.
There's a big green ECON button on the center console. We pushed it, drove for a day, then said, "Uh-uh," and enjoyed the normal driving program. ECON modifies throttle mapping, HVAC output, and CVT shift points (in automatic transmission models). It also mutes the engine response and thus much of the driving pleasure except for hypermiling (trying to squeeze every possible mpg).
The throttle operates on drive-by-wire. Fortunately, it feels as though there actually is a throttle cable attached "down there somewhere," so you quickly get over the empty feeling of driving by sensors that operate the throttle body responses.
Other Sport equipment includes 18-inch alloy wheels, foglights, a center-outlet dual exhaust, aerodynamic bodywork, rear center armrest with cupholders, and leather-wrapped steering wheel and shifter.
Step up to the EX and you have the CVT and sunroof standard, heated side mirrors, eight-speaker audio system, the Honda LaneWatch blind spot camera, dynamic guidelines for the rearview camera, keyless entry and ignition, 7-inch touch screen with satellite radio, Pandora compatibility, and smartphone app-based navigation.
Civic seems to be an ideal vehicle for a manual transmission, and this six-speed is smooth and easy to operate, though you can't blame any Boston driver for opting for the automatic—a CVT in this case—to deal with our consistently horrible traffic.
Something unusual happened in the normally conservative Honda design studios when creating this hatchback. After designing a pretty normal nose and sides, the bosses apparently went home and let their graphic art interns run amok on the rear.
Maybe it was to keep the rear from looking like a hatch, but they incorporated two spoilers, a wiper in the middle of everything, a sharp bend in the rear window, and big splotches (for lack of a better word) of black cladding. It's very un-Honda-like. The one bright spot is the center-placed dual exhaust outlets.
The final design might have been to appeal to buyers elsewhere because Civic Hatchbacks are being built in Swindon, UK, for worldwide export.
We all know that beauty is in the eye of the beholder and a subjective component of any vehicle. But my review is: "Are you kidding me?"
That said, there's always a spot in every review when you ask yourself: Would I like this car to take up long-term residence in my driveway?
Absolutely.
The engine is quick and rated at 30 mpg in city driving, 39 on the highway, and 33 combined. We were averaging 41.7 over 400 miles until the car spent a goodly time idling while we posed it for photos. Then the onboard computer cut our rating to 39.8. Meanwhile, 400 miles was about the Sport's driving range, thanks to a 12.4-gallon fuel tank.
The smaller tank might have been to maximize interior space, both for passengers and cargo. Space is OK, though taller passengers had to be careful not to bump their heads getting into the rear.
Steering was sure and steady, a description that also fit the suspension. The Sport model has fluid-filled bushings that balance the ride, keeping it firm but not too stiff.
The main infotainment screen seems small because it is in comparison to the trend to ever-bigger displays. However, it looks right, and radio knobs—yes, Honda has brought them back—are a huge plus.
Civic competes in a tough segment with the Chevy Cruze, Ford Focus, Mazda3, Subaru Impreza, and VW Golf. You can be sure those hatches weren't thrilled to see this entry from Honda.
But a lot of drivers will be.
Bill Griffith can be reached at [email protected] Follow him on Twitter @MrAutoWriter.
2017 Honda Civic Hatchback Sport
THE BASICS
Price, base/as tested (with destination): $22,175/$22,175. Fuel economy, EPA estimated: 30 city/39 highway/33 combined. Fuel economy, Globe observed: 39.8. Drivetrain: 1.5-liter turbocharged 4 cylinder, 6-speed manual transmission, front-wheel-drive. Body: 5-passenger compact hatchback.
THE SPECIFICS
Horsepower: 180. Torque: 177 lb.-ft. Overall length: 177.9 in. Wheelbase: 106.3 in. Height: 56.3 in. Width: 70.8 in. Curb weight: 2,864 lbs.
THE GOOD
Total value proposition, ride, engine performance, fuel economy, versatility, configurable center console space, hidden power ports for charging; cargo cover retracts side to side instead of front to back, making it easy to load larger objects.
THE BAD
Rear styling, twin stalks coming from speedometer housing for changing displays.
THE BOTTOM LINE
A welcome addition to the Civic lineup.
ALSO CONSIDER
Chevrolet Cruze, Ford Focus, Hyundai Elantra and Veloster, Mazda 3, Subaru Impreza, Volkswagen Golf.