Cars
Sanctions on Iran could cost US, European companies billions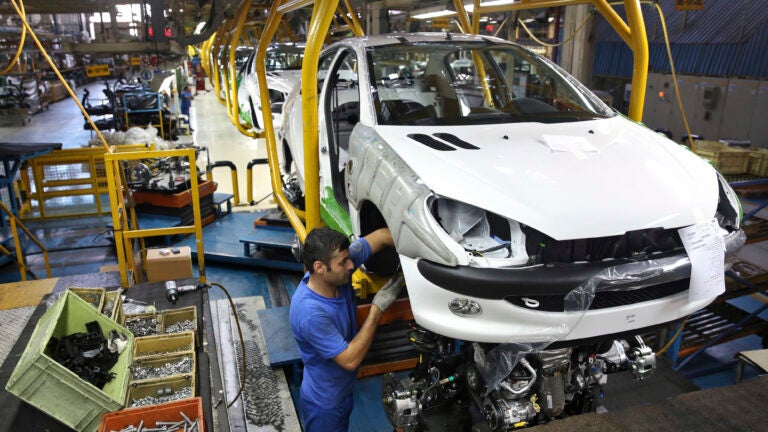 European and American companies could lose billions of dollars in commercial deals canceled and a major new export market undercut by the U.S. decision to re-impose sanctions on Iran.
President Donald Trump's decision will likely most hurt aircraft makers, oil companies and auto manufacturers. The final impact, however, remains unclear because of possible exemptions for some companies and even new negotiations on a revised Iran nuclear agreement, experts say.
Since the Iran nuclear accord was struck in 2015, it has been mostly European companies that moved back in to sign deals with Iran. Europe traditionally has had closer business and diplomatic ties than the U.S., where the legacy lingers from the seizure of hostages at the American embassy in Tehran nearly 40 years ago.
The leaders of Britain, France and Germany tried but failed to persuade Trump to stick with the deal. The reaction from some in Europe was bitter.
Carl Bildt, the former prime minister of Sweden who is now co-chair of the European Council on Foreign Relations, complained that new sanctions "are hardly hitting any U.S. companies, but aim primarily at European ones." Jean-Claude Juncker, the president of the European Union's executive body, said the U.S. "no longer wants to cooperate with other parts of the world" and should be supplanted by the EU on the international stage.
Trump fulfilled a campaign promise by announcing that he will withdraw the U.S. from the nuclear deal. As a consequence, companies worldwide must stop doing business with Iran or risk U.S. fines or other punishment.
U.S. sanctions bar U.S. banks and companies from doing business with Iran. The sanctions also limit foreign companies from dealing with Iran by prohibiting them from using American banks in their operations if they do not sever links with Iran.
Aircraft manufacturers stand to be big losers, with the pain shared between Chicago-based Boeing and Europe's Airbus. U.S. Treasury Secretary Steven Mnuchin said the companies' existing licenses to sell planes to Iran would be invalidated. Airbus falls under U.S. rules because its planes include U.S.-made components.
Airbus has already delivered three planes out of a 100-jet order placed in December 2016 by Iran's national carrier, Iran Air. The planes are worth around $19 billion at list prices.
Boeing later announced deals with Iran Air and Aseman Airlines totaling 110 planes said to be worth $20 billion. However, list prices are routinely exaggerated, and aviation consultancy Avitas valued the deals at $9.5 billion, given normal discounts.
The aircraft makers will avoid serious damage. The Iranian deals represented a blip in Boeing's business. Boeing never added the planes to its backlog — and if it had, they would have represented less than 2 percent of its 5,800 orders.
Boeing prepared investors for the setback. CEO Dennis Muilenburg said last month that losing the Iranian sales wouldn't slow down production.
"Airbus booked the orders and started delivering planes. Boeing played it safe and did neither, which may have been smart," said Richard Aboulafia, an analyst with airline-industry consultant Teal Group near Washington, D.C. He also said that Iran's demand for new planes was vastly overrated all along.
In the long term, however, "Iran is the big hope of aviation manufacturers" because of its large population — about 80 million — and middle class, its oil assets, and an aging aircraft fleet in need of upgrades, said Adam Pilarski, an Avitas analyst.
The U.S. says the sanctions will also sharply curtail sales of oil by Iran, the world's fifth-largest oil producer. There will be a 180-day period for countries to wrap up existing contracts and achieve "significant reductions" in their purchases of Iranian crude, although Mnuchin did not spell out what the administration meant by the term.
French oil company Total SA has been the most aggressive Western oil company to move back into Iran, signing a $5 billion, 20-year agreement there in July. A Chinese oil company also has a deal to develop the country's massive South Pars offshore natural gas field. Total did not respond to requests for comment.
France's Total, Anglo-Dutch Royal Dutch Shell and Italy's Eni were more active in Iran than U.S. companies, which were still limited by other sanctions unrelated to Iran's nuclear program, including a trade embargo.
The price of oil rose sharply on Wednesday to its highest since 2014 on expectations that the new sanctions will crimp Iranian exports. Brent crude, the standard for pricing international oil, rose $2.11, or 2.8 percent, to $76.96 a barrel in London. Benchmark U.S. crude gained $2, or 2.9 percent, to $71.06 a barrel in New York, the highest level since late 2014.
Analysts estimate that the re-imposition of sanctions could reduce Iran's exports by between 200,000 and 600,000 barrels per day. That might seem insignificant in a global supply of about 98 million barrels a day. Oil prices have been rising, however, as a worldwide glut of crude is burned off by strong global demand and limits on drilling by Saudi Arabia and other major producers. Any crimp in supply is likely to drive prices higher.
Saudi Arabia immediately pledged to help offset the loss of Iranian crude, saying it "remains committed to supporting the stability of oil markets, benefiting producers and consumers alike." Analysts also expect that U.S. companies will respond to higher prices by drilling more.
Analysts say oil prices are already high enough to cause a drag on the economy.
"An oil price increase is a hit to consumers in the form of higher gasoline prices, which means weaker spending on other items," said Gregory Daco, chief U.S. economist at Oxford Economics. "The key question going forward will be what happens to oil production in Saudi Arabia," one of the few countries capable of offsetting lost Iranian production.
Mnuchin told reporters that the Trump administration has talked to "various parties" who would be willing to provide enough oil to offset Iran. He did not name the countries.
In other sectors, French carmaker PSA Peugeot Citroen agreed in 2016 to open a plant producing 200,000 vehicles annually in Iran, and says it is studying the implications of the U.S. move. Fellow automaker Renault signed a $778 million deal to build 150,000 cars a year at a factory outside of Tehran but has declined to comment so far.
German industrial equipment manufacturer Siemens, which has multi-billion-dollar contracts with Iran for rail, power plant and other projects, said it is assessing the possible impact but expects it to be immaterial. It said it will comply with any sanctions.
Companies and countries with commercial deals with Iran would have either 90 or 180 days to wind down those activities, depending on the sector and type of products sanctioned. Firms would not be allowed to strike new deals with Iran.
U.S. officials said certain waivers can be negotiated, but they did not say what goods or countries might qualify.
Most of the companies should be able to withstand the loss of deals in Iran. PSA Peugeot Citroen, for example, sold more than 3.6 million vehicles worldwide last year.
Closer ties with Europe have helped Iran. Exports to the EU grew almost tenfold since the sanctions were lifted, from 1.25 billion euros ($1.48 billion) in 2015 to 10.14 billion euros last year. The flow of goods to Iran grew more modestly, from 6.47 billion euros to 10.8 billion euros.
___
Koenig reported from Dallas and Charlton from Paris. Martin Crutsinger in Washington, D.C., Jon Gambrell in Dubai, Frank Jordans in Berlin, Raf Casert in Brussels and Matt Ott in New York contributed to this report.