Cars
Should we go hybrid or all-electric for our next midsize SUV?
John Paul, AAA Northeast's Car Doctor, answers a question from readers concerned about the availability of charging stations near their summer home.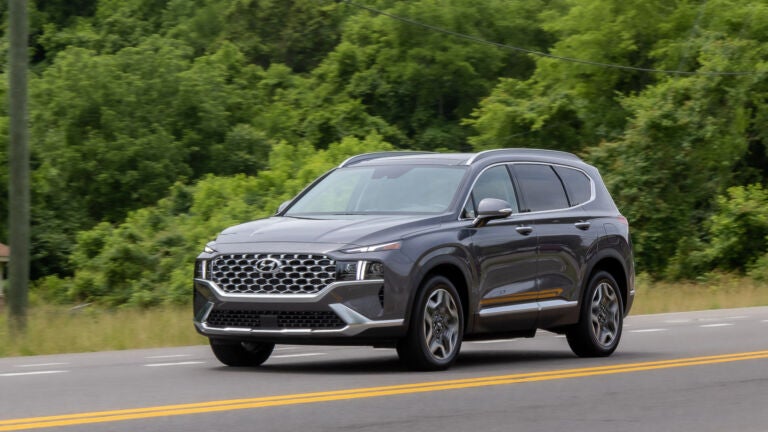 Q. We own a 2017 Mazda CX-5 and spend June through September in Vermont. We are seriously considering a Hybrid SUV. Electric charging stations are not readily available where we live. It is a 210-mile trip from our apartment to Vermont. A midsize SUV suits our needs, as we do a lot of day trips. We are considering the KIA Sportage. We would consider other makes as well, and our budget is $40,000.
A. To me, it seems that, at least for the near future, a plug-in hybrid (PHEV) may be your best choice, rather than a full electric vehicle. I recently evaluated the Hyundai Santa Fe. It was in the upper trim level. This model was a plug-in hybrid. It delivered about 30 miles of all-electric range with a total range of about 450 miles. The 30 miles of range may not cover your day-to-day driving, and although you can charge at any Level II charging station, you can also charge overnight on a 120-volt outlet, which may work out nicely at your Vermont home. Although slightly smaller, the Toyota RAV4 Prime is also a particularly good choice.
Q. I have a 2001 Jeep Grand Cherokee. Several months ago, it would not start and the light with the key symbol with a line through it was on. Prior to this it would occasionally shut off while I was driving. My mechanic said it was the SKIM module. I took it in, and he advised me that the PCM was bad. I found the part on eBay, and he installed and programmed it. It ran fine, but then it started randomly shutting off again. I brought it back to my mechanic and he could not find anything wrong. He said to drive it for a little bit to get the PCM to set. It was fine for a week then began randomly shutting off again while driving. Have you heard of anything like this?
A. It sounds like you may have had two problems – the key indicator certainly could have been the SKIM (Sentry Key Immobilizer Module), and the ECM (main computer) needs to see that signal for the car to start. I would have the technician look at the crankshaft sensor as well as checking for codes. The crankshaft position sensor is a common failure in these Jeep engines.
Q. I bought two new front tires in January. The tires are fine, but recently I went to check the tire pressure in the front tires and the valve stem on the left front tire broke in half, deflating the tire. We had the car towed, and the tire store said it would not be covered under the tire warranty. The car is 14 years old, and they told me that replacing the stem is standard practice. They said the part is about $85.00 and with labor it will come to about $115.00. Is that within the normal range, and should they have covered the cost of the repair since the valve stem might have been damaged when they replaced the tires?
A. Chances are if the metal valve stem was damaged when the tires were installed, it would have failed much earlier. You have been lucky so far, since the typical life of a direct reading tire pressure sensor is seven to 10 years. As for cost, the factory sensor (the tire store probably used a quality generic sensor) is about $128 and some shops will charge a minimum of one hour labor to install the sensor, rebalance the tire, and program the new sensor. Although $115 is expensive for a valve stem, the price was certainly fair
John Paul is AAA Northeast's Car Doctor. He has over 40 years of experience in the automotive business and is an ASE-certified master technician. E-mail your Car Doctor question to [email protected]. Listen to the Car Doctor podcast at johnfpaul.podbean.com.
Newsletter Signup
Stay up to date on all the latest news from Boston.com