Cars
Concerns about electric vehicles being too quiet inside parking garages, around crowds
John Paul, AAA Northeast's Car Doctor, answers a question from a reader wondering if an EV can be too quiet in some settings.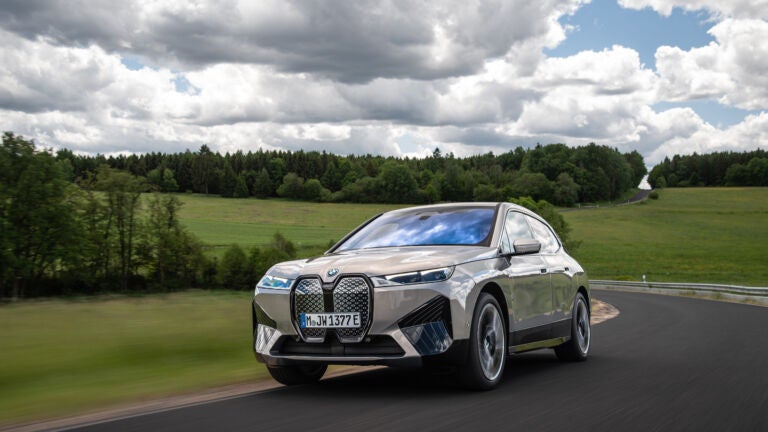 Q. I worked at an office with a three-level, 900-car underground garage. I cannot begin to remember how many times I almost was hit by someone careening around a corner or backing up without looking. The last thing I would have needed would have been a silent EV or hybrid vehicle gliding quietly around a corner in this type of garage.
A. I recently drove a BMW iX EV at a crowded street fair, and yes, most pedestrians were too busy looking at everything but the traffic. To ensure that pedestrians will hear electric and hybrid vehicles, the National Highway Traffic Safety Administration requires these vehicles to emit sounds ranging from 43 to 64 decibels when they are moving at less than 18.6 miles per hour. Each manufacturer uses its own warning sounds. Whether these sounds are sufficient, I am not sure, based on my experience.
Q. We have a 2020 Hyundai Elantra. Intermittently the starter button does not activate the starter and the car does not start. Trying the button multiple times eventually starts the engine. At times all the lights on the dash flash until the starter button is pressed again. Most recently the car has started up as it should. Any ideas?
A. I have not heard of this happening with this model, but if the simple things did not work, then the car needs to go to the dealer (depending on the mileage, it could be under warranty) and be tested. The tech will hook up a scan tool and read the various actions of the key fob. If the fob is transmitting, the receiver or antenna could be faulty. There could be a wiring issue or it could be as simple as the push button has a poor connection (which I have seen several times in other cars).
Q. I had my car, a 2014 Toyota Camry, in the shop a year ago for the 100,000-mile maintenance. It now has 115,000 miles. According to you, it is time to take it in for maintenance (oil and filter have been changed every 5,000 miles). What should be checked or repaired every 6 months?
A. I also have a car which only requires an oil change once per year. Still, every month or so I open the hood to check all the fluids and also give the belts and hoses, radiator, and battery connections a look. Depending on the age of the car, this can vary. Every six months or so, having the car on a lift to look for oil leaks, steering and suspension wear, as well as a tire check (air pressure should be checked once per month) is a good idea. Items such as cabin and engine air filter can last up to three years, but it makes sense to look at them at least yearly. Engine coolant quality (which can last from 3-10 years) still should be checked once per year. Brake fluid is replaced every three or so years. So, depending on where you are with the car, these things can and should be checked on some type of routine basis. Finding issues before they become serious can be safer and sometimes more cost effective to repair.
Q. I bought a 2016 Cadillac SRX two years ago with 20,500 miles on. It was a Certified used Cadillac bought from a Cadillac dealer. It is a great car except for one slight problem. The rear cargo door squeaks and groans over bumpy roads and on turns. It was back to the dealer twice for this problem and all they did was smear some grease on the hinges, which helped a bit, briefly. Is this a common problem and is there an adjustment or other means to stop the creaking that I would be able to do myself?
A. Since the noise was better with the lube, the lift gate is either too tight (most likely) or too loose. Many times, technicians believe if there is a squeak, that they should tighten everything as tightly as possible. But in fact, the rubber gasket is designed to hold the liftgate properly without a rattle or squeak. There are no technical service bulletins about the noise, but the vehicle was recalled for the liftgate, possibly before you purchased the vehicle. I think it will just take time and a little effort to get the liftgate and stops adjusted correctly.
John Paul is AAA Northeast's Car Doctor. He has over 40 years of experience in the automotive business and is an ASE-certified master technician. E-mail your Car Doctor question to [email protected]. Listen to the Car Doctor podcast at johnfpaul.podbean.com.
Newsletter Signup
Stay up to date on all the latest news from Boston.com