Commute
Here's when to expect the worst traffic around Boston this Labor Day weekend
Plan your travel times to avoid traffic delays during the weekend marking the unofficial end of summer.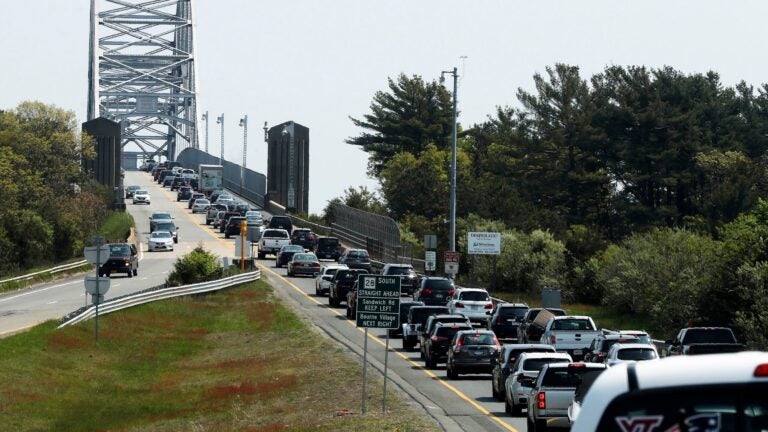 Labor Day weekend marks the unofficial end of summer, and it's also a busy travel weekend. Around Boston, Labor Day traffic might not measure up to the Fourth of July and Memorial Day weekends, but college move-ins and last-hoorah vacationers will contribute to some congestion on the roadways.
In recent years, Labor Day weekend traffic volume hasn't been as heavy as it once was, given the changing nature of school schedules, said John Paul, senior manager of traffic safety at AAA. But the agency expects some crowded highways this weekend.
"Over the years, Labor Day has changed a little bit where a lot of kids are going back to school this week," Paul said. "Memorial Day and the Fourth of July [were] some of the highest volume of traffic we have seen since 2007. It would not be a surprise to see that Labor Day traffic would also be higher than in years past."
Drivemode, a safe-driving app, released a report outlining the traffic expected this weekend for 19 major cities. Boston is expected to have the slowest hours for travel Thursday and Friday evening, Yo Koga, founder and CEO, wrote in an email.
The study is based on data collected from more than 765,000 app users during the days leading up to this year's Memorial Day weekend, Koga wrote.
"To determine the 'worst' time of day to be driving in a metro area, Drivemode compared the number of minutes it took an average driver to drive one mile, hour-by-hour, on the Thursday and Friday before the holiday," the study said.
Here's what else you should keep in mind if you're hitting the road for the long weekend.
The worst time to drive:
Drivemode's study found that the slowest hours for Boston drivers to head out for Labor Day travels will be Thursday around 5 p.m. and Friday around 4 p.m., Koga wrote.
Leading up to Memorial Day, Boston-area motorists spent 7.04 minutes driving one mile during the 5 p.m. hour on Thursday, and approximately 5.06 minutes during the 4 p.m. hour on Friday, "making those the two slowest hours on each of those two days," Koga wrote.
"During a typical commute in the 5 p.m. hour, our data shows that area motorists take 2.73 minutes to drive one mile," he wrote. 
In the days preceding Memorial Day, however, Drivemode's study found that the quickest hours for travel out of Boston were on Thursday around  8 p.m., when it took drivers 2.11 minutes to travel a mile, and on Friday around 9 a.m., when motorists were able to drive a mile in 2.24 minutes, Koga wrote.
What to expect on the roads:
Motorists are encouraged to be mindful of the expected traffic and to plan ahead, AAA spokesman Drew Carlson wrote in an email. Leaving earlier rather than later may shorten the trip's duration. Or, conversely, the agency suggests staying later and then leaving on Tuesday, when there will likely be far less traffic.
Another component affecting traffic, especially during holiday weekends, is the weather, Carlson wrote.
"Weather plays a large factor in how busy Monday will be," he wrote. "People tend to stay later in the day if the weather is nice."
Know before you go:
The HOV lane on I-93 between Boston and Quincy will have normal morning hours this week, and will open early for the afternoon commute at 2 p.m. Thursday and 1 p.m. Friday, according to MassDOT. The lane will close on Monday, but it will re-open for regularly scheduled hours starting Tuesday.
The additional "swing lane" on Route 1A southbound at the Summer Tunnel will have extended hours for the Labor Day weekend, the department said. It will open at 3 p.m. Friday and remain open through 5 a.m. Tuesday.
MassDOT will also increase patrols on all major roadways for the holiday weekend.
How to stay informed:
There are several ways to keep on top of the the latest traffic information. Here are a few:
Online: Visit Boston.com/traffic or Mass511.com.
Mobile apps: Download apps like Waze, AAA, and GoTime for real-time info on your device.
Call: Dial 511 to listen to traffic information.
Radio: Tune your car's AM radio to WBZ 1030 for regular updates.