Commute
Survey: Many commuters in Mass. appear near 'breaking point' with delays in transportation
The new poll also found that an abundance of Massachusetts voters have considered changing jobs because of their commutes.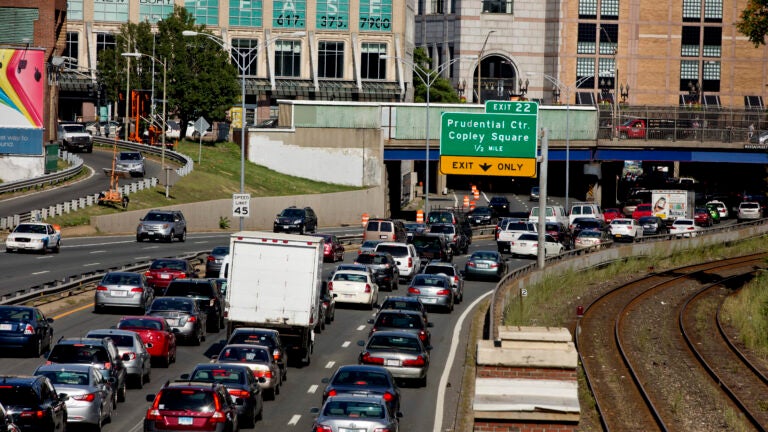 If you're sick and tired of your commute by rail or road in Massachusetts, you're not alone.
A new survey released Wednesday by the MassINC Polling Group found that state residents are so fed up with traffic and delays on public transit that many have considered changing jobs or leaving the area to improve their commutes.
The online survey of 1,200 registered voters in Massachusetts was conducted in March. Seventy-two percent of the full-time employees who participated said they leave earlier or later in the day to avoid commuting during peak hours. The same percentage reported becoming stressed, angry, or frustrated during their travel. Among the full-time workers, 52 percent reported being late for work in the last few months due to transportation delays, and 30 percent said they have recently considered changing jobs because of commute times.
For those employees living within Route 128, 32 percent said they have thought about "leaving the area."
"Compared to drivers, full-time workers who use transit are having a worse time of it," MassINC reported.
Sixty-three percent of full-time employees taking public transit reported they had been late for work, while 82 percent said they adjust their commute hours to try and avoid peak travel times.
"Participants have told of near-heroic measures they have taken to try to beat persistent delays: changing routes, leaving at extreme hours of the morning and evening, trying various navigation apps to gain a small advantage, and more," MassInc wrote in the report on the survey. "Some had forgone jobs with higher pay in Boston because of the commute. Many more had simply rationalized the stress and strain as a tradeoff of living in Massachusetts. These numbers suggest that, for a significant minority of workers, the strain of commuting may be reaching a breaking point."
Only 19 percent of those surveyed said they think transportation will get easier in the next five years. More than twice that number (39 percent) think it will only get harder to get around in their part of the state. A majority of the participants (66 percent) agreed with the notion that "urgent action" needs to be taken to address transportation issues in Massachusetts.
"Voters are more optimistic that the MBTA can be fixed than can traffic around Boston," MassINC reported. "They also understand that public transportation helps alleviate traffic by taking cars off the roads. The poll suggests that [at least some] nonriders would be open to trying transit if frequency and reliability were improved."
Check out the full results of the survey.