Commute
Mass. Senate President wants to explore expanding toll roads
"I believe that nothing should be off the table here," Sen. Karen Spilka said.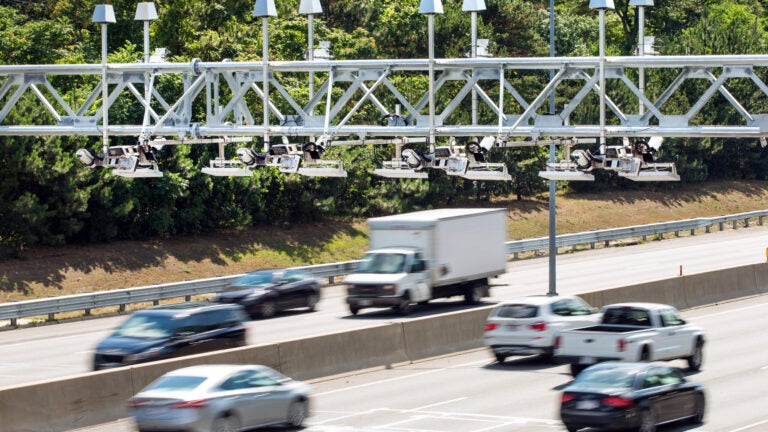 To meet Massachusetts's growing transportation demands, state lawmakers should consider expanding toll roads to generate new revenue, Senate President Karen Spilka said Thursday.
The Ashland Democrat, speaking at a Greater Boston Chamber of Commerce event, said the state must embrace conversations on innovative policies and new ideas to build an efficient 21st century transit system.
Spilka's own district, which stretches from Hopkinton to Natick, already encompasses the toll-heavy Mass Pike.
"Simply put, and I put this out there, if tolls are a good idea for my district, my region, I believe we should explore the possibility of expanded tolling, including, possibly, at our borders," she said. "I believe that nothing should be off the table here. We need to have an open and honest discussion."
Her comments come as the Senate carries out a roundtable study on the state's transportation issues. Spilka offered a list of several principles she believes will guide officials in the process, including "regional equity."
Just this week a survey published by the MassINC Polling Group found that of 1,200 registered voters polled last month, 30 percent said their commute has become so long and stressful that they've recently considered changing jobs to have a shorter trip to work.
Seventy-two percent of full-time employees who responded reported that they've left earlier or later in the day to avoid peak commute times. That same amount said they have become stressed, angry, or frustrated while commuting.
Gov. Charlie Baker's administration is currently touting a plan to pour $8 billion into public transportation and additional funds into roads and bridges over the next five years.
But Baker told reporters Wednesday, in the wake of the poll results, he does not believe that "raising taxes is the answer to this problem at this point in time."
"I think the answer is to pursue the strategies that we've proposed, which as I said is the largest investment the Commonwealth has made in any five-year period outside of the Big Dig," he said.
On Thursday, Spilka, who also said lawmakers must focus on expanding access to public transit, brought up the idea of congestion pricing as another tool to address the state's needs for transit solutions and infrastructure.
"Our best ideas won't matter if we can't find a way to make a 21st century transportation infrastructure a reality and find a way to pay for it," she said.
Spilka isn't alone in her call for frank discussions on boosting the number of tolls on the roads.
Democratic state Sen. Brendan Crighton, of the 3rd Essex District, filed a bill in January seeking for the state's Department of Transportation to review the idea. The proposal is currently awaiting committee review.