Commute
The worst times to drive around Boston during the Thanksgiving holiday stretch
Experts from AAA and MassDOT weigh in on the best and worst driving times.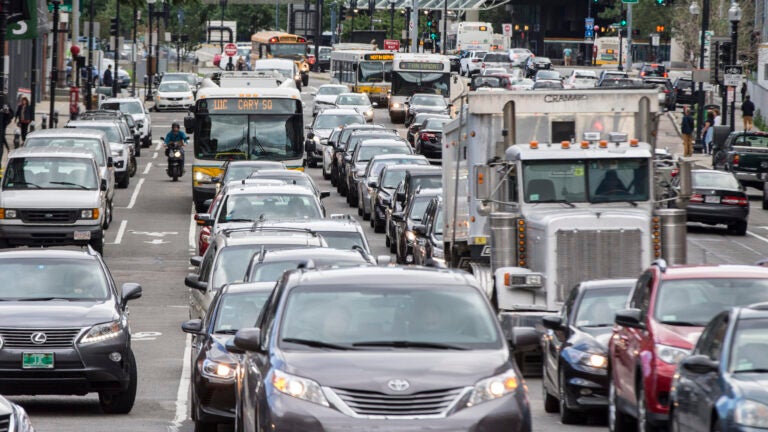 Nearly 50 million people will travel by car for Thanksgiving, and 1.1 million Massachusetts residents will be among them, according to AAA.
"Strong economic fundamentals are motivating Americans to venture out this holiday in near-record numbers," Mary Maguire, AAA Northeast's director of public and legislative affairs, said in a news release. "Consumer spending remains strong, thanks to increasing wages, disposable income and household wealth, and travel remains one of their top priorities for the holiday season."
Vehicle travel is up 2.8 percent over 2018's numbers, according to AAA.
Here's the projected worst and best times to drive during the holiday week:
The worst times to drive:
AAA predicts that the worst time to travel in Boston is Wednesday between 4:30 p.m. and 6:30 p.m. During that time, traffic delays are projected to be 3.4 times worse than normal.
Traffic projections from Google are similar, with the worst time to travel before Thanksgiving predicted for 3 p.m. on Wednesday. The company also projected the worst times to drive after Thanksgiving, and for Boston, that's 3 p.m. on Friday.
The best times to drive:
Google predicts that the best time to travel before Thanksgiving is 2 a.m. on Wednesday and Sunday at 3 a.m. after the holiday. For those who don't want to travel in the middle of the night, Google predicts the best daytime travel to be 6 a.m. on Thanksgiving and then 6 a.m. on Sunday.
No roadwork, says MassDOT
Any road construction in Massachusetts is planned to stop at 5 a.m. on Tuesday and will start up again at 5 a.m. on Monday, according to MassDOT.
The high occupancy vehicle, or HOV, lane between Boston and Quincy on I-93 will be open between 2 p.m. and 8 p.m. on Tuesday and between 1 p.m. and 8 p.m. on Wednesday, the department said. It will be closed on Thursday and Friday. The Sumner Tunnel swing lane will be closed from Tuesday at 10 a.m. until Monday at 5 a.m. because of projected increased travel at Logan, DOT said in a news release.
There will also be free coffee for drivers from 10 p.m. Thursday until 5 a.m. Friday at the department's 18 plazas – 11 along I-90, Route 128 in Beverly, Route 3 in Plymouth, Route 128/I-95 in Lexington and Newton, and Route 24 northbound and southbound, according to DOT.
"Thanksgiving is an incredibly busy time for travel, whether on the roads, in the skies, or on public transit," Stephanie Pollack, transportation secretary and CEO, said in the news release. "The get-away rush will be starting Tuesday and we encourage everyone to think ahead, have a plan and exercise patience with each other."