How To
What's the best new SUV for an outdoorsy family?
John Paul, AAA Northeast's Car Doctor, answers a question from a reader ready to upgrade a family SUV.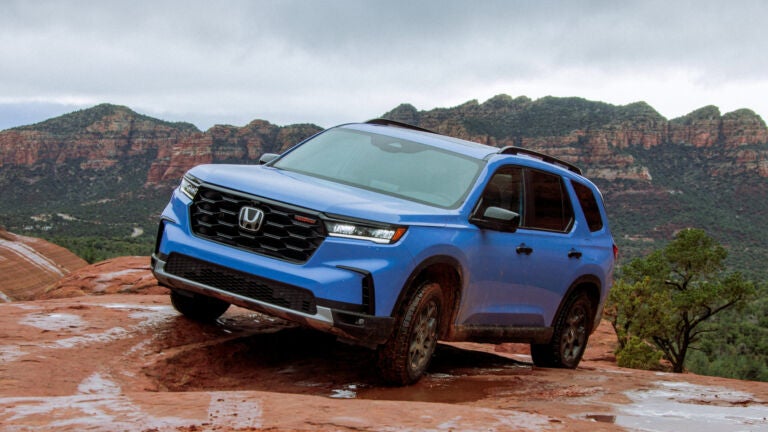 Q. I am thinking of replacing our Ford Explorer, which has met our needs pretty well, with a new vehicle. I am looking at the Honda Pilot. In recent years we have discovered camping, and also now own a 16-foot Boston Whaler. Have you evaluated the new Pilot, and how do you think it will fit our lifestyle and family (myself, husband, and 8-year-old son)?
A. The fourth generation Honda Pilot adds a bit more room, more flexible seating arrangement (up to eight), and a bit more horsepower, now up to 285 with significantly less tailpipe emissions. Regarding towing, the Pilot can tow up to 5,000 pounds, so it should be able to handle your 16-foot boat with no problem. If you are going camping, the TrailSport option (the version I tested) adds one inch of ride height, improved wheel-torque management, and off-road tuned suspension. I have always been a fan of the Honda Pilot and this latest Pilot is the best one yet.
Q. I am considering buying a classic car, not necessarily a show car, but something I can drive a couple of days per week. Any suggestions?
A. My first suggestion is unless you are handy and have plenty of garage space, look for a completed car. Also, buy something you like – because you like it – not as an investment. Although classic cars can go up in price, that is not always the case. Buying a car that needs work may look like a great deal but over time, you will find it is cheaper to buy a completed car. As a daily driver, I would not get hung up on originality. If you found, as an example, a Chevy Nova or Ford Falcon and it had an updated (not necessarily high-performance) drive train, that can make the car much more drivable. There are lots of "cars and coffee" and cruise nights over the summer and I would try to go to as many as you can. Look around, ask questions, and see what you like.
Q. I have a 2009 Cadillac Escalade that we purchased from an older gentleman. The problem is from time to time it will not start. I seem to be the only one experiencing this, however. When my wife takes the car, it is perfect. So far, we have replaced the battery as well as the batteries in the key-fob. It is push button start. Could it be the button?
A. Some of these older GM products did have a sort of weird issue with the key-fobs. The issue was interference from other devices. It could be caused by access cards, fuel speed passes, proximity ID cards, and even toll transponders. As an experiment, just try swapping key-fobs with your wife, if you still have the problem, it may be something you carry with you.
Q. Can you explain the new car colors to me? A few years ago, cars had real depth in color with plenty of shine, metallic, and gloss. Today the colors are flat or just seem to lack richness. Why?
A. Like everything, styles are trendy, and the new colors are what some new car buyers are looking for. I have to agree with you, recently I prefer the darker, richer colors, but I also applaud the car makers for trying new things. Recently I drove a car that was colored sky blue pearl. Most people loved it and thought it was one of the best new colors they had seen. Like all things beauty is in the eye of the beholder.
Q. I have not been great at rotating the tires on my SUV, and now the tires are feathering a bit, but more in the middle of the tread than across the tires. The alignment shop said everything looked okay but just suggested tire rotation. What could be wrong?
A. There may, in fact, be nothing wrong other than, as you admit, lack of tire rotation. At this point rotate the tires in what is referred to as a modified X pattern. In this method you move the rear tires directly to the front tire position and cross the front tires going to the rear tire position. This method may smooth out the uneven wear.
John Paul is AAA Northeast's Car Doctor. He has over 40 years of experience in the automotive business and is an ASE-certified master technician. E-mail your Car Doctor question to [email protected]. Listen to the Car Doctor podcast at johnfpaul.podbean.com.
Newsletter Signup
Stay up to date on all the latest news from Boston.com