Local News
3 things to know about the results — and recommendations — from the Massachusetts traffic study
"People in Massachusetts don't need this study to confirm what they experience every day."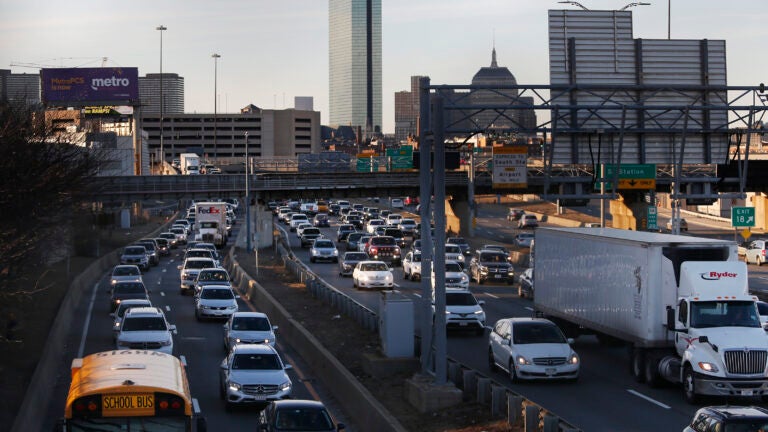 Traffic congestion in the Boston area is bad. In fact, by some measures, it's the worst in the country. And it's not getting any better, according to a long-awaited study released Thursday by Gov. Charlie Baker's administration.
"People in Massachusetts don't need this study to confirm what they experience every day: congestion has gone from bad to worse, from occasional inconvenience and frustration to a constant and daily reality," Stephanie Pollack, the state's transportation secretary, wrote in the report.
Officials say congestion is a byproduct of a strong economy. However, in eastern Massachusetts, particularly within the Route 128 corridor, it has reached a "tipping point" where it paralyzes many parts of the system and actually has a counterproductive effect on local workers.
That said, a healthy economy isn't the only reason for the state's worsening traffic woes. In the report, the Baker administration looked at the worst congestion chokepoints, their impacts on Massachusetts residents, and some potential solutions. Still, some say it won't be enough.
1. Where is congestion the worst?
While the report found that congestion is in pockets across the state, officials said it was generally worse on the roadways in and around Greater Boston (defined roughly as the areas along and within I-95/Route 128), which has seen employment grow by 19 percent since 2010. According to the study, peak period travel times increased on "almost all" state road segments for which data was collected between 2013 and 2018, and 17 percent of the roads in the region are congested outside of the traditional rush hour.
"The system is full, if not overflowing, with what traffic professionals call 'recurring congestion' that occurs every working day," the study said.
Within the Route 128 corridor, more than two-thirds of the state's roads are congested at 5 p.m., according to the study. The same can be said for more than half of the roads studied during the morning commute. The report also identified the five places where congestion is consistently the worst:
1. I-93 southbound from Mystic Valley Parkway in Medford to McGrath Highway in Somerville at 7 a.m. (averages 10.5 minutes over 2.8 miles)
2. Route 2 eastbound approaching Alewife at 8 a.m. (averages 6.8 minutes over 1.3 miles)
3. The Southeast Expressway northbound from the Braintree Split to Neponset Circle at 7 a.m. (averages 15.9 minutes over 4.2 miles)
4. Route 2 eastbound approaching Alewife, at 7 a.m. (averages 6.6 minutes over 1.3 miles)
5. I-93 southbound from Mystic Valley Parkway in Medford to McGrath Highway in Somerville at 8 in the morning (averages 9.8 minutes over 2.8 miles)
Additionally, officials identified several corridors that are congested for at least 10 hours a day, including Route 28 through Cambridge, Somerville, Medford, and Stoneham; Fresh Pond Parkway in Cambridge; Route 1A in Revere; and all of I-93.
The report noted that Greater Boston roads are so full on a regular weekday that "comparatively small insults" to the system — like a crash during the morning commute, bad weather, or a work zone — can cause rippling delays and cascading effects on the surrounding roads. Officials said that those minor events can create backups anywhere in the system during peak traffic periods. That makes the entire network frustratingly inconsistent and unreliable for commuters, meaning that people have to arrange things like daycare, other work, and family plans around the once-a-week-or-so spike, rather than the average trip.
One example was the inbound trip from Burlington to Kendall Square. The 18-mile trip along I-95/Route 128, Route 2, Fresh Pond Parkway, and Memorial Drive averages 40 minutes, but can vary between between 25 and 75 minutes. Meanwhile, the morning commute from Stoneham to Boston on 1-93 averages 26 minutes, but once every 10 days it balloons to around 45 minutes.
"They may not be happy about it, but people can tolerate an average commute time that increased from, say, 29 minutes to 34 minutes," Pollack wrote. "What really frustrates people is how that commute can occasionally spike to an hour or more due to accidents, weather, or seemingly for no reason at all."
The downstream effect is that the area's traffic congestion reduces the number of communities with "good automobile access to jobs," which are disproportionately located in the Boston area. And increasingly high housing costs limit who can afford to live in those jobs-dense areas, the study said. According to University of Minnesota researchers, Boston ranked sixth in the country in terms of loss of access to jobs due to congestion.
2. What are they going to do about it?
For the many motorists stuck in traffic each morning, these findings may seem obvious. Less clear has been what the Baker administration plans to do about it.
"We cannot eliminate congestion entirely, but we can better manage it to make trips more reliable and predictable," Pollack said.
The report listed a number of priorities, such as addressing bottlenecks "where feasible," increasing MBTA capacity and ridership, making local bus service more robust, and encouraging more people to telecommute. Baker recently proposed legislation that would authorize $18 billion in transportation spending over the next 10 years, including regional rail improvements, a tax break for companies who let their employees work from home, and $50 million in grants for communities to create more dedicated bus lanes, transit signal prioritization, and other infrastructure to free buses from traffic.
Baker has also proposed legislation that would collect more data from companies like Uber and Lyft, which he says contribute to congestion, so that communities can plan around when those cars are on the roads, picking up and dropping off passengers.
Last year, Baker vetoed a pilot program to give drivers toll discounts during off-peak driving hour, a form of congestion pricing, in favor of conducting the study released Thursday. While the new report does not recommend any smart tolling or congestion pricing efforts, it does identify the idea of "managed lanes," in which drivers pay a fee to use a parallel lane while the main roadway remains free, for further study. Managed lanes would also be available to carpools, buses, and vans carrying large numbers of people for no cost.
"A growing body of evidence suggests that dynamically priced lanes, in locations with parallel and free general travel lanes, can provide a real option for those willing and able to pay more to avoid congestion while simultaneously improving the performance of the entire corridor including the non-tolled lanes," says the report, noting that states like Georgia and Washington have seen positive results.
"When you look at all the various approaches that people have tried to deal with congestion around major metropolitan areas, that is the one that I believe is the fairest and has the most likelihood of being successful," Baker said during a press conference Thursday. "That would be a fairly big departure from the status quo."
However, officials also emphasize that addressing traffic congestion is about more than just roads.
Pollack says that if one thing is clear, it's that traffic congestion is driven by a number of factors, including "our persistent inability to produce sufficient amounts of reasonably priced housing," particularly near transit options. In addition to encouraging growth in less-congested gateway cities, the Baker administration says that their "housing choice" bill would spur more development, by allowing cities and towns to adopt certain zoning laws with a simple majority, rather than two-thirds threshold. The administration has also been incentivizing municipalities to increase their housing stock.
3. Does it go far enough?
A number of local transit advocates say the steps outlined in the report are not big enough and do not address the core problem.
"It's a fallacy to believe that our traffic congestion exists because our economy is good," the Boston-based group TransitMatters said in a statement Thursday. "That is insulting to the many for whom the economy is stagnant and not very good. Congestion exists in Metro Boston because we have failed to act and adopt proven multi modal solutions to our Transportation crisis."
TransitMatters called for near-term commitments to regional electric rail, a Red-Blue Line connector, a proposed West Station (which has been delayed until at least 2040), and "smart, regionally equitable" congestion pricing. Chris Dempsey, the director of the Transportation for Massachusetts, a coalition of transit policy groups, also said Baker "must more aggressively confront congestion by piloting and testing smarter tolling approaches that have worked in other regions and can work here."
"In the absence of implementing this essential tool, it will be challenging for the Commonwealth to adequately tackle this growing crisis," Dempsey said in a statement.
In a tweet, his group said the current congestion "reflects years of sprawl and prioritizing car travel." While they praised Baker's administration for recommending more affordable housing near transit options and investment in buses, Dempsey said the report ultimately falls short.
"Hopefully for these drivers stuck in traffic, the @MassDOT congestion study will soon be available in audio book," Dempsey tweeted. "They ain't gonna have time to read the print version."
https://twitter.com/cdempc/status/1159567684956303379