Local
Managed lanes? Here's a closer look at Charlie Baker's congestion pricing alternative
The governor says they're the "fairest and most doable option" for using tolls to reduce traffic.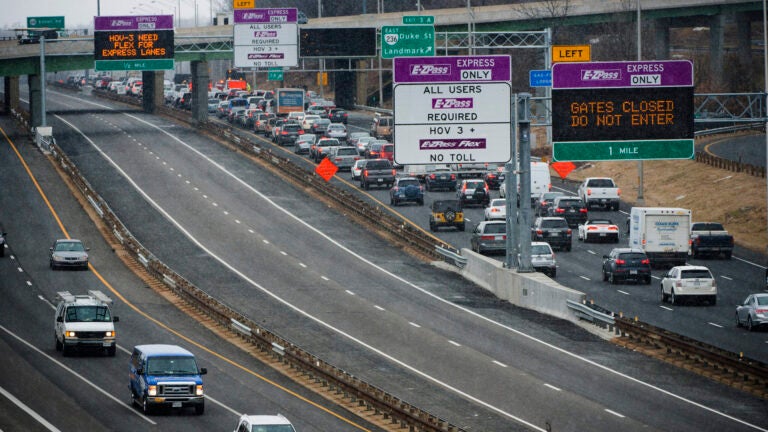 Last week's study on traffic in Massachusetts presented a number of potential solutions for the Boston area's congestion problem.
However, there was one idea that Gov. Charlie Baker specifically singled out to reject: Congestion pricing.
Well, sort of.
During his press conference last Thursday, the Republican governor said that using tolls to reduce traffic would be unfair to some drivers, at least when implemented across all lanes. He also said the idea of "managed lanes" — a separate, tolled lane to relieve traffic — was one he thought had "significant merit."
Think the high-occupancy vehicle (HOV) lane on I-93, but with a $2 or $3 toll — or more.
While managed lanes come with their own equity and effectiveness concerns, Baker's administration plans to further study the concept. Here's a look at why they think it has promise and how such lanes have worked in other parts of the country.
Baker says managed lanes give drivers an alternative, unlike congestion pricing
As the Boston area's congestion problem has worsened, some local transit advocates have called for "smart tolling," a form of congestion pricing in which rates are higher during rush hour to incentivize commuters to drive at different times or take different modes of transportation. 
Last year, Baker vetoed a proposed pilot program to provide toll discounts to those who drive on off-peak hours, and, in his press conference Thursday, the governor restated his concern that the idea would be unfair to drivers, both geographically and economically. Currently, the state uses electronic tolling gantries on the Mass. Pike, Tobin Bridge, and Boston Harbor tunnels, which leaves out some of the most severely congested corridors, like I-93. Additionally, Baker said that "this type of congestion pricing would only punish drivers who work fixed shifts or have no flexibility for school or childcare drop-off," though proponents contend that those commuters would benefit from quicker trips.
On the other hand, Baker said managed lanes would both provide drivers "options" and result in less traffic.
"While drivers have a choice to commute in a faster lane for a cost, drivers who remain in the un-tolled lane will also experience lighter volume from those who peel off for the faster lane," he said.
Charging a toll for these lanes is important; simply adding more free lanes has actually created more demand due to a phenomenon known as "induced demand."
Also known as express or high-occupancy toll (HOT) lanes, the parallel roadways are often dynamically priced, depending of traffic and time of day, in order to meet federal standards that require them to maintain an average speed of 45 mph or greater at least 90 percent of the time during rush hours.
However, they would also be available to buses, vanpools, and carpools for free.
"I believe it is the fairest and most doable option with respect to congestion pricing models," Baker said.
Have they worked elsewhere?
Baker says managed lanes would be a "big departure from the status quo," at least in Massachusetts.
According to his administration, there are 40 managed lane projects across the country in at least 15 metropolitan areas, including Atlanta, Seattle, San Francisco, Los Angeles, and Tampa — and "a growing body of evidence" that they can reduce congestion for both those willing to pay and those who remain in the non-tolled lanes.
The state's traffic study cited examples in the Seattle and Atlanta areas.
According to the Washington State Department of Transportation, more than two-thirds of drivers chose to pay a HOT lane toll that averaged $3.17 during rush hour on I-405. The new lanes allowed the highway to carry 23 percent more cars, while increasing the average speeds by up to 27 mph for those who paid the toll and by 6 mph for those who stayed in the general lanes. And in their first three years, the toll lanes generated nearly $75 million in revenue to be reinvested in the corridor. Bus ridership on I-405 also increased by 5 percent.
Georgia officials have seem similar results following the 2018 opening of reversible managed lanes with toll prices averaging $1.70, the Atlanta Journal-Constitution reported last month:
Traffic in the new toll lanes has moved 30 percent faster than traffic in the general purpose (or "free") lanes, the agency says. But vehicles in the regular lanes also have benefited.

GDOT says the average speed on I-75 northbound from I-285 to I-575 at afternoon rush hour's peak was 40 mph in April – twice the speed from April 2018, before the new lanes opened. GDOT also says rush hour has been reduced by an hour in the morning and in the afternoon.
Buses have also been big beneficiaries. While ridership on I-405 increased 5 percent, express bus riders in Miami went up 400 percent in the five years after managed lanes were created. In Maryland, one in four commuters in the managed lanes were in buses, according to Massachusetts Transportation Secretary Stephanie Pollack. The lanes also reportedly resulted in quicker bus routes in Georgia.
They are also often somewhat derisively referred to as Lexus lanes. Studies have found that those who decide to pay the tolls are disproportionately upper class, while lower-income drivers were about twice as likely to remain in the free lanes. That said, quicker bus routes also benefit riders who tend to be disproportionately poorer.
And the data is mixed; according to the National Conference of State Legislatures, managed lanes were used across income groups and the top five car models found in the toll lanes were the Ford F-150, Honda Accord, Honda Civic, Toyota Camry, and Toyota Corolla. Lexuses, they were not. Chris Dempsey, the director of the advocacy group Transportation for Massachusetts, says those findings speak to the fact that lower-income residents are the ones who stand to benefit the most from a faster trip, even if it comes at a price.
"If you're a contractor that can get one more job done that day, you're willing to pay eight bucks to do that if it means you get that job done," Dempsey told Boston.com in a recent interview. "I think that's an important reminder that blue-collar workers are the folks that are in many ways hurt most by the status quo. Those are the people who only get compensated when they're physically there in person. And we're making them sit in the nation's worst traffic congestion."
As metropolitan areas continue to grow and traffic worsens, some transportation experts warn that early returns of managed lanes will diminish, since a single tolled lane doesn't incentivize drivers to change their habits as much as full-blown congestion pricing. And the only way to keep traffic free-flowing in the tolled lanes if they get bogged down is to raise prices — sometimes by a lot.
"If the lanes are congested, you've got to do something," Mark Burris, a researcher at the Texas A&M Transportation Institute, told PBS in 2016, as some cities began to grapple with increasingly pricey toll lanes.
Georgia drivers have seen days where it costs more than $15 to take certain HOT lanes. Commuters in Northern Virginia have seen high-congestion commutes where the lane cost more than $40, though the weekday morning rush-hour average was $8.
Still, at a certain point, a faster commute is no longer worth it.
"The downside of the managed lane approach, where you're just doing one lane instead of doing all three or four lanes, is that you have much less capacity to sell off … and your demand is still really high," Dempsey said. "And so because of that, the pricing is really high."
In last week's study, Baker administration officials also wrote that anecdotal evidence from Northern Virginia's experience suggests that their HOT lanes have "done more to shift the timing, rather than volume, of traffic, as well as increase traffic on other local, "formerly uncongested" roads as drivers seek alternate routes.
What might managed lanes look like in Massachusetts?
Baker administration officials say they want to have "a civic discussion" about the possibility of managed lanes with $2 to $3 fees per one-way commute — a minimum of $20 to $30 weekly — on commuters who want to escape slower general purpose lanes. According to last week's report, current tolls in Massachusetts "are nowhere near high enough to cause most drivers to think twice about driving into congested areas."
Still, officials said that whatever approach they explore will not price out "low-income workers and those without commute alternatives" from jobs and other opportunities.
While the report said that MassDOT will look at potential managed lanes on highways all around Boston, it did single out I-93's Southeast Expressway, which is both one of the most congested corridors identified in the report, as well as one of the only roadways in the state with an HOV or carpool lane.
I-93 southbound through Somerville is another highly congested corridor with an HOV lane, though the report didn't specifically mention that segment for managed lanes.
While I-93 currently has no tolls, Pollack told reporters last week that gantries would have to be installed on the managed lanes. If implemented on other roads, Baker firmly stated that no free lanes would be taken away; rather, the state would construct additional toll lanes. The lanes could be separated be jersey barrier or painting, according to Pollack.
Dempsey — who has advocated for a smart tolling pilot on existing gantries, like the program Baker vetoed last year — opposed constructing new lanes, which he said would be a 10-year project when accounting for another year of study, picking a corridor, procurements, engineering, environmental permitting, engineering, and construction.
Ian Ollis, a visiting research associate at the Pioneer Institute, a Boston-based free market think tank, says managed lanes have proven to effectively encourage people to use alternative transportation, such as carpooling and public transit, or work from home.
"But to make a real dent in congestion traffic, these tolling options need to be combined with practical alternatives, and that means faster and more frequently available transit, or better private options," Ollis told Boston.com.
For his part, Baker has stressed that managed lanes would be just a part of the broader package of solutions recommended by his administration, including increased investment in the MBTA, more affordable housing, and higher fees on ride-sharing companies like Uber and Lyft.
Still, he thinks managed lanes could make a difference.
"I believe this idea has significant merit, but requires significant planning and design work, which we will pursue," Baker said.