Local
Study ranks Boston as America's most congested city — again
The annual report's methodology changed to include a wider range of commutes. Boston's ranking didn't.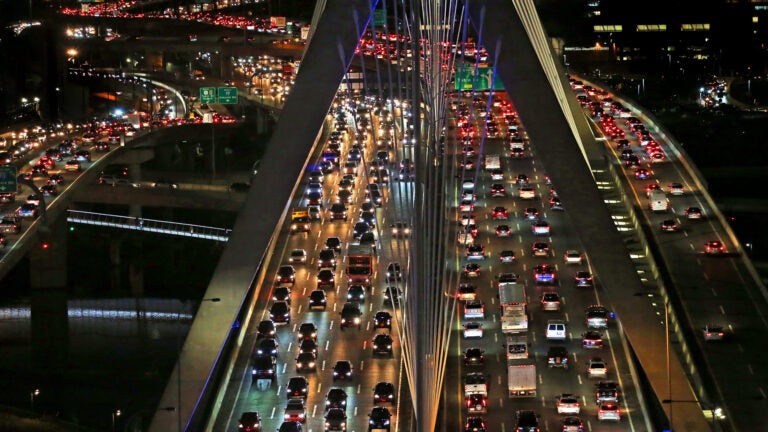 The good news is that — by some measures — traffic congestion in Boston slightly improved last year.
The bad news is it still ranks as the worst in the country, according to a report released Monday by the transportation analytics company INRIX.
For the second consecutive year, the annual study ranked Boston as the most congested city in the United States, estimating that the average commuter lost over 149 hours — or more than six days — due to traffic in 2019. While that number is actually an improvement upon 2018 (during which INRIX estimated that drivers in the Boston area lost 164 hours due to congestion), it still put Boston ahead of the country's next-most congested cities, Chicago (145 hours), Philadelphia (142 hours), New York City (140 hours), and Washington, D.C. (124 hours).
And those hours add up in other ways. In addition to increased air pollution and accident rates, INRIX estimated that congestion cost the average American driver $1,377 in lost time last year, adding up to a total of $88 billion. In the Boston area, congestion cost the average driver an average of $2,205, totaling $4.1 billion. Again, while worst in the nation, those figures were an improvement, if ever so slight, compared to 2018.
"Congestion costs Americans billions of dollars each year," Trevor Reed, transportation analyst at INRIX, said in a statement Monday. "However, it appears to be stabilizing in some of the country's most congested metros — with delays raising roughly three percent nationwide since 2017. The continued innovation and investment in smarter roadway management is showing early signs of progress."
Internationally, Boston was ranked the city ninth-most impacted by traffic, down from sixth in INRIX's rankings in 2018. Colombia's capital city Bogota topped the 2019 list with an average of 191 hours-per-driver lost to congestion, followed by Rio de Janeiro (190 hours), Mexico City (158 hours), Istanbul (153 hours), and Sao Paulo (152). Rome, Paris, London, Boston, and Chicago rounded out the list.
In the full report, Reed noted that the top-ranked cities generally share one of two characteristics: They're either old or experiencing rapid population growth.
"High density development patterns characteristic of pre-automobile cities, as found in the most congested European and North American cities, like Paris and Boston, makes them particularly ill-suited to the movement of vehicles," he wrote. "In contrast to these older cities, South American cities, like Bogota and Quito, are combatting extreme population growth, in geographically constrained environments, with underdeveloped infrastructure."
State officials had taken issue with the study's previous methodology, which exclusively looked at the time it took to drive to and from a city's downtown core from surrounding commuter neighborhoods, arguing that it penalized dense cities like Boston. However, since many cities have multiple employment centers, INRIX says it changed the process for this year's study to identify the most frequented routes and include a wider range of commuter behaviors.
Boston's position in the ranking, which included 66 urban areas in the United States, did not change.
However, Reed wrote that — unlike last year — Boston "surprisingly" had no roadways ranked on their list of the country's 10 worst congested corridors, nor Philadelphia or Washington, D.C.
"It is attributable to congestion being more evenly distributed across their metros, instead of concentrated on a few major Interstates," he wrote.
Last summer, Gov. Charlie Baker's administration conducted their own study concluding that traffic had reached a "tipping point" in the Boston area, with the most gridlocked stretches on I-93.
Baker has proposed increasing funding for the MBTA, encouraging companies to allow employees to work from home, and increasing fees on ride-hailing companies like Uber and Lyft. The governor is also pushing a regional Transportation and Climate Initiative, which would raise money for sustainable transit through a fee on fuel companies.
Transportation activists say those proposal aren't enough, calling for state officials to try congestion pricing — charging tolls in the most gridlocked areas — to get drivers to commute at different times or use alternative modes of transit (Baker has opposed those calls).
In the report Monday, INRIX actually gave Boston relatively good scores for its biking and public transportation. Boston's biking options received a yellow rating, indicating a 50 percent to 100 percent difference in commute times for those who biked the routes for which road congestion was calculated. The area's public transit received a green rating, meaning a less than 50 percent time difference.