News and Reviews
F-Series, Camry top 2013 charts; Toyota unveils FCV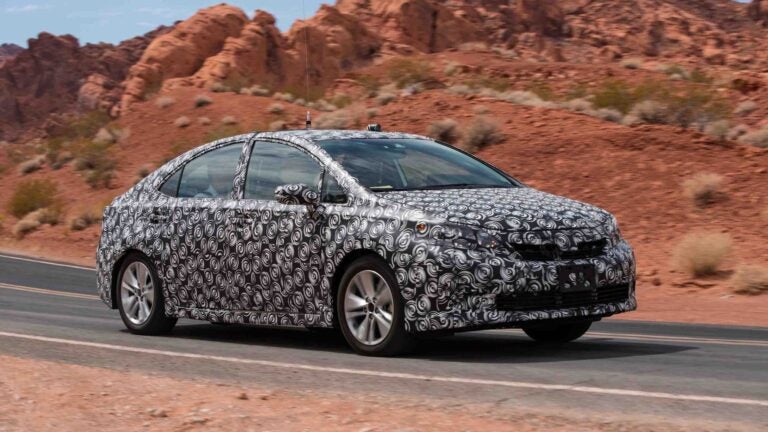 When it comes to automotive sales, some things never change.
For example, Ford's F-Series truck line topped the sales charts for the 32nd straight year and remained the top-selling truck for the 37th year. Toyota's Camry—the No. 3 selling vehicle overall—remains the best-selling car in the United States for the 12th straight year.
As the industry tallied up its 2013 sales year, the fourth straight with million-plus year-over-year increases, the Top 10 sellers were familiar: 1) Ford F-Series; 2) Chevrolet Silverado; 3) Toyota Camry; 4) Honda Accord; 5) Ram pickup; 6) Honda Civic; 7) Nissan Altima; 8) Honda CR-V; 9) Toyota Corolla; 10) Ford Escape.
But there were some double-digit increases that are worth noting:
Subaru set its all-time US sales record (424,683) and enjoyed its fifth consecutive all-time best sales year. Both the Outback and Forester sold more than 100,000 units, and the all-new XV Crosstrek passed the 50,000 mark.
The company reported that more than 60 percent of 2013 buyers were new to the Subaru brand, and sales in the Sunbelt states increased by 45 percent.
Other big sales winners in 2013 were Maserati, which was up 75 percent; Jaguar (41 percent), Ram, and Cadillac (each 22 percent).
Ford was up 11 percent for the year with the increases driven by the troika of the F-Series, Fusion, and Escape. The company also gained nearly a half percentage point of market share—the biggest gain in the industry. Ford also will unveil the next generation F-150 pickup at the North American International Auto Show this coming week.
At Kia, the good news was that the company had its second-best sales year in its 19 years in the US market. However, the bad news is that the total number of sales (535,179) was down 4 percent from 2012's 557,599.
The company's top sellers were the mid-sized Optima (155,893), funky Soul urban passenger vehicle (118,079), and Sorento SUV (105,649). There's optimism for 2014 with the coming launch of the K900 rear-wheel-drive flagship sedan, an all-new minivan, and an electric vehicle.
Reports from the German press are that Volkswagen executives are frustrated by the company's sluggish US sales. VW was down 12 percent in December and 1 percent for the year, a disappointing performance after the company doubled its US sales between 2009 and 2012.
Two factors appear to be the company's lack of understanding of the compact and mid-sized SUV market in the US and Americans' slow acceptance of VW's well-built diesel vehicles.
Over the last five years, total US auto sales have risen steadily: 10.4 million in 2009; 11.6 million in 2010; 12.8 million in 2011; 14.5 million in 2012; and 15.6 million in 2013.
Industry analysts foresee continued growth in 2014.
Toyota's FCV
Toyota had said it would unveil its FCV (fuel-cell vehicle) concept at this month's Consumer Electronics Show in Las Vegas. What it didn't say is that the introduction would be the show's opening event.
There were two cars on stage for the presentation, a shiny blue FCV concept and a camouflaged prototype that's been used for extensive on-road testing for more than a year.
Toyota says the prototype consistently delivers a 300-mile driving range and 0-to-60 acceleration times of about 10 seconds with no emissions other than water vapor. Refueling its hydrogen tanks takes three to five minutes.
"We aren't trying to reinvent the wheel, just everything necessary to make them turn,'' says Toyota's Bob Carter, senior vice president of automotive operations. "Fuel cell electric vehicles will be in our future sooner than many people believe, and in much greater numbers than anyone expected.''
For Globe readers, the only problem is that the widespread launch will be in California.
The FCV represents 20 years of quiet-but-massive R&D investment, 11 years of testing a series of prototypes, and significant reductions in cost and size of the powertrain even as engineers maintained a power output of more than 100kW (about 134 horsepower).
"There's no doubt the success of this technology will depend less on the genius of the car than on the ownership experience,'' Carter says. "Cost is one thing but convenience is another.''
Carter emphasized that Toyota would continue its research into improving battery performance in hybrid electrics, such as the Prius.
"However, compared to battery-electrics, the rate of cost reduction we have seen in fuel cell technology has been staggering,'' he says. "The challenges are significant. The first is building the vehicle at a reasonable price for many people. The second is doing what we can to help kick-start the construction of convenient hydrogen refueling infrastructure. We're doing a good job with both and we will launch in 2015.''
Toyota partnered with the University of California Irvine's Advanced Power and Energy Program (APEP) to help map out potential locations for hydrogen fueling stations.
The map is based on the assumption that owners want to be within six minutes of a refueling location.
Initial results are that 68 fueling sites will be needed in the San Francisco Bay area, Silicon Valley, and Los Angeles, Orange, and San Diego counties. If that plan were implemented, the APEP estimates it could handle a population of at least 10,000 fuel-cell vehicles.
Already, California has approved funding to build up to 20 stations by 2015, 40 by 2016, and as many as 100 by 2024.
"Stay tuned,'' says Carter, "because this infrastructure thing is going to happen.''
Carter declined to give any of Toyota's projections for the fuel-cell vehicle other than to say that the initial marketing plans have been revised upwards to request additional vehicles.