News and Reviews
N.E. International Auto Show parks in Boston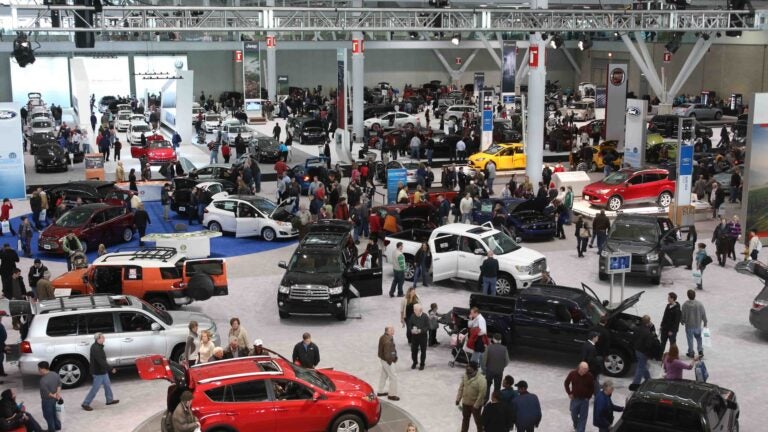 The New England Auto Show, with more than 500 vehicles on display, kicks off its five-day run Thursday, Jan. 16, at the Boston Convention & Exhibition Center.
When the show moved out of the Bayside Expo Center in 2007, it had to give up its annual November dates and move to the middle of January.
The rescheduling was a triple blow for the Paragon Group, which produces the show. Not only would the Boston event be going head-to-head with the North American International Auto Show in Detroit, but it also would have a shorter run and face possible mid-winter weather interruptions.
However, the event has grown into a Martin Luther King holiday weekend tradition and has become more popular than ever.
The automotive industry as a whole is coming off a strong 2013, its best sales year since 2007, with sales increased by 8 percent over 2012 to a total of 15.6 million vehicles. That success has had a positive effect on the Boston show, as marketing budgets are strong.
"This year's show shapes up as one of the best in its 57-year history,'' says Barbara Pudney, vice-president of the Paragon Group, which produces the show.
During the industry's recent down years, some manufacturers skipped parts of the auto show circuit. No longer.
"Everyone's here this year,'' says Pudney. "That's 34 car lines.''
The new dates also have proven to be an effective lead-in to next month's Presidents Day weekend industry promotions, which traditionally kick off local auto dealers' spring selling season.
"Our surveys show that a third of the people who attend the show plan to make a new car purchase within the next three months,'' says Pudney. "The show is a great opportunity for them to compare brands, check out features, and perhaps narrow their search to take advantage of the coming deals.''
Manufacturers have taken notice of that trend and started to offer short "Ride & Drives'' in some of their best-selling models, giving show-goers the opportunity not only to see the cars, but also to drive them.
The driving loop goes around the huge convention center building, and the rides are available during daylight hours. Participating brands include Buick, Cadillac, Chevrolet, Ford, GMC, Kia, Scion, and Toyota.
While most of the month's world automotive premieres will be in Detroit, Boston will have a full complement of cars now on the market and a sneak preview of the coming Mini hardtop, Kia K900 sedan, and Toyota Highlander hybrid.
If one-third of attendees are serious shoppers, what about the rest?
"Another third are the gearheads,'' says Pudney. "They want to see the new cars in person, and they're also interested in the latest in technology, the high-end models, and the exotic cars.''
For a lot of them, one of the big attractions is the Million Dollar Mile with Maserati, Rolls-Royce, Bentley, Lamborghini, Porsche, Lotus, and Aston Martin. A Rolls-Royce Wraith with what is described as "awesome optional features'' will be at the Boston show.
Porsche will be displaying its new Macan compact "sports car'' SUV, a vehicle that made a Hollywood entrance in the fall when it was introduced by tennis star (and Porsche 911 driver) Maria Sharapova in Los Angeles. It's based on Audi's SQ5 compact SUV platform.
For those interested in supercars, McLaren will have both a coupe and roadster on display among the exotics.
One of the vehicles that will get a lot of attention is the redesigned 2014 Chevrolet Corvette. That's one vehicle that won't be included in the ride 'n drive portion of the show, but you'll be able to see and experience the interior upgrades that are getting critical acclaim.
The show also draws a number of people looking for a day's entertainment. "You'll see a lot of families here or dads coming and sharing their love of cars with their children,'' Pudney says.
A lot of the younger folks will be enthralled by Hyundai's "Zombie Survival Machine'' and seek out the scene that's set for a photo opportunity from "The Walking Dead.'' Expect company: The AMC show amassed NFL-like ratings on some occasions last fall. They'll also be happy to see Celtic mascot Lucky and the team's cheerleaders as part of the Ford exhibit.
If you're into contests, there's a giant cube of crushed metal as one exhibit. You'll be able to guess what make and model car it once was. The display, by Everett's Schnitzer Steel, explains state-of-the-art auto recycling.
And no show is complete without being part of the Twitter-verse. Chevrolet will have a Twitter vending machine. Consumers who tweet #Chevrolet at the machine's twitter "handle,'' receive a prize.
For those looking for a digital souvenir, Chevy also will park one of its show cars in front of a motion-blurred wall where attendees can pose inside the vehicle as a photo op and online appearance.
The show is co-presented by Amica Insurance and the Boston Globe.