News and Reviews
Winter Car of Year: Grand Cherokee Scores a Four-Peat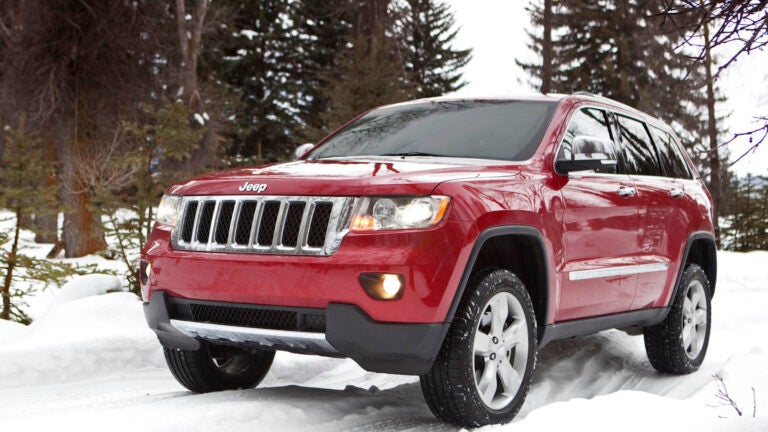 A Four-Peat—four consecutive championships—is a rarity.
In the Sports world it's a pedestal occupied most notably by some of the great Celtics, Yankees, and Canadiens teams.
Just winning three straight titles is an amazing feat, so much so that former Los Angeles Lakers coach Pat Riley trademarked the Three-Peat term about a decade before his team actually accomplished the feat. But a four-peat?
Worldwide, in motorsports, legendary drivers Juan Manuel Fangio and Michael Schumacher accomplished that and more in Formula One racing.
Now we can add the Jeep Grand Cherokee, winner of a fourth straight Winter Vehicle of New England Award, to the world of the Four-Peat.
Members of the New England Motor Press Association had quite a winter to drive and evaluate a wonderful selection of vehicles. However, when the ballots were cast and the arguing ended, the Grand Cherokee retained the title, one it's held since 2011.
The award has cachet with the Chrysler folks. The New England honor has been used in commercials and website stories.
This, one however, is special, coming during (we almost wrote after, but this winter doesn't seem to want to end) this terrible winter. Some parts of New England have had snow on the ground since before Thanksgiving. Others areas have had frozen snowbanks since the middle of December.
"These are the times that try men's souls,'' says NEMPA president Craig Fitzgerald. "and also test our ability to get up the driveway.''
With the exponential expansion of all-wheel-drive, there are many capable winter vehicles on our roads. But the majority of NEMPA members couldn't tear themselves away from the always-improving Grand Cherokee. Jeep keeps raising the bar.
A new Eco-diesel engine and eight-speed automatic transmission have put the big Jeep atop both the power-with-efficiency curve and a value-for-the-money list. That a Jeep can handle New England's snow and ice with aplomb is a given, but the Grand Cherokee does it with a refined ride, an upscale interior, and all the necessary cold weather amenities.
Some of the finalists for New England's Winter Car of the Year Award were named tops in various other categories.
Best Premium All-Weather Sedan/Wagon: A tie between the Cadillac XTS and Infiniti Q50. You want technology: Check. You want style and comfort: Check. You want luxury: Check. Two fine vehicles.
Best Premium All-Weather Coupe: The BMW 428i xDrive. Another "Ultimate Driving Machine'' has the BMW marque's signature superb handling and balance, high-output engine, eight-speed transmission, and high-quality cabin. Now add 30 mpg efficiency with the AWD. These winter-fighting vehicles are getting ever more sophisticated.
All-Weather Sedan ($25,000–$40,000): Subaru Legacy. Frankly, any Subaru is a candidate for New England's Winter Car of the Year. Consumers know and have been buying them for four decades. The latest Legacy continues that, er, legacy.
All-Weather Sports Car: Subaru WRX. As we were saying about Subarus…Someday down the line, the current generation of "Car Guys and Gals'' will be pulling their vintage WRX vehicles out of the garage for classic car shows. And they won't be saying, "It's never seen snow.''
All-Weather Premium Sports Car: Porsche 911 Carrera 4. There's an amazing amount of wealth in this country, and this Porsche offers a premium package of power, prestige, and performance. It proves you can have fun in the winter without losing your grip.
Pickup Truck: Chevrolet Silverado High Country 4WD: This is the vehicle Mrs. G and I managed to lock ourselves out of (with the engine running), a feat that amazed the AAA driver who came to our rescue. Notwithstanding, it was an amazing combination of a luxury sedan (interior), performance, and heavy-duty ability. Pity the poor valet who has to park this Big Boy at your favorite restaurant, however.
All-Weather SUV/Crossover under ($28,000): Hyundai Santa Fe Sport and Kia Sorrento. A certain New England professional football coach likes to talk about "value.'' These siblings have the right value proposition of size, five-passenger comfort, plenty of standard features, and winter-taming all-wheel-drive.
All-Weather SUV/Crossover ($28,000–$40,000): Toyota Highlander. The hybrid version was a strong contender for the top spot, combining New England's seemingly contradictory love of large SUVs and things green. With multiple powertrains and seating arrangements, this is the multi-capable Leatherman of vehicles.
All-Weather SUV-Crossover ($40,000-$60,000): Acura MDX. Acura took a great vehicle and made it for the current generation, creating a wonderful combination of horsepower (290) and decent fuel economy, plus a usable third-row seat and deluxe cabin.
Premium SUV: Range Rover Sport. This is the vehicle that can occupy all five spots in a five-car garage. It can handle most any on- or off-road situation, while also serving as the luxury limo, errand-runner, and people-mover. Come to think of it, that leaves some space for a few collector cars.