News and Reviews
Classic Car Theft: Once Ride's Gone, It Doesn't Return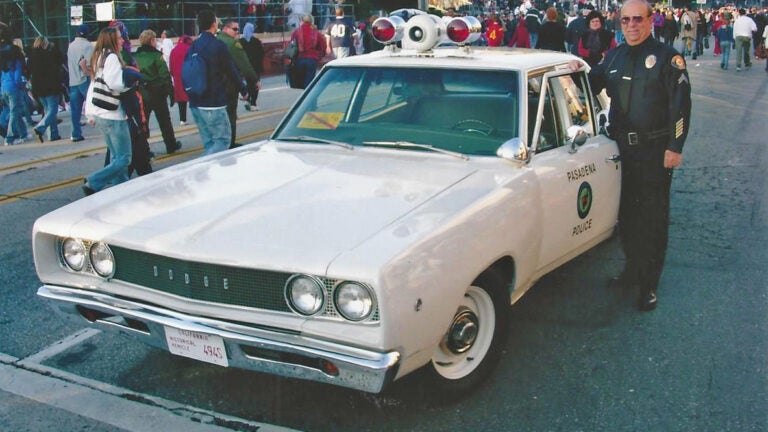 Ted Saraf, a classic car aficionado from Los Angeles, drives a 1969 Dodge Coronet police cruiser. It's a restored version of the model he drove when he was a rookie in the Pasadena Police Department.
That classic car not only is a symbol of his past but also of his present because Saraf now is LoJack's senior law enforcement liaison in Los Angeles. It was a natural transition: He spent 30 years in law enforcement, the last 18 years specializing in auto theft.
His message these days is about the value of LoJack to classic car owners. His stories of LoJack recoveries are enthralling, including many in which the recovery also led to a stash of non-LoJack-equipped cars.
Then you realize that each one of those thefts represents an owner's potential heartbreak.
"On average, 350 cars are stolen each month in my area, five counties that include the southern part of Los Angeles,'' says Saraf. "If the car has LoJack, there's a 93 percent chance it will be recovered. Without LoJack, that falls to 54 percent.
Classic car owners, he says, are a different breed. Few consider the need for protection such as LoJack, the stolen car recovery system that was invented in the Boston area in the 1980s and is wired into police vehicles in 31 states.
"People routinely invest from $50,000 to $100,000 and up in their classic cars,'' says Saraf. "They figure they don't need LoJack because the car is in a locked garage or warehouse. They're wrong. There have been 400 classic cars stolen in our area since 2008, and those are the ones we know about. The recovery rate? One and a half percent. Those cars are gone, most probably forever.''
Tough many new cars are stolen and chopped up for parts, classic cars and many luxury models take a different path. They're stolen "to order'' for an unscrupulous buyer, often someone from overseas.
"The thieves will go to car shows and find the exact car they need. They'll take photos of it to show their buyer, and follow the owner home or to his garage or warehouse. Then they'll break in at night. Locks, fences, and gates are no problem for them. And they'll take the vehicle at gunpoint if necessary,'' says Saraf.
"It can be in a container and being shipped overseas as 'household goods' in a day, often long before the owner even knows it's missing,'' says Saraf. "These thefts are lucrative, and punishment usually is a relative slap on the wrist. It's a lucrative pursuit.''
Meanwhile, the Bad Guys are always inventive.
One ploy is to buy a junk car of the same model and swap VINs, then register the stolen vehicle as a just-restored classic with a salvage title.
"That's why a sharp car person or a member of our task force might recognize a formerly stolen car at a show. The car now likely is owned by an innocent re-purchaser who then becomes the thieves' next victim if the car gets returned to the original owner. But those stories are rare,'' he says.
Cars also can disappear from a dealer's lot or in transit as thieves get inside access to make a duplicate key.
The LoJack transmitter generally is hidden so well in a classic that thieves are loathe to look too closely. "The last thing they want to do is put a scratch on the car and hurt its value,'' says Saraf.
Members of Saraf's car club—the Road Kings of Burbank—have gotten the message, some after losing a car. "Everyone in my club has it now,'' he says.
LoJack has branched out to protect construction equipment, motorcycles, fleet vehicles (including the Globe's), and even laptops.
But with local car aficionados starting to think about winter storage, it might be time to take advantage of LoJack's current $295 special for special-interest cars.
"If you really like your car, you want to keep it,'' says Saraf.
Etc.
A car may be considered an antique at 25 years old, but you'll need to have a pre-1973 to show at the 42nd Ty-Rods Old-Timers reunion at the Lancaster-Bolton Fairgrounds today (9 a.m.-4 p.m.) on Rte. 117 in Lancaster.…Haverhill has a downtown show from 2-5 p.m. today as part of the city's River Ruckus celebration.…European motorcycles take over the grounds at Larz Anderson Auto Museum today from 10 a.m.-4 p.m.…A lot of classic car owners are early risers, which makes the Sept. 13 Cars 'n Coffee at Herb Chambers BMW on Rte. 20 in Sudbury a good take. He'll be playing show and tell with a 427 Shelby Cobra he brought home from last month's RM Auction at Pebble Beach.… Save the date: Sept. 21. The 3rd Annual Boston Cup takes over Boston Common with $100 million in cars on display. And the good folks at Newton-Wellesley Hospital have a combination car show and men's health fair with free screenings the same day.