New Tolling System May Sacrifice Privacy For Convenience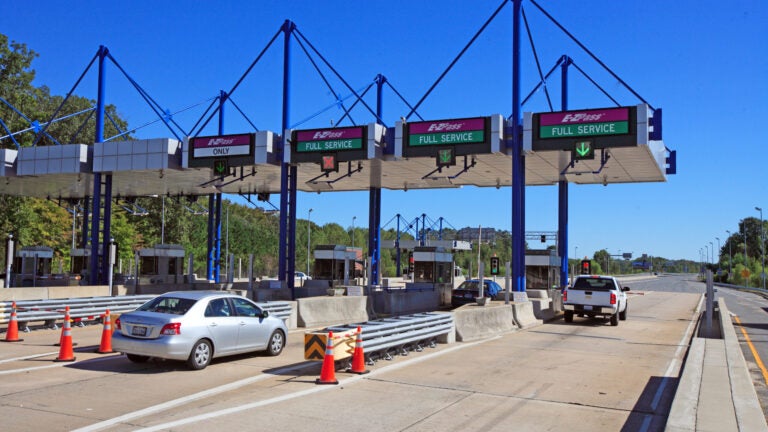 The Massachusetts Department of Transportation will make paying state tolls easier by 2016 in order to reduce road congestion and cut costs, but it could come at a price greater than the $2.50 toll charge.
The all-electronic tolling system — which already debuted on the Tobin Memorial Bridge in July — will allow drivers to pay tolls without slowing down. In two years, all 270 of the state's booths will automatically dock fees from the 76 percent of drivers who currently use E-ZPass transponders. For those without transponders, a camera will snap an image of the license plate and send a bill in the mail. All drivers will be able to go through all lanes at full speed.
But what drivers are earning in convenience they may be paying in privacy.
"There are privacy concerns used to be an anonymous transaction now produces a data record,'' said security technologist Bruce Schiener. Data could be shared with fusion centers, information sharing centers, or pieced together to reveal peoples' daily routines.
Privacy concerns around E-ZPass transponders aren't new, but with the state's new system, there will be a data trail around all cars at toll plazas, E-ZPass or no.
"Removing the choice of privacy gives us fewer options to have privacy. It's like making envelopes illegal and making us use postcards, or banning window shades,'' said Schneier, a fellow at Harvard's Berkman Center for Internet and Society..
Nate Cardozo, a staff attorney at Electronic Frontier Foundation, a San Francisco-based nonprofit, says toll agencies should delineate public rules about what they do with license plate data and whom they share it with. He also recommends drivers to keep the transponders tucked away until it's time to pay the toll.
State law does mandate MassDOT to maintain confidentiailty of all information received via electronic tolls. "Customer information is protected with the utmost sensitivity and is not used for any purposes beyond the collection of tolls,'' MassDOT spokesperson Michael Verseckes wrote in an email.
Cardozo isn't convinced. "If the data is there, others will come seeking it. MassDOT's promise means nothing to hackers or civil litigants armed with subpoenas,'' he said.
MassDOT currently has an agreement with Maine and New Hampshire for the three states to share data and help one another recover outstanding tolls.
All-electronic tolling or open-road tolling has rolled out in other states as well.
Last year, a New Jersey man did the following experiment: he hacked his E-ZPass transponder to set off a light and make a "moo'' sound every time it was tracked. On a ride from Times Square to Madison Square Garden, around 20 blocks, and then out of the city through the Lincoln Tunnel, his transponder "moo''-ed frequently, even at places with no toll in sight.
In San Francisco, the E-ZPass counterpart, FasTrak, began operating as an all-electronic tolling system on the Golden Gate Bridge in 2013. It's possible to get an "anonymous'' transponder that's unlinked to a license plate or bank account, according to Cardozo. Drivers then have to bring the transponder to designated locations and pay outstanding amounts in cash.
"It's inconvenient, but it's a great way of maintaining anonymity. But of course, the license plate tracking is still going on,'' Cardozo said.
"If electronic toll collection becomes ubiquitous and starts feeding into fusion centers, all of a sudden that makes every driver in Massachusetts essentially the subject of an investigation,'' he added.